HARTFORD, February 6, 2013: AEG Management CT today announced that the Connecticut Whale will hold a "Winter Carnival" event Thursday, February 21 at The Russian Lady, 191 Ann Uccello St. in downtown Hartford.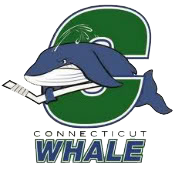 The Winter Carnival, which will welcome fans of all ages, will run from 5:00-7:30 PM on February 21. The event will feature the opportunity for fans to meet the entire Connecticut Whale hockey team and all proceeds will benefit Gaylord Specialty Healthcare.
The Whale Winter Carnival will offer a Mardi Gras-style atmosphere as a happy-hour party, including music, games, Mardi Gras beads and other celebratory fun. An admission charge of $20 includes a happy-hour style buffet and tickets for two complimentary beers (for those 21 or older), courtesy of Rogo Distributors. Whale players will be serving drinks from behind the bar, and fans can challenge the players to games of EA Sports NHL 2013 as well. The Labatt's Blue Bubble Hockey Tournament will also be at the event, for fans and players alike to show off their bubble hockey skills.
In addition, there will also be a silent auction at the event, with proceeds going to Gaylord Specialty Healthcare. Any tips the players receive will also benefit Gaylord, and a percentage of beer sales from the cash bar will also be donated.
Tickets to the Winter Carnival will be available for purchase at Whale home games at the XL Center, at the Prize Den behind section 124, through February 20, and also can be purchased at the event. Tickets can also be purchased, and more information obtained, by contacting Frank Berrian at fberrian@xlcenter.com or (860) 541-4728.
Gaylord Specialty Healthcare is a premier long-term acute and chronic care hospital, located in Wallingford, CT. Gaylord provides a continuum of care, including inpatient and outpatient physical rehabilitation, medically complex care, and sleep medicine.
Tickets to all Whale home games start as low as $10 each ($12 each when tickets are purchased on the day of the game), and are on sale now at the Public Power Ticket Office at the XL Center, through TicketMaster Charge-by-Phone at 1-800-745-3000 and on-line at www.ticketmaster.com.
For information on season seats, and all of the Whale's many ticketing options, visit www.ctwhale.com, or call the CT Whale ticket office at (860) 548-2000 to talk with an account executive today.
Follow Ian on Twitter @soxanddawgs. And be sure to like us on Facebook as well.