Springfield, MA, November 9, 2012 – Former Connecticut Whale Tim Erixon, who had four points and a +6 against his old club in a 10-2 Springfield Falcon win Sunday in Hartford, burned the Whale again Friday night at the MassMutual Center, scoring the only two goals of the game in a 2-0 Springfield victory.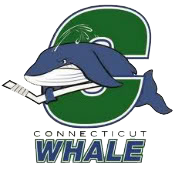 Both of Erixon's goals were on power plays, as Springfield had 11 man advantages in the game, and outshot the Whale 40-20
In sharp contrast to Sunday's battle between the two teams at the XL Center, Friday's game was a 0-0 standoff through two periods. Whale goaltender Cam Talbot was busy, stopping 18 shots in the first period and nine more in the second, but Springfield's Curtis McElhinney also faced some tough chances among his 13 stops.
The Falcons finally broke the scoreless tie at 1:03 of the third frame, during a penalty to the Whale's Tommy Grant that carried over from the second period. Erixon took a feed from fellow ex-Whale Jonathan Audy-Marchessault high in the slot a pounded a slap shot past a screened Talbot on the stick side.
Erixon then struck again on a two-man advantage at 13:55, this time firing a shot from the right side of the slot past Talbot's catching glove and in, after Nick Drazenovic found Erixon with a pass from along the goal line.
More Whale penalties prevented Connecticut from getting back in the game, and McElhinney was able to complete his third shutout of the season, and hand the Whale their first blanking of the year.
The Whale are right back in action Saturday night, as they travel to Worcester to battle the Sharks in a 7:00 game. The action of that tilt can be heard live on "The Rock" 106.9 WCCC, and on-line at www.ctwhale.com.
The Whale's next home game is Friday, November 16, when the Portland Pirates make their first visit of the season to the XL Center for a 7:00 game. At each and every Friday Whale home game this year, fans can enjoy $1 hot dogs and $2 beers until 8:00 PM. Tickets for that game, and all Whale regular season home games at the XL Center, are on sale now at the Public Power Ticket Office at the XL Center, through TicketMaster Charge-by-Phone at 1-800-745-3000 and on-line at www.ticketmaster.com.
To continue reading, please click on the continue reading button below if you're on the home page.
Connecticut Whale 0 at Springfield Falcons 2
Friday, November 9, 2012 – MassMutual Center
Connecticut 0 0 0 – 0
Springfield 0 0 2 – 2
1st Period- No Scoring.Penalties-Kolarik Ct (roughing), 2:23; Johansen Spr (roughing), 2:35; Audy-Marchessault Spr (slashing), 5:17; Collins Ct (slashing), 9:45; Vernace Ct (hooking), 12:19.
2nd Period- No Scoring.Penalties-Erixon Spr (tripping), 4:03; Erixon Spr (interference), 10:19; served by Grant Ct (bench minor – too many men), 16:02; Grant Ct (holding, fighting), 19:29; Craig Spr (fighting), 19:29.
3rd Period-1, Springfield, Erixon 2 (Audy-Marchessault, Kubalik), 1:03 (PP). 2, Springfield, Erixon 3 (Drazenovic, Atkinson), 13:55 (PP). Penalties-Newbury Ct (boarding), 1:21; Joudrey Spr (slashing), 6:08; Savard Spr (tripping), 6:51; Haley Ct (interference), 8:35; Moore Spr (slashing), 9:13; Vernace Ct (slashing), 10:32; served by Kubalik Spr (bench minor – too many men), 11:12; served by Thomas Ct (unsportsmanlike conduct – disputing decision), 12:15; Newbury Ct (boarding, game misconduct – abuse of officials), 12:15; Vernace Ct (delay of game), 16:56; Klassen Ct (high-sticking), 18:36; Niemi Ct (fighting), 19:51; Kubalik Spr (fighting), 19:51.
Shots on Goal-Connecticut 7-6-7-20. Springfield 18-9-13-40.
Power Play Opportunities-Connecticut 0 / 7; Springfield 2 / 11.
Goalies-Connecticut, Talbot 3-2-0 (40 shots-38 saves). Springfield, McElhinney 7-1-1 (20 shots-20 saves).
A-5,653
Referees-Chris Cozzan (18), T.J. Luxmore (49).
Linesmen-Brent Colby (7), Frank Murphy (29).
Follow Ian on Twitter @soxanddawgs. And be sure to like us on Facebook as well.