By Wil Goldsholl
Hartford, CT, February 5, 2013 – On a night where Connecticut and the parent-team New York Rangers made some personnel swaps, the Devils bested both clubs Tuesday; the Whale suffered a loss at the hands of Albany, 4-3 in a shootout, while the Rangers fell to New Jersey, 3-1.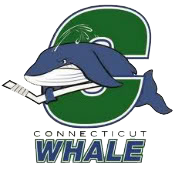 Brandon Mashinter was boomeranged to New York; he left for the Big Apple with J.T. Miller, and returned to Hartford with Benn Ferriero two days later without seeing any NHL ice time.
The first shot of Tuesday's game got Albany on the board, when Brandon Burlon got the puck to Matt Anderson at the point. After two quick steps to the middle, Anderson wound and fired the puck over the stick side shoulder of starting goaltender Jason Missiaen for Anderson's eighth of the year. The goal went under review, but would ultimately stand for a 1-0 Devils lead 27 seconds into the matchup.
Missiaen would make a glove save on Chad Wiseman shortly thereafter, but when Kyle Jean sat for holding at 4:40, Burlon catalyzed another scoring play. Burlon fed Anderson at the left hash mark. Anderson's one-touch pass hit Phil DeSimone right in the slot, and DeSimone had no problem closing on his fourth of the year. Five minutes and seventeen seconds in to the contest, Missiaen was pulled for Cam Talbot in relief.
The Whale's chances were few and far between in the first; they managed to get just four pucks on Keith Kinkaid's goal. The teams exchanged penalties several times before the first intermission, but Albany would take their 2-0 advantage into the locker room, as well as a 14-4 edge in the shot column. Continuing with his mantra of the season, head coach Ken Gernander spoke about another incomplete game, "That's inexcusable. Players with character play for 60 minutes."
In the second, the game slowed down. Connecticut still only managed six shots in the second, but did hold the Devils to just seven tries of their own. At the end of the scoreless period, Brandon Segal drew blood with a high stick at the buzzer, giving Albany four minutes of power-play time to start the third.
With only 10 shots on the board through two, it still took the Whale seven and a half minutes to get a shot in the third. At that exact moment, Cam Janssen and Andrew Carroll dropped the gloves for the first bout of the game.
A minute and a half after that, at 8:58, Corbin McPherson gave Albany a 3-0 edge. Anderson was on the wall and found Steve Zalewski at the goal line. The feed to the front deflected off of Anderson, and McPherson was there in the slot for his first of the year at 8:58.
The Whale finally got on the board 20 seconds later; Micheal Haley found Logan Pyett at the point. The drive from the blueline was caught under Kinkaid, but with Palmieri and Newbury in front, the Ontario-born Newbury jabbed a stick in to the crease to poke it home.
Talbot, who was more active in puckhandling than usual in the game, took a delay of game for clearing the puck over the glass at 10:16. He did, however, manage to clear the puck on his own once during the kill.
Jason Wilson fought Alexander Urbom with 7:13 left after running him over behind Kinkaid's net, and 59 seconds later Mike Vernace cut the deficit to just one. Kinkaid was behind the net, when Andrew Yogan clipped him and slung the loose puck around to Segal. Segal found Vernace alone in front for his fourth of the year, adding another goal to a little home scoring tear for the Whale blueliner.
Newbury manhandled his opponent after a draw with 3:38 to play, earning a cross-checking penalty, and while the timing was bad, it would lead to a Kelsey Tessier shorthander. Tessier stripped the puck in Connecticut's defensive end and broke down the right wing to beat Kinkaid with a wrister at 3:21 that tied the game at three apiece. Tessier spoke of the goal and the game afterwards, "It was a PK… They kinda went to Segal and it opened up so I took the wrist shot. It's good we got that one point but we need those two points right now, we have some teams to catch up to right now… We gotta blame ourselves that we're not in the playoffs."
The teams swapped chances yet again as Albany turned up the power play pressure and the Whale generated some additional shorthanded opportunities, but regulation would expire in a tie.
In the overtime period, Connecticut and Albany managed just a shot each, and a shootout commenced with Kinkaid shutting down Mashinter on a forehand to backhand move. Keith Kinkaid was perfect in the shootout, while Wiseman and Matt Anderson scored against Talbot to take the shootout, 2-0.
Kinkaid picked up his 15th win in the 4-3 victory, making 20 saves, while Talbot stopped 25 of 26 after coming in for Missiaen, who stopped seven of nine.
To continue reading, please click on the continue reading button below if you're on the home page.
Albany Devils 4 (SO) at Connecticut Whale 3
Tuesday, February 5, 2013 – XL Center Veterans Memorial Coliseum
Albany 2 0 1 0 – 4
Connecticut 0 0 3 0 – 3
1st Period-1, Albany, Anderson 8 (Burlon, Whitney), 0:27. 2, Albany, DeSimone 4 (Anderson, Burlon), 5:17 (PP). Penalties-Jean Ct (holding), 4:40; Yogan Ct (tripping), 8:49; Parse Alb (interference), 9:09; Pyett Ct (slashing), 13:24.
2nd Period- No Scoring. Penalties-DeSimone Alb (slashing), 14:02; Thomas Ct (hooking), 16:54; Segal Ct (double minor – high-sticking), 20:00.
3rd Period-3, Albany, McPherson 1 (Zalewski, Anderson), 8:58. 4, Connecticut, Newbury 16 (Pyett, Haley), 9:18. 5, Connecticut, Vernace 4 (Segal), 13:46. 6, Connecticut, Tessier 9 16:39 (SH). Penalties-Janssen Alb (fighting), 7:37; Carroll Ct (fighting), 7:37; Talbot Ct (delay of game), 10:16; Urbom Alb (fighting), 12:47; Wilson Ct (fighting), 12:47; Newbury Ct (cross-checking), 16:22.
OT Period- No Scoring. Penalties-No Penalties
Shootout – Albany 2 (Sislo NG, Wiseman G, Anderson G), Connecticut 0 (Mashinter NG, Palmieri NG, Newbury NG, Segal NG).
Shots on Goal-Albany 14-7-13-1-1-36. Connecticut 4-6-12-1-0-23.
Power Play Opportunities-Albany 1 / 8; Connecticut 0 / 2.
Goalies-Albany, Kinkaid 15-9-4 (23 shots-20 saves). Connecticut, Missiaen 5-4-1 (9 shots-7 saves); Talbot 15-19-1 (26 shots-25 saves).
A-1,887
Referees-Terry Koharski (10), Ryan Murphy (5).
Linesmen-Glen Cooke (6), Kevin Redding (16).
Follow Ian on Twitter @soxanddawgs. And be sure to like us on Facebook as well.