Syracuse, NY, February 24, 2013 – Cedrick Desjardins made 28 saves to get the shutout, and Tyler Johnson scored twice, as the Syracuse Crunch defeated the Connecticut Whale 4-0 Sunday at the Onondaga County War Memorial at Oncenter.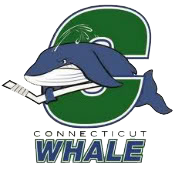 It was the second consecutive shutout for Desjardins, and his second in three games since he joined the Crunch in a trade. Pierre-Cedric Labrie and J.T. Wyman also scored for Syracuse, which was 2/5 on the power play. Ondrej Palat had three assists and Mark Barberio had two helpers.
Cam Talbot made 34 saves in the Whale net. The Whale played two skaters short of the normal roster limit of 18, after defenseman Blake Parlett was injured in Saturday's 2-1 overtime loss at Wilkes-Barre/Scranton.
"I thought we gave a pretty honest effort," Whale head coach Ken Gernander said. "The first goal was a little bit tough to take, an unfortunate bounce, and then we had a couple of individual breakdowns on some penalty-kill situations. I thought the score wasn't necessarily indicative of the game. I thought we had some chances and that we carried the play for stretches of time."
The Crunch built a 2-0 lead in the first period on goals by Labrie and Johnson.
Labrie opened the scoring at 9:11, after Whale defenseman Sean Collins didn't see a loose puck near his own goalmouth. Vlad Namestnikov fed it to Labrie, who moved right to left across the slot and fired a shot past the stick side of Talbot.
Johnson then tallied his AHL-leading 27th of the year on the game's first power play at 14:29. With Logan Pyett in the penalty box for holding, Johnson took a cross-slot feed from Palat at the left side of the goalmouth and got a low, hard shot past Talbot.
The only goal of the second period also came off of Johnson's stick, on another power play at 18:16. Barberio found Johnson in the left circle and Johnson had time to wind up for a shot, beating Talbot on the glove side.
Wyman completed the scoring at 7:34 of the third period, after the Whale misplayed an exchange of the puck just inside the Crunch blue line. Palat carried the puck into the Connecticut zone and dished to Wyman, who deflected it just underneath the pads of a sliding Talbot.
The loss dropped the Whale to 25-23-5-2 on the year. With 57 points, the Whale continue to hold down the last playoff spot in the Eastern Conference, one point ahead of Worcester.
The Whale's next action is on home ice, this Friday, March 1 against the Bridgeport Sound Tigers at 7:00 PM. As at all Friday-night Whale home games, fans that night can enjoy $1 hot dogs and $2 beers at the XL Center until the end of the first intermission.
For all Whale home games, tickets start as low as $10 each ($12 each when tickets are purchased on the day of the game), at the Public Power Ticket Office at the XL Center, through TicketMaster Charge-by-Phone at 1-800-745-3000 and on-line at www.ticketmaster.com.
To continue reading, please click on the continue reading button below if you're on the home page.
Connecticut Whale 0 at Syracuse Crunch 4
Sunday, February 24, 2013 – Onondaga County War Memorial at Oncenter
Connecticut 0 0 0 – 0
Syracuse 2 1 1 – 4
1st Period-1, Syracuse, Labrie 11 (Namestnikov, Connolly), 9:11. 2, Syracuse, Johnson 27 (Palat, Barberio), 14:29 (PP). Penalties-Pyett Ct (holding), 12:53; Yogan Ct (roughing), 18:13.
2nd Period-3, Syracuse, Johnson 28 (Barberio, Palat), 18:16 (PP). Penalties-Pyett Ct (roughing), 6:19; Carroll Ct (roughing), 8:29; Angelidis Syr (roughing), 8:29; Devos Syr (holding), 15:08; Newbury Ct (hooking), 17:18; Carroll Ct (fighting), 18:32; Pelech Ct (boarding), 18:32; Tyrell Syr (roughing, fighting), 18:32.
3rd Period-4, Syracuse, Wyman 10 (Palat), 7:34. Penalties-Brown Syr (cross-checking), 7:59; Segal Ct (unsportsmanlike conduct), 15:38.
Shots on Goal-Connecticut 9-13-7-29. Syracuse 13-16-9-38.
Power Play Opportunities-Connecticut 0 / 2; Syracuse 2 / 5.
Goalies-Connecticut, Talbot 19-22-1 (38 shots-34 saves). Syracuse, Desjardins 10-13-2 (29 shots-29 saves).
A-5,009
Referees-Trent Knorr (44).
Linesmen-Andy Petrus (26), Fraser McIntyre (94).