By Wil Goldsholl
Hartford, CT, February 1, 2013 – Close but no cigar for the Connecticut Whale on Friday night in Hartford; the home team fell to in-state rival Bridgeport Sound Tigers by a count of 5-4 in overtime. Connecticut was solid for two periods, picking up goals from Kelsey Tessier and Brandon Segal, as well as Mike Vernace and Blake Parlett, the blueliners who have made a sudden yet apparent impact on the scoresheet.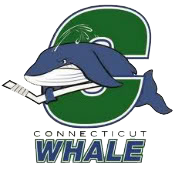 Early in the first, the Whale were sharp; Dylan McIlrath kept the puck in the zone and ultimately found Andrew Yogan. Yogan fed J.T. Miller behind the net and Miller, whose performance has seemingly improved after winning World Junior gold, found Tessier in the slot to get on the board 38 seconds in .
Newcomer Andrew Carroll, up with Connecticut on a PTO from the ECHL Idaho Steelheads, got his stick tangled in Bridgeport's Matt Donovan's jersey on the Sound Tigers' right hash mark. He sat for hooking at 3:13, but the Whale penalty kill unit filled the middle and allowed just one shot. Bridgeport would ultimately finish one for two on the power play.
Connecticut stretched the lead to 2-0 when Vernace fed Kris Newbury on a break-in. Newbury slid the puck across to Segal, who fired short-side from the half boards on Bridgeport backstop Kevin Poulin. Segal's 13th of the year came at 5:41.
Bridgeport replied when Kirill Kabanov fed a puck down the wall to Donovan, who steered it right towards the net. Despite being well covered, Matt Watkins got a stick to the inside and tipped it behind Cam Talbot for his eighth goal on the season.
Nathan McIver earned his 193rd penalty minute of the season with an interference minor at 10:29, but the Whale failed to convert. Poulin made one tremendous save on the kill effort, lunging to protect against a Brandon Mashinter backhand. With 65 seconds left in the period, Poulin made his 10th save of the game, and the period would end with Connecticut leading 2-1 with an 11-6 shooting advantage.
Twenty-two seconds in to the second, the puck rolled around the half boards of the Sound Tigers' offensive zone. Ty Wishart collected at the point and stepped to the middle, shooting and getting help from Blair Riley. Riley would tip the puck in the slot for his fifth of the year to tie it up at two.
There would be one fight on the night; after a great deal of jawing back and forth, Mashinter and McIver dropped the gloves right off a faceoff in the Bridgeport defensive end. The two swung heavy fists and sat for fighting at 3:54.
Mark Cantin got his stick in the face of a crashing Tessier two and a half minutes later and it would cost Bridgeport a goal. Vernace let fly a long outlet to Michael Haley, who broke in and pulled a wrister past Poulin at 7:24. Vernace now has six points in the last four games.
Connecticut turned up the pressure midway through regulation. Miller had a lone chance on another long Vernace feed, and several other forwards took turns with quick one-timer tries.
With just over four to play in the second, Brock Nelson pulled the puck from behind the net to the corner and found Connecticut native Sean Backman. Backman made a quick handle and gave to Jack Combs who potted his own rebound on a dead-angle walk. The game was tied at three apiece.
Bridgeport took a penalty late for too many men and Blake Parlett, who has also has generated some offensive production lately, bagged a one-timer with 25.5 on the clock. Miller faked a slapshot and dished it across to the Bracebridge, Ontario product Parlett for his fourth of the year. Christian Thomas was awarded a secondary assist. The Whale took the 4-3 lead in to the second intermission.
The third opened with a quick Bridgeport flurry of shots. Coach Ken Gernander went on to say in the post-game, "We should have had the upper hand, we were fresh and we didn't finish. We're looking for full 60-minute games, not 40 or 52… you'll see ebb and flow throughout games but you have to generate your own momentum."
And that's what Bridgeport would do. Slow and steady pressure from the division rivals earned them seven shots in the first four minutes, to just one for Connecticut.
Newbury found himself in the box at 5:03 for flipping the puck over his defensive glass. On the ensuing man-up, Aaron Ness shot the puck in to traffic from the bench-side point. The puck popped up in the air and John Persson was there to finish at 7:10 with his season's 15th. The goal was Bridgeport's 10th shot of the period.
Wishart was called for interference 38 seconds after the score, but the Whale power play was highly unsuccessful this time, producing only one shot. The special teams unit finished two for four.
Newbury had time near Poulin's crease with four minutes to play, but could not seem to get around the 22-year-old netminder, in a moment where all 5,000 in attendance were holding their breath.
Connecticut stayed in the game despite being outshot 18-7 in the third.
The extra period opened with Watkins having a chance on Cam Talbot's doorstep and Nelson batting the puck at his own goal 92 seconds in, but at 1:57 the teams left the ice when Backman got assists from Persson and Jon Landry for a 5-4 Bridgeport win. Poulin finished with 32 saves on 36 shots against, while Talbot had another busy night holding off 36 of 41.
To continue reading, please click on the continue reading button below if you're on the home page.
Bridgeport Sound Tigers 5 (OT) at Connecticut Whale 4
Friday, February 1, 2013 – XL Center Veterans Memorial Coliseum
Bridgeport 1 2 1 1 – 5
Connecticut 2 2 0 0 – 4
1st Period-1, Connecticut, Tessier 8 (Miller, Yogan), 0:38. 2, Connecticut, Segal 13 (Newbury, Vernace), 5:41. 3, Bridgeport, Watkins 8 (Donovan, Kabanov), 7:41. Penalties-Carroll Ct (hooking), 3:13; McIver Bri (interference), 10:29.
2nd Period-4, Bridgeport, Riley 5 (Wishart), 0:22. 5, Connecticut, Haley 5 (Vernace), 7:24 (PP). 6, Bridgeport, Combs 3 (Nelson, Backman), 15:49. 7, Connecticut, Parlett 4 (Miller, Thomas), 19:34 (PP). Penalties-McIver Bri (fighting), 3:54; Mashinter Ct (fighting), 3:54; Cantin Bri (high-sticking), 6:19; served by Niederreiter Bri (bench minor – too many men), 19:18.
3rd Period-8, Bridgeport, Persson 15 (Ness, Wishart), 7:10 (PP). Penalties-Newbury Ct (delay of game), 5:33; Wishart Bri (interference), 7:48.
OT Period-9, Bridgeport, Backman 5 (Persson, Landry), 1:57. Penalties-No Penalties
Shots on Goal-Bridgeport 6-13-18-4-41. Connecticut 11-17-7-1-36.
Power Play Opportunities-Bridgeport 1 / 2; Connecticut 2 / 4.
Goalies-Bridgeport, Poulin 13-10-3 (36 shots-32 saves). Connecticut, Talbot 15-18-0 (41 shots-36 saves).
A-4,952
Referees-Dave Lewis (46).
Linesmen-Brent Colby (7), Kevin Redding (16).
Follow Ian on Twitter @soxanddawgs. And be sure to like us on Facebook as well.