Springfield, MA, December 29, 2012 – Former Springfield Falcon Chad Kolarik scored two goals, and Christian Thomas added a goal and an assist, as the Connecticut Whale defeated the Falcons 4-2 Saturday night at the MassMutual Center.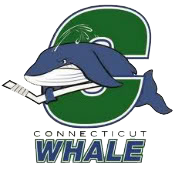 Logan Pyett also scored for the Whale, who snapped a three-game losing streak with the victory, and Cam Talbot made 23 saves. Ryan Craig and Ryan Russell scored for Springfield.
The Whale got the jump on the Falcons in the first period with a pair of special-teams goals, both scored by Kolarik.
Kolarik netted his team-best 11th of the season on a power play at 12:52. Kris Newbury won a faceoff back to Matt Gilroy, who fed to Thomas at the left point. Thomas' shot went wide of the net, but a Springfield defender overskated the carom and Kolarik jumped on it and lifted it behind Falcon goaltender Curtis McElhinney (26 saves).
The Whale penalty kill then struck for a shorthanded goal at 19:16, which came off of a two-on-one executed by Kolarik and Newbury. After former Whale Jonathan Audy-Marchessault lost the puck in the slot in the Whale zone, Newbury broke into the Springfield end on right wing and unloaded a hard, low shot that McElhinney stopped. The rebound, though, caromed to the left side, and Kolarik was able to flip it into the net backhanded.
Connecticut doubled its advantage in the second period, outshooting Springfield 13-5 and scoring twice.
Pyett, a defenseman who was a healthy scratch the previous two games, made it a 3-0 game at 6:47 with his third goal of the year. Ryan Bourque worked the puck out of the left-wing corner to Pyett at the point, and Pyett's well-placed shot eluded McElhinney.
Just 1:52 later at 8:39, Thomas scored his eighth of the year to widen the advantage to 4-0. Tommy Grant found Thomas at the left-wing side of the goalmouth with a centering pass, and Thomas had an easy finish into a mostly-open net.
Craig scored a five-on-three power-play goal 6:06 into the third to break Talbot's shutout bid. While he was falling to the ice in the slot, Craig was able to bury a pass from behind the net by Nick Drazenovic.
Russell's goal at 12:51 created the final margin, as Russell grabbed a loose puck and snapped it past Talbot after Audy-Marchessault had fanned on a shot from close range.
The Whale are next in action New Year's Eve, this Monday, when they travel to Portland to meet the Pirates. That game faces off at 5:30 PM, and all the action can be heard live on "Beethoven Radio" AM 1290 and on-line at www.ctwhale.com, with video streaming available at www.ahllive.com.
The next home game for Connecticut is this Friday, January 4 against the Adirondack Phantoms at 7:00, and at all Friday-night Whale home games fans can enjoy $1 hot dogs and $2 beers until the end of the first intermission. Whale tickets start as low as $10 each ($12 each when purchased on the day of the game) and are available at the Public Power Ticket Office at the XL Center, through TicketMaster Charge-by-Phone at 1-800-745-3000 and on-line at www.ticketmaster.com.
To continue reading, please click on the continue reading button below if you're on the home page.
Connecticut Whale 4 at Springfield Falcons 2
Saturday, December 29, 2012 – MassMutual Center
Connecticut 2 2 0 – 4
Springfield 0 0 2 – 2
1st Period-1, Connecticut, Kolarik 11 (Thomas, Gilroy), 12:52 (PP). 2, Connecticut, Kolarik 12 (Newbury), 19:16 (SH). Penalties-Cullity Spr (holding), 12:47; Vernace Ct (interference), 14:48; Parlett Ct (holding), 18:41.
2nd Period-3, Connecticut, Pyett 3 (Bourque, Tessier), 6:47. 4, Connecticut, Thomas 8 (Grant, Collins), 8:39. Penalties-Collins Ct (delay of game), 0:06; Klassen Ct (holding), 9:00.
3rd Period-5, Springfield, Craig 7 (Drazenovic, Johansen), 6:06 (PP). 6, Springfield, Russell 2 (Audy-Marchessault, Ruth), 12:51. Penalties-Tessier Ct (hooking), 2:32; Kreider Ct (interference), 4:55; Newbury Ct (slashing), 5:07; Newbury Ct (high-sticking), 14:01.
Shots on Goal-Connecticut 12-13-5-30. Springfield 9-5-11-25.
Power Play Opportunities-Connecticut 1 / 1; Springfield 1 / 8.
Goalies-Connecticut, Talbot 11-13-0 (25 shots-23 saves). Springfield, McElhinney 15-5-2 (30 shots-26 saves).
A-4,899
Referees-Trent Knorr (44), Jeff Smith (49).
Linesmen-Chris Low (88), Frank Murphy (29).
Follow Ian on Twitter @soxanddawgs. And be sure to like us on Facebook as well.