Bridgeport, CT, December 26, 2012 – Nino Niederreiter scored two goals, and David Ullstrom had a goal and three assists, to lead the Bridgeport Sound Tigers to a 5-2 win over the Connecticut Whale Wednesday night at Webster Bank Arena.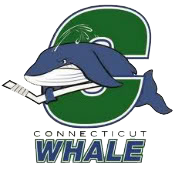 Johan Sundstrom also contributed three assists for Bridgeport, and Casey Cizikas had a pair of helpers. Marek Hrivik had a goal and an assist for the Whale, and Chad Kolarik had two assists.
It took Bridgeport only 63 seconds to open the scoring, as good early forechecking pressure led to Niederreiter's first goal, which came on a high shot from the left-wing side of the slot. Niederreiter scored again from almost the same spot at 7:04, on a rebound after Ullstrom got a couple of tries at a loose puck.
The Bridgeport power play made it a 3-0 advantage at 11:45, as John Persson found Colin McDonald with a pinpoint cross-slot pass and McDonald one-timed the puck in from along the goal line on the left-wing side.
The second period was scoreless until the 18:09 mark, when Matt Watkins scored for Bridgeport off of a goalmouth scramble. Referee Terry Koharski allowed play to continue for several seconds after the goal judge turned the red light on, but eventually ruled that the puck had gone in the net to the right of Whale goaltender Cam Talbot (24 saves), and the Sound Tigers led 4-0 going into the third.
The Whale broke Bridgeport goaltender Kevin Poulin's shutout bid 3:43 into the third frame, on Hrivik's fourth goal of the season. Mike Vernace's shot from the left point hit traffic in front of Poulin (25 saves), and Hrivik was able to collect the loose puck and pull it to the backhand and slide it in.
Connecticut cut the lead to 4-2 at 7:07, scoring off of a rush. Kolarik bore down the slot and fired a low shot that defenseman Blake Parlett, who had joined the attack, deflected underneath Poulin.
The Whale could not eat any further into the Sound Tiger advantage, though, and Ullstrom made the final margin 5-2 by scoring into an empty net as time expired.
The Whale and Sound Tigers complete a home-and-home series Thursday night at the XL Center, with faceoff at 7:00 PM. Tickets start as low as $10 each ($12 each when purchased on the day of the game) and are available at the Public Power Ticket Office at the XL Center, through TicketMaster Charge-by-Phone at 1-800-745-3000 and on-line at www.ticketmaster.com.
To continue reading, please click on the continue reading button below if you're on the home page.
Connecticut Whale 2 at Bridgeport Sound Tigers 5
Wednesday, December 26, 2012 – Webster Bank Arena
Connecticut 0 0 2 – 2
Bridgeport 3 1 1 – 5
1st Period-1, Bridgeport, Niederreiter 14 (Ullstrom, Sundstrom), 1:03. 2, Bridgeport, Niederreiter 15 (Ullstrom, Sundstrom), 7:04. 3, Bridgeport, McDonald 5 (Persson, Cizikas), 11:45 (PP). Penalties-DeFazio Bri (high-sticking), 1:21; Vernace Ct (holding the stick), 9:53; Haley Ct (fighting), 12:38; McIver Bri (fighting), 12:38; Cantin Bri (slashing), 15:37; Cizikas Bri (hooking), 15:50; Hrivik Ct (tripping), 16:00.
2nd Period-4, Bridgeport, Watkins 5 (Sundstrom, Ullstrom), 18:09. Penalties-Klassen Ct (slashing), 0:35; Donovan Bri (slashing), 6:57; Ness Bri (closing hand on puck), 9:12; Kreider Ct (hooking), 11:28; Ness Bri (tripping), 12:10.
3rd Period-5, Connecticut, Hrivik 4 (Vernace, Kolarik), 3:43. 6, Connecticut, Parlett 2 (Kolarik, Hrivik), 7:07. 7, Bridgeport, Ullstrom 4 (Cizikas), 19:59 (EN). Penalties-No Penalties
Shots on Goal-Connecticut 7-6-14-27. Bridgeport 11-11-7-29.
Power Play Opportunities-Connecticut 0 / 6; Bridgeport 1 / 4.
Goalies-Connecticut, Talbot 10-12-0 (28 shots-24 saves). Bridgeport, Poulin 8-5-2 (27 shots-25 saves).
A-6,934
Referees-Terry Koharski (10).
Linesmen-Glen Cooke (6), Paul Simeon (66).
Follow Ian on Twitter @soxanddawgs. And be sure to like us on Facebook as well.