By Wil Goldsholl
Hartford, CT, December 15, 2012 – The Portland Pirates shut the Connecticut Whale out, 1-0, at the XL Center on Saturday, leaning on an early Andy Miele goal and a shutout performance from Mark Visentin. The loss was Connecticut's second at home in two nights, after a 4-3 defeat to the Albany Devils Friday evening.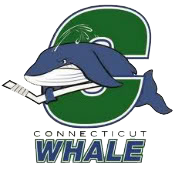 Chances were few and far between for Connecticut, despite the fact that they only trailed 32-28 in the final shot count. There were close chances early for the Whale, including a wild bounce on a dump-in with the Kris Newbury-Shayne Wiebe-Christian Thomas line out and a Logan Pyett-Ryan Bourque two on one chance that never made it to the net. It took Connecticut over twelve and a half minutes to earn their first shot on goal. Miele was a assessed a holding minor at 10:41 and the Whale earned credit for their first shot just as the power play was expiring.
Miele, however, would come out of the penalty box and, receiving assists from Mark Louis and Rob Klinkhammer, cut through the slot and back to beat Cam Talbot in the Connecticut crease. Miele's sixth of the year came at 13:04.
Wiebe came in hot on a two on one with Thomas not long after that goal. Wiebe tried a similar cross-crease move to Miele's, but Visentin stayed with him the whole way. Visentin would finish with 28 saves while earning his first shutout as a pro.
In the second period the two squads started to rack up penalty minutes, when Micheal Haley and Oliver Ekman-Larsson were sent off for roughing in the Portland crease. Chris Kreider was called for interference during the resulting 4-on-4 play, leaving a great deal of ice open, but no scoring came of it.
The best chance of the second for Connecticut came when Brandon Segal broke in on the rush and hit Visentin in the pads at 12:17, while Ethan Werek went for tripping simultaneously, interfering with one of Segal's crashing linemates.
Then right at the end of the second, Miele dumped Blake Parlett behind the Connecticut goal and was given a minor for roughing with 1.1 seconds on the clock. With the net empty, and a faceoff in the attacking zone, Newbury took a penalty for cross-checking, as he got too gritty when the buzzer sounded. The third period would start with extended 4-on-4 play again.
Miele earned his third minor for high sticking at 6:35 in the third period, and the Whale had their first full minute of sustained pressure for the entire game on the ensuing power play. They failed to convert, and additional minor penalties to Pyett for slashing and Segal for high sticking surrounding the midway mark of the period would put the Whale against the clock. Though they stretched to earn some last-minute chances trailing by just one, a Chris Kreider elbowing minor with under 30 seconds to play sealed the verdict.
To continue reading, please click on the continue reading button below if you're on the home page.
Portland Pirates 1 at Connecticut Whale 0
Saturday, December 15, 2012 – XL Center Veterans Memorial Coliseum
Portland 1 0 0 – 1
Connecticut 0 0 0 – 0
1st Period-1, Portland, Miele 6 (Klinkhammer, Louis), 13:04. Penalties-Klassen Ct (holding), 5:59; Miele Por (holding), 10:41.
2nd Period- No Scoring. Penalties-Ekman-Larsson Por (roughing), 4:57; Haley Ct (roughing), 4:57; Kreider Ct (interference), 6:08; Werek Por (tripping), 12:17; Miele Por (roughing), 19:58; Newbury Ct (cross-checking), 20:00.
3rd Period- No Scoring. Penalties-Miele Por (high-sticking), 6:35; Pyett Ct (slashing), 9:12; Segal Ct (high-sticking), 12:31; Kreider Ct (elbowing), 19:32.
Shots on Goal-Portland 12-8-12-32. Connecticut 6-9-13-28.
Power Play Opportunities-Portland 0 / 6; Connecticut 0 / 4.
Goalies-Portland, Visentin 4-6-1 (28 shots-28 saves). Connecticut, Talbot 9-10-0 (32 shots-31 saves).
A-3,924
Referees-Jamie Koharski (84).
Linesmen-Brent Colby (7), Luke Galvin (2).
Follow Ian on Twitter @soxanddawgs. And be sure to like us on Facebook as well.