By Wil Goldsholl
Hartford, CT, December 1, 2012 – It took sixty-four minutes and thirteen seconds for the Connecticut Whale and the Syracuse Crunch to reach a final score Saturday at the XL Center. The Whale fell 4-3 in overtime to Syracuse in the second of three games this weekend.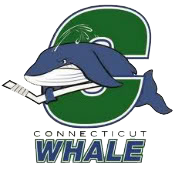 Both squads had lost road games the night before; the Whale a 4-2 decision in Providence that ended a four-game winning streak and the Crunch a 5-3 loss to the Penguins that marked their first regulation road loss on the year. Syracuse has now won 10 games on opponents' ice.
Early in the first period gameplay was high tempo and with a major physical presence.
Radko Gudas was called for boarding on Kelsey Tessier near the midway point of the period and The Whale failed to get any shots on the power play.
The unfavorable shot count coupled with struggling special teams suggested the game might not bode well for Connecticut.
Christian Thomas, however, walked out of the corner, into the crease and opened the scoring as he roofed his fifth goal of the season.
Syracuse goaltender Riku Helenius, who was not especially busy in the first period, shut down a big 2-on-1 opportunity early in the second. Whale backstop Cam Talbot replied with a save of his own as Syracuse looked to score in transition. Talbot would finish with 42 stops, and Helenius saved 24 of the 27 he faced.
Shortly after hitting the pipe on a breakaway, Richard Panik stripped Talbot behind the net handling a puck and came within inches of converting the shorthanded chance.
Helenius made another big save on Micheal Haley later on, but Blake Parlett ripped a one-timer from the left point, off a pass delivered by Brandon Segal, that beat the Finnish goaltender moments later to give the Whale a 2-0 edge with 6:07 to play in the second.
With exactly two minutes left in the period Segal was sent off for roughing. The power play was negated 13 seconds later by Philip-Michael Devos' hooking minor and 4-on-4 play ensued. As the last minute of the period came up, Talbot made a handful of saves and then managed to keep the puck out with a strong goa- line effort.
Marek Hrivik, who was physical through the first two periods, scored his second power play goal of the year at 3:03 of the third, after Chad Kolarik fed Kris Newbury. Newbury's shot found its way to Hrivik and the Whale went up 3-0.
Syracuse opened the door back in to the contest when Tyler Johnson walked in on Talbot from the circle. Johnson maintained his place atop the league's goal-scoring charts with his 14th of the season. With 13:23 to play, the Crunch were on the board.
A dot to dot one-timer five minutes later was Panik's 10th of the year from Devos, and Panik would score again in the same minute for number 11. Panik picked up the puck at neutral ice and slipped one past Talbot's stick side at 13:20. The goal was also Panik's 20th point of the season.
Syracuse shot the puck 17 times in the third period and wore Connecticut down heading in to overtime. One puck hit the iron 90 seconds in to the extra period and Mark Barberio finished the game with 46.7 seconds left to play.
To continue reading, please click on the continue reading button below if you're on the home page.
Syracuse Crunch 4 (OT) at Connecticut Whale 3
Saturday, December 1, 2012 – XL Center Veterans Memorial Coliseum
Syracuse 0 0 3 1 – 4
Connecticut 1 1 1 0 – 3
1st Period-1, Connecticut, Thomas 5 (Haley, Miller), 18:49. Penalties-Gilroy Ct (holding), 1:13; Gudas Syr (boarding), 8:39; Barberio Syr (tripping), 15:45.
2nd Period-2, Connecticut, Parlett 1 (Segal), 13:53. Penalties-Gudas Syr (interference), 8:03; Segal Ct (roughing), 18:00; Devos Syr (hooking), 18:14.
3rd Period-3, Connecticut, Hrivik 2 (Newbury, Kolarik), 3:03 (PP). 4, Syracuse, Johnson 14 6:37. 5, Syracuse, Panik 10 (Devos), 12:45. 6, Syracuse, Panik 11 13:20. Penalties-Johnson Syr (roughing), 1:24; Parlett Ct (roughing), 1:24; Barberio Syr (hooking), 2:22; Barberio Syr (interference), 8:27.
OT Period-7, Syracuse, Barberio 4 (Conacher), 4:13. Penalties-No Penalties
Shots on Goal-Syracuse 11-12-17-6-46. Connecticut 7-8-11-1-27.
Power Play Opportunities-Syracuse 0 / 2; Connecticut 1 / 6.
Goalies-Syracuse, Helenius 5-2-0 (27 shots-24 saves). Connecticut, Talbot 7-6-0 (46 shots-42 saves).
A-3,459
Referees-T.J. Luxmore (49).
Linesmen-Kevin Redding (16), Luke Galvin (2).
Follow Ian on Twitter @soxanddawgs. And be sure to like us on Facebook as well.