Providence, RI, November 30, 2012 – Jamie Tardif scored twice, and David Warsofsky and Alden Hirschfeld had a goal and an assist each, Friday night at the Dunkin' Donuts Center Providence, as the Providence Bruins defeated the Connecticut Whale by a score of 4-2.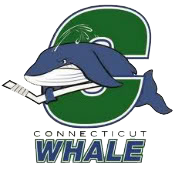 Chad Kolarik scored both Connecticut goals, both assisted by Kris Newbury. The loss snapped a four-game Whale win streak and dropped Connecticut to 9-8-1-0 (19 pts.) on the year.
Providence controlled play for much of the first period, but the Whale got the only goal, on their first shot of the game. That came at 7:40, as the red-hot Kolarik got his seventh of the year.
Newbury passed the puck out of the right-wing corner to Kolarik in the slot. Bruin goaltender Niklas Svedberg (24 saves) got a big piece of Kolarik's one-timer but could not stop it, as it slid through his pads.
Providence had an even bigger edge in play in the second period, outshooting the Whale 20-9, and the Bruins would tie the game at the 2:47 mark. The Whale's Matt Gilroy blocked a shot by Justin Florek, but the puck came right to Hirschfeld, who pounced on it and snapped a shot from the slot past Connecticut goaltender Cam Talbot (33 saves).
The two teams then combined for three goals in a span of 3:05, starting at 12:48, when Kolarik gave the Whale a short-lived 2-1 lead with his second of the game, courtesy of a big break. Kolarik's shot was stopped by Svedberg, but Providence defenseman Garnet Exelby accidentally knocked the rebound into his own net.
The goal gave Kolarik the team lead at eight, and was his sixth in the last four games.
The Bruins tied it up only 1:56 later at 14:44, as Tardif deflected in a shot by Simsbury, CT native Tommy Cross, playing his first game of the year for Providence up from South Carolina of the ECHL. Cross' former Boston College teammate, Chris Kreider, tried to block his shot, but it hit Kreider before going off of Tardif and past Talbot.
Then, only 1:09 after that, Warsofsky gave Providence its first lead of the game at 15:53, as his drive from the left wing circle went just inside the post to Talbot's left.
Tardif's second of the game made it a two-goal lead for the Bruins on a power play at 5:15 of the third. Zach Trotman carried the puck down the left-wing side and fired a shot that Talbot stopped, but Tardif, driving towards the net up the middle, knocked the rebound into the net.
Kolarik was denied a second hat trick in three games with 1:40 to go, when referee Tim Mayer ruled that the net had been dislodged behind Svedberg before Kolarik put the puck in. Mayer also awarded Kolarik a penalty shot, determining that a Bruin defender had knocked the net off intentionally, but Kolarik's attempt missed wide of the goal.
The Whale now play seven of their next eight games at home, starting with a Saturday-night battle with the Syracuse Crunch at the XL Center. That game faces off at 7:00, and the first 3,000 fans receive a Whale poster, courtesy of SuperCuts.
Tickets for all Whale regular season home games at the XL Center are on sale now at the Public Power Ticket Office at the XL Center, through TicketMaster Charge-by-Phone at 1-800-745-3000 and on-line at www.ticketmaster.com.
To continue reading, please click on the continue reading button below if you're on the home page.
Connecticut Whale 2 at Providence Bruins 4
Friday, November 30, 2012 – Dunkin' Donuts Center
Connecticut 1 1 0 – 2
Providence 0 3 1 – 4
1st Period-1, Connecticut, Kolarik 7 (Newbury, Hrivik), 7:40 (PP). Penalties-Cross Pro (cross-checking), 6:27; Kreider Ct (holding), 14:58; Pyett Ct (fighting), 18:03; Robins Pro (cross-checking, fighting), 18:03.
2nd Period-2, Providence, Hirschfeld 2 (Florek, MacKinnon), 2:47. 3, Connecticut, Kolarik 8 (Pyett, Newbury), 12:48. 4, Providence, Tardif 5 (Bourque, Cross), 14:44. 5, Providence, Warsofsky 2 (Trotman, Hirschfeld), 15:53. Penalties-Haley Ct (fighting), 7:22; Bartkowski Pro (fighting), 7:22.
3rd Period-6, Providence, Tardif 6 (Trotman, Warsofsky), 5:15 (PP). Penalties-Kolarik Ct (tripping), 4:08; Klassen Ct (boarding), 5:57; MacDermid Pro (hooking), 12:29.
Shots on Goal-Connecticut 9-9-8-26. Providence 10-20-7-37.
Power Play Opportunities-Connecticut 1 / 3; Providence 1 / 3.
Goalies-Connecticut, Talbot 7-5-0 (37 shots-33 saves). Providence, Svedberg 8-4-0 (26 shots-24 saves).
A-8,396
Referees-Tim Mayer (19).
Linesmen-Brian MacDonald (72), Todd Whittemore (70).
Follow Ian on Twitter @soxanddawgs. And be sure to like us on Facebook as well.