Providence, RI, January 20, 2013 – David Warsofsky had a goal and an assist Sunday for the Providence Bruins, who outshot the Connecticut Whale 38-15 at the Dunkin' Donuts Center Providence on the way to a 4-1 win.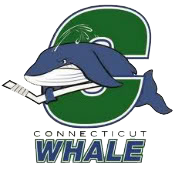 J.T. Miller scored the only Whale goal. Ryan Spooner and Justin Florek had two assists each for the Bruins.
The Whale led for much of the first period, after Miller scored on Connecticut's first shot of the game at 4:26. After Sean Collins lost the puck in the left-wing corner, Brandon Mashinter was able to get it to Miller between the hash marks, and Miller buried a slap shot behind Bruin goaltender Niklas Svedberg (14 saves). Mashinter picked up his first point in three games with the Whale with the lone assist on the goal.
Providence responded, though, with two goals in a span of 1:25 late in the period.
Bruin goal-scoring leader Jamie Tardif got his 18th of the year at 16:32. Spooner found Tardif unchecked in front of the Whale net, and Tardif pounded a high shot past Whale netminder Jason Missiaen (34 saves).
Then, at 17:57, Warsofsky gave Providence a 2-1 lead with a long snapshot from the middle of the blue line that went through a screen and past Missiaen.
The only goal of the second period was a Bruin power-play score at 7:34. With Kris Newbury in the penalty box for interference, Warsofsky fed a pass from right to left across the slot, and Carter Camper's quick shot eluded Missiaen's diving save attempt.
Providence then put it away with a Kyle MacKinnon goal with 5:11 left in the third. Graham Mink passed the puck from behind the net to MacKinnon in the slot, and Missiaen had no chance on MacKinnon's quick shot.
Sunday's game was the last of six straight on the road for the Whale, who will start a run of six straight and ten out of 12 at home this Wednesday, January 23, with a 7:00 game against the Adirondack Phantoms at the XL Center. For that and all Whale home games, tickets start as low as $10 each ($12 each when tickets are purchased on the day of the game), at the Public Power Ticket Office at the XL Center, through TicketMaster Charge-by-Phone at 1-800-745-3000 and on-line at www.ticketmaster.com.
To continue reading, please click on the read button below if you're on the home page.
Connecticut Whale 1 at Providence Bruins 4
Sunday, January 20, 2013 – Dunkin' Donuts Center
Connecticut 1 0 0 – 1
Providence 2 1 1 – 4
1st Period-1, Connecticut, Miller 7 (Mashinter), 4:26. 2, Providence, Tardif 18 (Spooner, Florek), 16:32. 3, Providence, Warsofsky 3 (Spooner, Bartkowski), 17:57. Penalties-Vernace Ct (interference), 12:29; Mink Pro (hooking), 12:33.
2nd Period-4, Providence, Camper 4 (Warsofsky, Florek), 7:34 (PP). Penalties-Wilson Ct (interference, fighting), 2:26; Randell Pro (fighting), 2:26; Newbury Ct (interference), 6:15; McIlrath Ct (fighting), 9:36; Robins Pro (fighting), 9:36; Hanson Pro (hooking), 18:54.
3rd Period-5, Providence, MacKinnon 4 (Mink, Hanson), 14:49. Penalties-Bourque Ct (fighting), 2:44; Klassen Ct (fighting), 2:44; McIlrath Ct (roughing), 2:44; Button Pro (fighting), 2:44; Cross Pro (fighting), 2:44; Florek Pro (goaltender interference, roughing), 2:44; McIlrath Ct (roughing), 7:39; Hanson Pro (roughing), 7:39; Miller Pro (goaltender interference), 7:39; Haley Ct (cross-checking), 17:10; Button Pro (slashing), 19:55.
Shots on Goal-Connecticut 6-5-4-15. Providence 12-14-12-38.
Power Play Opportunities-Connecticut 0 / 5; Providence 1 / 4.
Goalies-Connecticut, Missiaen 4-4-1 (38 shots-34 saves). Providence, Svedberg 16-6-2 (15 shots-14 saves).
A-7,599
Referees-Geno Binda (22), Ryan Murphy (5).
Linesmen-Bob Bernard (42), Jack Millea (23).
Follow Ian on Twitter @soxanddawgs. And be sure to like us on Facebook as well.