Hartford, CT … Whalers Sports and Entertainment announced today that John McKenzie, Fred O'Donnell, Terry Yake and Scott Daniels have been added to the group of featured players for the Hartford Whalers legends vs. Boston Bruins legends game February 19, 2011 at Rentschler Field in East Hartford.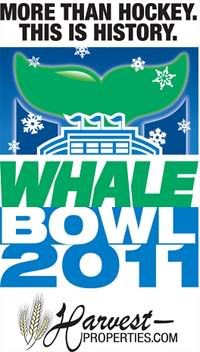 The legends game comprises part of the "Harvest-Properties.com Whale Bowl," the featured event of the two-week outdoor Whalers Hockey Fest spectacular at Rentschler Field that will include numerous collegiate, high school, prep school and youth hockey games. The legends game will face off at 4:00 PM on February 19 and will be followed by the outdoor AHL game between the Connecticut Whale and the Providence Bruins at 7:00 PM.
McKenzie, a right wing from High River, Alberta, played for both the Bruins and the New England Whalers during a 21-year professional career. McKenzie was a part of two Stanley Cup-winning teams with the Bruins, in 1969-70 and 1971-72, and reached the WHA finals with the Whalers in the 1977-78 season.
McKenzie played in 691 total NHL games for the Chicago Blackhawks, Detroit Red Wings, New York Rangers and Bruins from 1958-72, totaling 206 goals and 268 assists for 474 points. His time with the Bruins spanned from January of 1966 through the end of the Cup-winning 1971-72 campaign and included 453 games-played, 169 goals and 227 assists for 396 points, and 700 penalty minutes.
He also competed in 477 WHA contests from 1972-79, scoring 163 times and adding 250 assists for 413 total points. McKenzie ranks seventh all-time in WHA games played, and his number 19 was retired by the Hartford Whalers. McKenzie skated for the Whalers for the final two-and-a-half seasons of their WHA existence, logging 189 all-time games and totaling 57 goals and 76 assists for 133 points, along with 201 penalty minutes.
O'Donnell, a left wing and native of Kingston, Ontario, skated two NHL seasons with the Bruins, as well as two WHA seasons with the Whalers. Originally a fourth-round pick of the Minnesota North Stars in the 1969 NHL Draft, O'Donnell played in 115 games with the Bruins from 1972-74, and totaled 15 goals and 11 assists for 26 points, along with 98 minutes in penalties. He played a total of 155 games with New England from 1974-76, scoring 32 goals with 26 assists for 58 points, with 165 penalty minutes.
To continue reading, click on the read more button below if you're on the home page.
Yake, a center from New Westminster, British Columbia, played in 104 games for the Whalers from 1988-1993, scoring 24 goals and adding 37 assists for 61 points. A fourth-round pick of the Whalers in the 1987 NHL Draft, Yake had his best season as a member of the Whalers in 1992-93, when he skated in 66 games and totaled 22 goals and 31 assists for 53 points. His 22 goals ranked fourth on the team.
Yake suited up for a total of 403 career NHL contests with the Whalers, Anaheim Mighty Ducks, Toronto Maple Leafs, St. Louis Blues and Washington Capitals, scoring 77 goals with 120 assists for 197 points. Yake won the Calder Cup during the 1990-91 season with the Springfield Indians, and all told played 21 professional seasons with teams in the NHL, AHL, IHL, DEL and Swiss-B leagues.
Daniels, a left wing hailing from Mistawasis, Saskatchewan, played a total of 66 games with the Whalers from 1992-96. His best season in Hartford came in 1995-96, when he played in 53 games, registering three goals and four assists for seven points, along with a team-leading 254 penalty minutes. In nine professional seasons, Daniels played in 149 NHL games, also seeing time with the Philadelphia Flyers and New Jersey Devils, scoring eight goals and adding 12 assists for 20 points and amassing 667 penalty minutes.
Originally a seventh-round pick of the Whalers in the 1989 NHL Entry Draft, Daniels also was Yake's teammate on the Calder Cup-Champion Springfield Indians club of 1990-91.
Tickets for the February 19 Harvest-Properties.com Whale Bowl, which include admission to both the AHL game and the legends game, are on sale now at Ticketmaster.com, as well as at the Bushnell box office from Monday through Friday, 12 noon-5:00 PM. Ticket prices range from $20 to $85 and can also be purchased by calling the Connecticut Whale at 860-728-3366. Tickets purchased online can be printed immediately (via Ticketmaster).