How would you like a chance to see Knuckleball! which features retired Boston Red Sox pitcher Tim Wakefield and New York Mets pitcher R.A. Dickey on April 21st at the Tribeca Film Festival in NYC?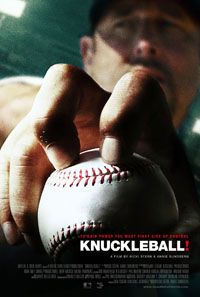 All you need to do is answer the trivia question below to be entered into the drawing.
Here are the prize details:
Prize:
Two tickets in the VIP reserved section at the premiere on April 21st
Signed movie poster by Tim Wakefield, R.A. Dickey, Charlie Hough, and Jim Bouton
Note: Winner must be able to attend the event to pick up the poster between 5:30 p.m. and 6:30 p.m. You are also responsible for your own transportation to and from event.
All you need to do for a chance to see Knuckleball! is answer the following question and email your answer to [email protected].
Where did Tim Wakefield go to college?
I will be taking entries until 12 p.m. on Wednesday, April 18th.
The baseball documentary Knuckleball! will be premiering for free to the public on April 21st as a part of the Tribeca Drive-in at the Tribeca Film Festival. This classic sports story recounts the 2011 journey of the last professional knuckleball pitchers: Tim Wakefield, a 17-year Red Sox veteran, and Mets up-and-comer R.A. Dickey. Together with just four other living knuckleballers, they shine a light on their remarkable brotherhood and the shared pursuit of honor and craftsmanship.
The Tribeca Drive-in will open at 6:00 pm and include live music, giveaways, baseball trivia contests and pitching clinics with pro knuckleballers R.A. Dickey; Tim Wakefield; Charlie Hough, formerly of the Dodgers and Rangers; and former New York Yankee Jim Bouton. The world premiere of Knuckleball! will follow at 8:15 pm.
Tribeca Drive-In® At the World Financial Center Plaza (West Street between Vesey & Liberty Streets) – http://www.tribecafilm.com/maps/
http://youtube.com/watch?v=09pfeKtEj2I?hl=en&fs=1
Follow Ian on Twitter @soxanddawgs. And be sure to like us on Facebook as well.