It was supposed to be a matchup of the two highest scoring teams in all of women's basketball tonight in Chapel Hill. And now after the game, there is no doubt as to who is the best team in women's basketball.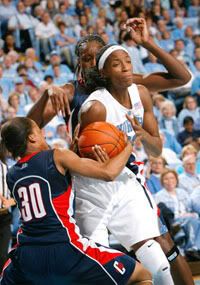 Renee Montgomery scored 21 points to help lead the No. 1 UConn Huskies to an 88-58 win over the No. 2 North Carolina Tar Heels in front of 12,722 at the Dean Dome in Chapel Hill, NC. The win by UConn ends the 31-game home winning streak of the Tar Heels.
The Huskies improve to 18-0 while the Tar Heels drop to 17-1. UConn now remains one of two unbeaten team in women's basketball. The No.6/8 Auburn Tigers (17-0) are the other.
Despite picked up 2 fouls in the first half, Maya Moore finished with her 9th double-double of the season and 20th of her career with 19 points and 12 rebounds and added 4 steals. Tina Charles also had a great game with 17 points and 12 rebounds. Kalana Greene also hit double digits with 15 points.
To me though the key to the game was the play of Lorin Dixon, who got the start for the injured Caroline Doty, and Kaili McLaren who both stepped up their games to a whole nother level. With it being an up-tempo game, Dixon stepped right in and used her speed to her advantage. She had a career-high 14 points, 8 rebounds and 6 assists. And despite having just 2 points, McLaren had 4 rebounds and 5 assists on some great passes down low.
Italee Lucas led the Tar Heels with 15 points and Rashanda McCants added 13 points and 6 rebounds. Jessica Breland chipped in with 10 points and 6 rebound for Sylvia Hatchell's squad.
The Huskies completely dominated the first half on both ends. They got out to a 15-4 lead on the strength of a 9-0 run behind six points by Moore using their defensive pressure forcing Carolina to turn the ball over. The Tar Heels then went on an 8-0 run of their own to cut the lead to 3 points at 15-12 but that's as close as they would get the rest of the first half.
UConn dominated the glass in the first half holding a 30-15 advantage and just seemed to be quicker to the ball. Anytime Carolina tried to trap them, the Huskies would exploit with their speed, especially the speed of Dixon to beat it and get some easy baskets as they had 11 assists on 18 first half baskets on their way to a 40-36 lead.
You knew at some point that Moore was going to take over and she did scoring 13 of her 19 points in the second half to help the Huskies build their lead. Carolina never got closer than 16 points in the second half.
It was great to see Dixon and McLaren step up their games in the absence of Doty. Unfortunately, Tiffany Hayes didn't and that will need to change. UConn needs her to step up to give themselves a third 3-point shooting option that could help spread out defenses even more.
This was the final non-conference game of the season for the Huskies and now they will continue on with their Big East schedule when they head to Cincinnati Saturday night to take on the Bearcats at Fifth Third Arena. Tip-off is scheduled for 7 PM and the game will be televised locally on CPTV.
Notes and musings:
UConn Huskies @ North Carolina Tar Heels 1.19.09 women's basketball box score
The starters were Renee Montgomery, Lorin Dixon, Kalana Greene, Maya Moore and Tina Charles.
Caroline Doty did travel with the team and was on the bench. She will undergo her reconstructive surgery on Thursday.
UConn earned its first-ever win in Chapel Hill and improved to 9-2 all-time in 1 vs. 2 matchups, including 4-0 on the road. UConn is now 4-5 all-time versus Carolina.
The Huskies shot 47.2% (34-72) from the floor while the Tar Heels shot 36.9% (24-65).
UConn had 24 assists on their 34 made baskets.
The Huskies dominated the glass holding a 53-32 advantage, including 21 on the offensive end.
UConn must have seen what the men's team at the foul line on Sunday afternoon because they were downright AWFUL as well. They were 14-of-24 (58.3%). Thankfully, this wasn't a close game.
This was North Carolina's worst home loss since losing 104-70 to Maryland on Jan. 6, 1988.