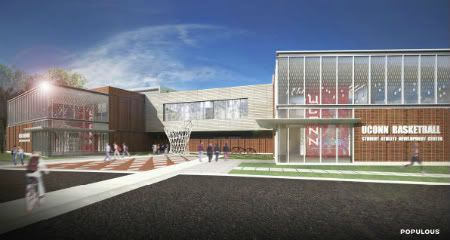 Here's the press release from UConn announcing that they have received $1.05 million in donations for the proposed basketball practice facility.
STORRS, Conn. – Continuing the momentum generated by the recent announcement of Peter and Pam Werth's $4.5 million commitment to a new Basketball Development Center, UConn's Division of Athletics is pleased to report that two additional gifts totaling $1.05 million have been received.
The donors, who have asked to remain anonymous, have each pledged approximately $500,000 to the project. Both are UConn alumni and long-time supporters of the University and the Division of Athletics. The two donors cited the legacy of men's basketball coach head coach Jim Calhoun, associate head coach George Blaney and the rest of the basketball staff, along with the goal of future NCAA championships, as the primary motivation for the gifts.
"Our supporters continue to show their generosity and enthusiasm as we move closer to making this project a reality," said Paul Pendergast, UConn's Interim Director of Athletics. "These individuals are dedicated supporters of our programs and truly understand the value of providing top-notch facilities so that our student-athletes can perform to the best of their abilities in both academics and athletics."
The Basketball Development Center will be a 70,000 square foot facility to be located on the current Memorial Stadium site, and is the first major construction project at UConn to be funded entirely through private donations. It will feature dedicated practice gyms for the men's and women's basketball programs, along with locker rooms, coaches' offices and areas for academic support, video analysis, sports medicine and strength training.
Follow Ian on Twitter @soxanddawgs. And be sure to like us on Facebook as well.
Photo credit: UConnHuskies.com