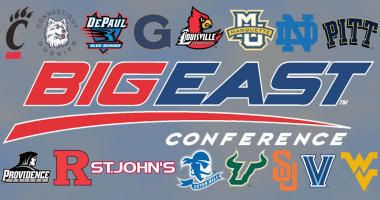 It's been a few years since anyone has been able to say this.
During the Big East Men's Basketball Media Day in New York City this morning, the UConn Huskies were picked to finish first in the Big East as they received 214 points in the coaches poll and receiving 9 first place votes. Nipping on the heels of the Huskies are the Louisville Cardinals, Pittsburgh Panthers and the Notre Dame Fightin' Irish.
Big East 2008-09 Preseason Men's Basketball Coaches' Poll

School

Points

1. Connecticut (9)
214
2. Louisville (3)
205
3. Pittsburgh (3)
200
4. Notre Dame (1)
195
5. Villanova
153
6. Marquette
146
7. Georgetown
141
8. Syracuse
139
9. West Virginia
121
10. Providence
99
11. Cincinnati
91
12. Rutgers
53
13. Seton Hall
50
14. St. John's
44
15. DePaul
43
16. USF
26
First-place votes in parentheses.
Notre Dame's Luke Harangody was picked as the Preseason Player of the Year while A.J. Price and Hasheem Thabeet were named to the Preseason All-Big East First Team. Shockingly, Jeff Adrien was an Honorable Mention. I really thought he'd be part of the First Team as well. Nothing like firing up UConn's fiercest player.
A full look at the teams after the jump
2008-09 BIG EAST Preseason Player of the Year
Luke Harangody, Notre Dame
2008-09 BIG EAST Preseason Co-Rookies of the Year
Greg Monroe, Georgetown
Samardo Samuels, Louisville
2008-09 Preseason All-BIG EAST Team
*Luke Harangody, Notre Dame (Player of the Year), F, Jr., 6-8, Schererville, Ind.
Deonta Vaughn, Cincinnati, G, Jr., 6-1, 195, Indianapolis, Ind.
A.J. Price, Connecticut, G, Sr., 6-2, 181, Amityville, N.Y.
Hasheem Thabeet, Connecticut, C, Jr., 7-3, 263, Dar Es Salaam, Tanzania
DaJuan Summers, Georgetown, F, Jr., 6-8, 241, Baltimore, Md.
Terrence Williams, Louisville, F, Sr., 6-6, 210, Seattle, Wash.
Jerel McNeal, Marquette, G, Sr., 6-3, 200, Country Club Hills, Ill.
Kyle McAlarney, Notre Dame, G, Sr., 6-0, 196, Staten Island, N.Y.
*Sam Young, Pittsburgh, F, Jr., 6-6, 215, Clinton, Md.
Jonny Flynn, Syracuse, G, So., 6-0, 185, Niagara Falls, N.Y.
Scottie Reynolds, Villanova, G, Jr., 6-2, 195, Herndon, Va.
*unanimous selection
2008-09 Preseason BIG EAST Honorable Mention
Jeff Adrien, Connecticut, F, Sr., 6-7, 243, Brookline, Mass.
Earl Clark, Louisville, G/F, Jr., 6-8, 220, Rahway, N.J.
Dominic James, Marquette, G, Sr., 5-11, 185, Richmond, Ind.