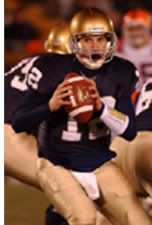 Throw Zach Frazer's name into the QB mix for the 2008 season for the UCONN Huskies. Frazer announced on Sunday that he will be transfering to Storrs and will be enrolling for the fall semester. He will be eligible to practice with the team and will have 3 years of eligibility left starting in 2008.
Frazer was one of four QB's competing for the starting job in South Bend with Notre Dame, but head coach Charlie Weis didn't name him as one of three to compete in the fall for the job after spring practice. Thus the decision to transfer from Irish.
Frazer will be competing with Tyler Lorenzen, Dennis Brown and Clay Condre for the starting gig in 2008. D.J. Hernandez has moved to wide receiver for the Huskies.
This is a big time signing for the Huskies in my opinion. If he was good enough to get a chance at Notre Dame, then he should be good enough to play football at the Rent.