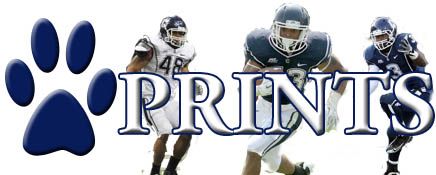 This week:
After a bye week, the UConn Huskies hit the road for the second straight game. This time they are in Tampa, FL to take on the South Florida Bulls on Saturday night at Raymond James Stadium for a 7 p.m. kickoff.
Here are the rosters for the Huskies and the Bulls.
The Line/Prediction:
According to Rivals.com odds, South Florida is favored by 8.5 points. The over/under is 46.
Tickets:
According to Ticketmaster, there are tickets available for the game.
Getting To The Game:
Here is the weather forecast for Tampa, FL.·
Here are the links you need for information about Raymond James Stadium (Cap. 65,857) in Tampa, FL. A-Z Fan Guide | Get There With HART | Stadium Seating Map | Parking Map | Directions | Prohibited Items
BROADCAST INFORMATION
Television:
Saturday's game is being televised nationally by ESPNU. Anish Shroff is on play-by-play with Dan Hawkins on color.
The game will be replayed in its entirety on SNY on Wednesday, Nov. 7 at 2:00 p.m. and in a condensed "Husky Power Hour" version on Sunday, Nov. 4 at 8 a.m. and 10 a.m., Monday, Nov. 5 at 8 a.m. (Connecticut only) and Wednesday, Nov. 7 at 2 p.m. (Connecticut only).
Radio:
For the 21st consecutive season, WTIC 1080-AM in Hartford serves as the flagship station for the IMG/UConn Radio Network. WTIC is the state's only 50,000 watt signal and can be heard in 23 states and parts of Canada.
Veteran UConn announcers Joe D'Ambrosio (play-by-play) and Wayne Norman (color commentary) return to call the action with Kevin Nathan on the sidelines.
UConn football on home Saturday dates gets going early with "Breakfast At The Rent" with Ray Dunaway and Scott Gray beginning at 6:00 a.m. The UConn Tailgate Show will air from 9:30 a.m. to 10:30 a.m. with Kevin Nathan and Bob Joyce. The pregame show begins at 10:30 a.m. followed by the game and then postgame "Husky Talk" with Kevin Nathan
UConn football games are also broadcast over the internet at WTIC.com. Here is a full list of stations on the UConn IMG Sports Radio Network.
South Florida Radio:
USF's radio broadcast can be heard on the USF/IMG Radio Network. Jim Louk has the play-by-play with Mark Robinson (analyst) and Mike Pepper (sideline). Jim Lighthall and Justin Pawlowski host the pre and post-game shows.
Here's the list of USF/IMG Radio Network affiliates.
The Fan. 98.7 WHFS — Tampa Bay Flagship
1010 WFAN — Tampa
104.3 WYKE — Ocala/Gainesville
99.9 WXJB — Brooksville
660 WORL — Orlando
1600 WZNZ — Jacksonville
106.9 WSRQ — Sarasota
1080 WHIM — Miami
1220 WSRQ — Sarasota
In addition, the USF radio broadcast can be heard on Sirius 136 and XM 195
To continue reading the UConn Huskies @ South Florida Bulls preview, click on the read more button below if you're on the home page.
Last Week:
UConn was off last week but lost their last time out against Syracuse 40-10. The Bulls fell last week 37-36 to Syracuse.
History:
Saturday's game is the tenth meeting between UConn and South Florida and the Huskies lead 5-4. UConn has won five of seven BIG EAST meetings — with the home team winning the first five before UConn broke through at USF in 2010.
Connections:
The UConn roster has eight players from Florida on it – redshirt freshman Tyree Clark (Tampa), freshman John Green (Miami), freshman Ricky Gutierrez (Hialeah), freshman Ellis Marder (Windermere), redshirt sophomore Bryan Paull (Parkland), freshman Bobby Puyol (North Palm Beach), redshirt sophomore Brandon Steg (Coral Springs) and freshman Jhavon Wiliams (Wellington).
The USF roster, dominated by Florida players, has one Connecticut connection—redshirt freshman WR Jimel Atkins is a Jacksonville native who transferred from Central Connecticut.
USF head coach Skip Holtz was born in Willimantic, Conn., when his father Lou Holtz was an assistant at UConn from 1964-65. Skip Holtz later became the head coach at UConn from 1994-98 and led UConn to the NCAA Division I-AA playoff in 1998.
USF offensive coordinator Todd Fitch was on the UConn staff from 1994-98.
USF assistant Vernon Hargreaves was an All-American linebacker at UConn in 1982-83 and was on the UConn coaching staff from 1985-87 and 1989-97.
Other UConn News:
Here are the quotes from UConn head coach Paul Pasqualoni's press conference as well quotes from some of the players.
Here is UConn's depth chart for the game.
Pasqualoni is the all-time winningest coach in BIG EAST Conference league wins with 65 and overall wins with 113. He is just one of two league coaches in history to win four BIG EAST Championships. His overall college coaching record stands at 149-88-1 (34-17 at WCSU, 107-59-1 at Syracuse and 8-12 at UConn).
Four members of the University of Connecticut football team were named to seven major award watch lists over the course of the 2012 preseason.
Senior Tight End Ryan Griffin
John Mackey Award Watch List
Lombardi Award Watch List
Sophomore Running Back Lyle McCombs
Doak Walker Award Watch List
Maxwell Award Watch List
Senior Linebacker Sio Moore
Butkus Award Watch List
Lombardi Award Watch List
Senior Defensive End Trevardo Williams
Bednarik Award Watch List
Lombardi Award Watch List
Nagursky Trophy Watch List
Sophomore Linebacker Yawin Smallwood
The following four Huskies were named team captains for the season in the week prior to the season opener vs. UMass – redshirt senior outside linebacker Jory Johnson (Mobile, Ala.), redshirt senior offensive tackle Adam Masters (Bethesda, Md.), senior wide receiver Nick Williams (East Windsor, N.J.) and redshirt senior cornerback Blidi Wreh-Wilson (Edinboro, Pa.).
For the second time this season, UConn faces a former Husky head coach in Skip Holtz. UConn beat Randy Edsall and Maryland earlier this year.
DE Trevardo Williams is one sack away from breaking the all-time record at UConn; he has just 1.0 sack in the last three games
UConn owns an all-time mark of 25-33 in BIG EAST Conference games since joining the league for football in 2004.
UConn is 5-22 in BIG EAST road games.
Here is where UConn stands in the lastest NCAA statistics:
Total Defense – 10th at 291.13 yards per game
Rushing Defense – 22nd at 118.38 yards per game
Passing Defense – 13th at 172.72 yards per game
Scoring Defense – 21st at 19.25 points per game
Sacks – 23rd at 2.63 per game
Tackles For Loss – 20th at 7.25 per game
Total Offense – 111th at 316.75 yards per game
Rushing Offense – 116th at 86.88 yards per game
Passing Offense – 64th at 229.88 yards per game
Scoring Offense – 116th at 17.88 points per game
Punt Returns – 24th at 12.31 yards per return
Here is where UConn individuals stand in NCAA leaders
Trevardo Williams – t15th in sacks at 0.94 per game (leads BIG EAST)
Yawin Smallwood – t16th in tackles for loss at 1.63 per game (leads BIG EAST)
9th in tackles at 10.62 per game (leads BIG EAST)
Nick Williams – 22nd in punt returns at 11.73 per return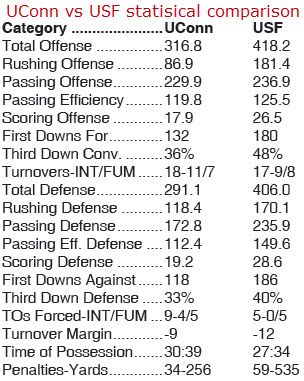 Notes from this week's opponent South Florida:
Here is the video of South Florida head coach Skip Holtz's press conference.
Here's is USF's depth chart for the game.
USF has posted a 73-28 (.722) record in home games since the program started in 1997. They played their home schedule in 1997 and the first two games of the '98 season in Tampa Stadium, going 6-3. Then, the Bulls moved into Raymond James Stadium for the Citadel game in '98 and have gone 64-21 (.753) since. USF has notched a winning home record in 13 of its 15 seasons.
USF is 21-32 (.396) in the BIG EAST play.
The Bulls own a 3-1 mark against UConn in Tampa. The one win was two years ago when Dave Teggart hit the game-winning field goal that gave the Huskies the win and a berth in the Tostitos Fiesta Bowl.
The Bulls had six players named to 2012 preseason national award watch lists.
Senior QB B.J. Daniels has been named to the Davey O'Brien Award Watch List. The award honors the nation's top quarterback each year.
Junior DE Ryne Giddins, a 2011 All-Big East second team selection and 2010 freshman All-American was selected for the Lombardi Award watch list. Joining Giddins on the Lombardi list is junior LB DeDe Lattimore. The Lombardi Award recognizes the nation's top lineman or linebacker.
On the offensive side of the ball, senior OT Mark Popek is on the Outland Trophy list, which honors the nation's top lineman.
For the second-straight year senior PK Maikon Bonani, a 2011 second team All-BIG EAST selection, has been named to the Lou Groza watch list.
Rounding out the group of Bulls gaining national attention is senior OG Danous Estenor, who is on the Allstate AFCA Good Works Team list, which is one of the nation's most prestigious off-the-field honors for a group that has made a difference in the community.
Thursday UConn Football Links:
Tricks and treats in the Big East [andrea adelson – espn.com]
Big East predictions: Week 10 [andrea adelson – espn.com]
UConn Sophomore Fullback Mike Osiecki (Seymour) Has Withdrawn From School [desmond conner – hartford courant]
What to watch in the Big East: Week 10 [matt fortuna – espn.com]
Husky Defense Looking For Improvement Saturday [uconnhuskies.com]
USF Hopes to Snap Six Game Losing Streak Saturday Against Connecticut [bigeast.org]
UConn Needs QB Whitmer To Come Up Big Vs. South Florida [hartford courant]
Next Week:
The Huskies return to home to Rentschler Field next Friday night to host the Pittsburgh Panthers. Kickoff is scheduled for 8 p.m.
Follow Ian on Twitter @soxanddawgs. And be sure to like us on Facebook as well.