There's just something about the UConn Huskies men's basketball team and having a big lead at the Dunkin Donuts Center in Providence, RI. It seems everytime they get one, they lose it and lose the game.
Fortunately for them, Omar Calhoun hit a big a three in overtime and the Huskies made their free throws as they held on to beat the Providence Friars 82-79 in front of 10,180 and a nationally-televised audience on ESPN2 at the Dunk on Thursday night.
UConn improves to 14-5 (4-3 Big East) while Providence falls to 10-11 (2-7).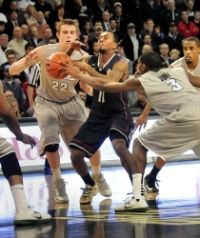 Ryan Boatright led the way for UConn with 19 points and seven assists. Shabazz Napier and DeAndre Daniels both added 18 points with Daniels pulling down a team-high seven rebounds. Calhoun finished the game with 13 points.
Kadeem Batts paced the Friars with 20 points and added nine rebounds. Bryce Cotton had 18 points while LaDontae Henton had a double-double of 15 points and 13 rebounds. Despite not starting the game due to a coach's decision, Vincent Council had a double-double of his own with 15 points and 10 assists.
If it weren't for Council being benched to start this game, it's quite possible the result could have been different for UConn.
UConn got out of the gates quickly as they charged out to a 25-10 lead before Council entered the game. Once he came in, the Friars went on a 8-0 run and finished the half on 22-8 run. If it weren't for a turnover, Providence could have held a halftime lead.
The teams exchanged baskets throughout the second half with the biggest lead being held by UConn at five points. In overtime, Calhoun's three gave the Huskies the lead for good and they held off the Friars.
While we know head coach Kevin Ollie is happy with the win, he can't pleased that his team was absolutely crushed on the boards, 55-24. Of course it doesn't help when you're three big men (Tyler Olander, Enosch Wolf and Daniels) all foul out of the game.
But like they've done all season long, the team showed enough heart to pull out the "W".
The Huskies are back in action on Sunday afternoon when they'll welcome the South Florida Bulls to Gampel Pavilion. Tip is scheduled for 2 p.m.
To continue reading, please click on the continue reading button below if you're on the home page.
http://youtube.com/watch?v=6D2SA5aQqkI?rel=0
UConn Huskies @ Providence Friars 1.31.13 box score
Follow Ian on Twitter @soxanddawgs. And be sure to like us on Facebook as well.
photo credit: stephen dunn – hartford courant (no. 8 in gallery)