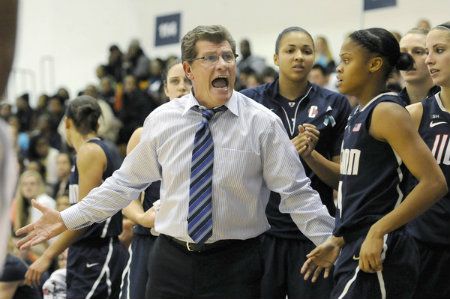 Not every game the UConn Huskies women's basketball team plays is going to be pretty. But this win was down right ugly.
In a game that saw almost as many turnovers as Georgetown Hoyas points, UConn bounced back from their loss on Saturday with a 75-48 win in front of a crowd of 2,387 at McDonough Arena in Washington, DC on Wednesday night.
The Huskies improve to 13-1 and pick up their first Big East win of the season (1-1). The Hoyas fall to 10-5 (1-1).
Kelly Faris led the way for UConn with 15 points and also had four rebounds, four assists and five steals. Stefanie Dolson added 13 points, five rebounds and a team-high five assists while Bria Hartley added 12 points.
After a poor start to the game, Breanna Stewart finished strongly as she picked up a double-double with 12 points and 13 rebounds. Moriah Jefferson had a nice game off the bench with nine points and a team-high seven steals.
Georgetown was led by Sugar Rogers who had 23 points and nine rebounds. Andrea White and Sydney Wilson both chipped in with nine points a piece.
Given the way UConn lost on Saturday, you would have expected them to come out like a well oiled machine like they normally do after a loss. That was far from the case as they played sloppily at times committing 19 tunrovers. Of course Georgetown wasn't much better with 26 turnovers.
When you look at the box score of those who saw significant time in the game, only Jefferson from UConn and Vanessa Moore and White from Georgetown didn't commit a turnover.
I was definitely impressed by how Stewart bounced back though after the slow start. This is going to happen to her as she goes through the growing pains. But each time she gets down, she comes back stronger and this can only help the Huskies going forward.
UConn will stay on the road as they head to Milwaukee, WI on Saturday afternoon for another Big East matchup with the Marquette Golden Eagles. Tip is scheduled for 4 p.m.
UConn Huskies @ Georgetown Hoyas 1.9.13 box score
Follow Ian on Twitter @soxanddawgs. And be sure to like us on Facebook as well.
photo credit: cloe poisson – hartford courant (no. 5 in gallery)