College football is slowly creeping upon us and today as they get together in Newport, RI, the Big East has released the 2010 Preseason Big East Football rankings.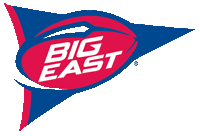 The Pittsburgh Panthers are the overwhelming favorites to earn the Big East's BCS bid receiving 22-of-24 first place votes. The West Virginia Mountaineers received one first place vote and were picked to finish second along with the Cincinnati Bearcats.
Obviously someone out there liked the UConn Huskies chances as they received the other first place vote but are picked to end up fourth. This is the highest ranking the Huskies have received since joining the Big East in football.
The Huskies will begin practicing next Monday (August 9th) in anticipation of the opening game against the Michigan Wolverines on September 4th in Ann Arbor, MI at the Big House.
Here is the complete Preseason Big East Football rankings:
1. Pittsburgh (22 first-place votes) 190
2. Cincinnati 142
West Virginia (1) 142
4. Connecticut (1) 131
5. Rutgers 99
6. USF 79
7. Syracuse 41
8. Louisville 40