The UConn Huskies women's basketball program's streak of four straight players taken in the WNBA Draft ended on Monday afternoon. The good news though is that Tiffany Hayes was selected by the Atlanta Dream with the second pick in the second round (14th overall).
Here's the release from UConn:
STORRS, Conn. – University of Connecticut senior guard Tiffany Hayes has been selected by the Atlanta Dream as the No. 14 pick in the 2012 WNBA Draft on Monday afternoon at ESPN Studios in Bristol, Conn.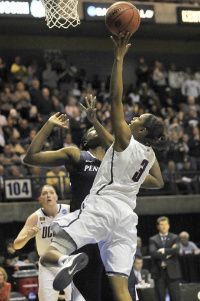 Hayes is the 26th Husky to play in the league since the WNBA's inception in 1997. UConn has now had a player selected in the WNBA Draft 13 times in the past 15 years. Connecticut did not have any seniors on its roster in 2003 or 2007. This marks the first time in five years that a Husky has not been selected in the first round of the WNBA Draft.
The Lakeland, Fla. native finished her decorated career with a 147-7 record as a Husky. Hayes' senior campaign was her best as she averaged 14.7 points, 5.8 rebounds, 3.3 assists and 2.3 steals per game. Playing in 30.2 minutes per game, the senior led the squad in steals and was second in scoring and rebounding. Hayes tallied 23 twenty-plus performances in her career, including scoring 30 or more points three times in the 2011-12 season.
While at UConn, Hayes won two national championships, played in four Final Fours, was a two-time All-BIG EAST First Team member, was selected as the Most Outstanding Player of the 2012 Kingston Regional and was named Associated Press Third Team All-American in her senior campaign.
Follow Ian on Twitter @soxanddawgs. And be sure to like us on Facebook as well.
photo credit: Cloe Poisson – Hartford Courant