While the UConn Huskies men's basketball program may not be eligible for the 2013 NCAA Touranment at this time, it's not stopping Connecticut native R.J. Evans from coming to Storrs, CT.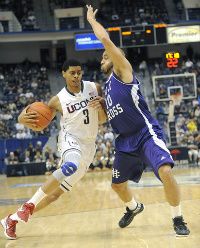 The Salem, CT native announced on Friday that he will attend and play at UConn after graduating from Holy Cross this May.
"It's every Connecticut kid's dream to play at UConn. It's a dream come true. I'm grateful and thank God. It's a great opportunity and I'm going to make the best of it."
Evans did play four season for the Crusaders but he injured his knee his junior year and earned a medical redshirt. He will be able to play right away for Jim Calhoun's depleted Huskies squad.
Evans led the Crusaders with 15 points in their 77-40 loss to UConn on December 18, 2011.
Follow Ian on Twitter @soxanddawgs. And be sure to like us on Facebook as well.
photo credit: Brad Horrigan – Hartford Courant