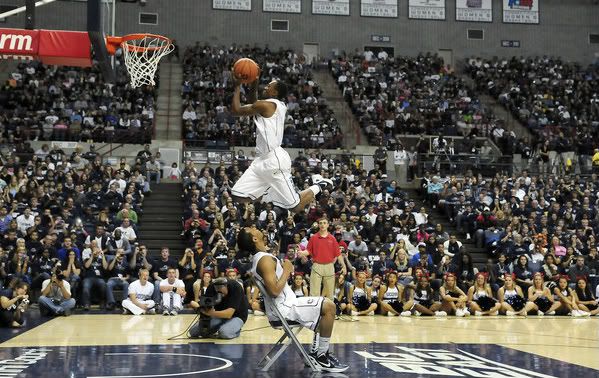 We finally have a resolution to the situation involving UConn Huskies men's basketball freshman Ryan Boatright who has been out due to an investigation by the NCAA over the receipt of a plane ticket from his AAU coach.
Here are the details from David Borges of the New Haven Register:
Boatright has been withheld from the first three regular season games by the school and will also miss the next three games, against Coppin State on Sunday and the first two games of the Battle 4 Atlantis on Nov. 24 and 25. He will be permitted to travel with the team and see action for UConn beginning with the final game of the tournament on Nov. 26.
This is good news for the Huskies as they are a little thin at the point guard position.
Shabazz Napier tweaked something last night but should hopefully be okay for Sunday's game. If he's not able to go, it's quite possible you'll see Jeremy Lamb handling the point guard duties. Freshman walk-on Brendan Allen has also seen a little action at point guard this season.
Boatright has been able to practice with the team while sitting out the two preseason games and first three games of the regular season. So it's not like he won't be familiar with what UConn is running out there. And while Shabazz probably doesn't mind 40 minutes a game, Boatright will be able to come in and give him some rest.
It is a long season after all.
Follow Ian on Twitter @soxanddawgs. And be sure to like us on Facebook as well.
Photo credit: John Woike – Hartford Courant