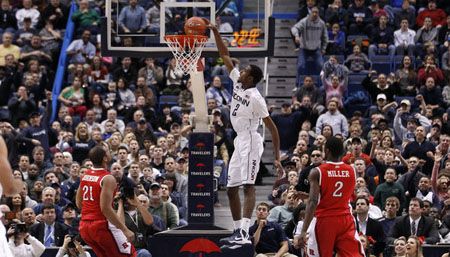 Despite the fact the UConn Huskies men's basketball team has dominated the Rutgers Scarlet Knights over the years, they seem to struggle with them at times.
Sunday's game at the XL Center was no different.
A 9-0 run in the second half helped the Huskies pull away on their way to a 66-54 win over the Scarlet Knights in front of 12,768 fans.
The win ends a two-game losing streak for the Huskies as they improve to 13-5 (3-3 Big East. Rutgers falls to 12-7 (3-5).
Shabazz Napier led the way for the Huskies with 19 points and six assists while pulling down five rebounds. Ryan Boatright added 15 points while DeAndre Daniels had 13 points and a team-high seven rebounds.
Jerome Seagears paced the Scarlet Knights with 21 points. Eli Carter added 13 points and six rebounds. Kadeem Jack led Rutgers with nine rebounds to go along with his eight points.
UConn saw their first half lead of seven points dwindle as Rutgers opened up with 10-1 run to take the lead. UConn battled back to take the lead at 35-32 when Niels Giffey had an old-fashioned three point play.
Rutgers responded though and cut the lead to 46-43 before UConn used that 9-0 run to seize control of the game.
As we know, one of UConn's battles this season has been being outrebounded time and time again. This time, they were able to outrebound Rutgers 37-33.
I still think UConn will surprise people as they keep going through this Big East season. They need to play more consistently though if they want to do that.
The Huskies will be back in action on Thursday night when they make the bus ride to the Dunkin Donuts Center in Providence, RI for a Big East matchup with the Providence Friars. Tip is scheduled for 7 p.m.
To continue reading, please click on the continue reading button below if you're on the home page.
Rutgers Scarlet Knights @ UConn Huskies 1.27.13 box score
Here are the postgame quotes from UConn head coach Kevin Ollie.
Here are UConn's postgame notes.
photo credit: david butler ii – us presswire (no. 23 in gallery)
Follow Ian on Twitter @soxanddawgs. And be sure to like us on Facebook as well.