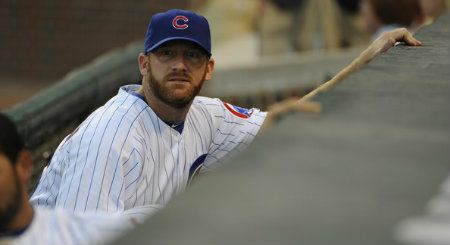 One of the positions we knew the Boston Red Sox were looking for during free agency was starting pitching. Up until now, they haven't signed any.
That all changed though on Thursday.
According to multiple media reports, the Red Sox and free agent pitcher Ryan Dempster have agreed to terms on a deal. According to Ken Rosenthal of FoxSports.com, the deal is worth $26.5 million over the two years.
If the report is true, the Red Sox rotation will consist of Dempster, Jon Lester, Clay Buchholz, John Lackey and Felix Doubront or Franklin Morales. Of course that could change if the Red Sox decided to sign another pitcher.
Dempster spent the 2012 season with the Chicago Cubs before being traded to the Texas Rangers. Combined between the two teams, Dempster was 12-8 with a 3.38 ERA.
He dominated the Red Sox last season going to 2-0 with 0.00 ERA (0 ER/13.2 IP). He's made three career starts at the Fens over the years and is 1-1 with a 6.06 ERA (11 ER/16.1 IP).
Another good signing for Ben Cherington and the Red Sox.
Dempster should help stabilize the Red Sox rotation and eat up innings. Before last year when he threw 173 innings, he had gone at least 200 innings for the four seasons before.
Follow Ian on Twitter @soxanddawgs. And be sure to like us on Facebook as well.
photo credit: getty images