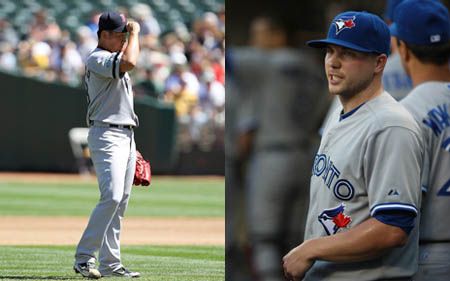 After going 1-5 on the six-game home stand, the Boston Red Sox take to the road for their next seven games. Tonight they'll kick their road trip off with the first game of a three-game set with the Toronto Blue Jays in the Battle For the Basement at the Rogers Centre in Toronto, Ontario, Canada.
First pitch is scheduled for 7:07 p.m. and the game will be broadcast on NESN in the Red Sox television market. If you live in the Yankees television market, you can catch the game on Rogers SportsNet and TVA Sports (French broadcast). If you can't catch the television broadcast, you can always listen to it on the Red Sox radio network.
Daisuke Matsuzaka toes the rubber for the ninth time this season in what could probably be one of the final times in a Red Sox uniform. In his previous eight starts, Matsuzaka is 1-5 with a 7.20 ERA. He's made two starts against the Jays this season and is 0-1 with a 7.71 ERA (6 ER/7 IP). He's had good success against them in his career as he is 7-2 with a 3.81 ERA in 14 starts. Six of those starts have come north of the border where he is 3-1 with a 3.35 ERA.
Aaron Laffey makes his 13th start (19th appearance of the season) for former Red Sox pitching coach and new manager John Farrell. In his previous 18 appearances (12 starts), Laffey is 3-5 with a 4.43 ERA. He's basically owned the Red Sox in three starts this season as he is 1-0 with a 1.02 ERA (2 ER/17.2 IP). He's made nine career appearances (four starts) against the visiting nine and is 1-1 with a 4.13 ERA.
Click on the read more button below to see today's lineups, batter/pitcher matchups and links from the overnight and day if you're on the home page.
Here are today's lineups:
And here is how the hitters have fared against today's starting pitchers: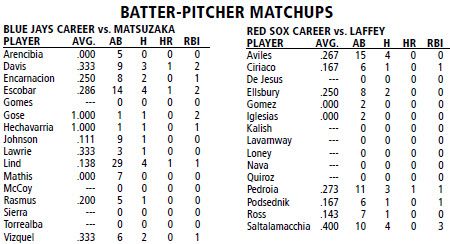 NOTES:
REFRESH OR CHECK BACK OFTEN AS MORE LINKS WILL BE ADDED BEFORE GAMETIME IF/WHEN THEY BECOME AVAILABLE AND WILL BE BOLDED
To open the links up in a new tab or window, use Control+click
Bobby V: 'This is the weakest roster we've ever had in September' [clubhouse insider]
Valentine: Weakest September roster in history [csn new england]
Red Sox notes: Reinforcements on the way [csn new england]
Red Sox minor league leaders for 2012 [espn boston]
Questions abound on both sides following Red Sox sale report [tony massarotti – boston globe]
Ryan Lavarnway's Tools Do Not Include Ignorance, As Rookie Backstop Revels in Pitcher-Catcher Bond [nesn.com]
Cook, Matsuzaka only pitching because there's no one else [projo sox blog]
Valentine congratulates PawSox, awaits call-ups [projo sox blog]
Even with cast off, Middlebrooks not planning on playing [projo sox blog]
Pedroia still away; Aviles stepping in [projo sox blog]
Dice-K starts opener with Jays in Toronto [redsox.com]
100th Anniversary Celebration of Fenway Park to Conclude with Tribute [redsox.com]
Follow Ian on Twitter @soxanddawgs. And be sure to like us on Facebook as well.
photo credits: getty images, getty images