If it seems like Boston Red Sox general manager Ben Cherington is shopping in the clearance aisle for pitching, well folks he is doing just that.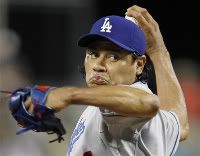 According to Peter Gammons, the Red Sox have signed Vicente Padilla to a minor league deal with an invitation to spring training. John Tomase of the Boston Herald reports that Padilla will earn $1.5 million if he makes the big league club.
Padilla missed almost all of the 2011 season for the Los Angeles Dodgers after undergoing forearm surgery and also had neck injury. He made nine appearances (all out of the bullpen) and had no record with a 4.15 ERA and three saves in 8 2/3 innings. He last pitched on May 13, 2011.
The 13-year veteran has pitched in the American League before with the Texas Rangers and started his career with the Arizona Diamondbacks. He's also spent time with the Philadelphia Phillies.
In 330 career games (237 starts), Padilla is 104-90 with a 4.31 ERA. His best season came in 2006 with the Rangers when he finished with a 15-10 record and 4.50 ERA.
Padilla figures to compete with the recently signed Aaron Cook, Carlos Silva and Justin Germano along with Alfredo Aceves, Felix Doubront, Andrew Miller and a cast of others for the fifth spot in the Red Sox rotation. I'm going to assume that unless things change during spring training, that Daniel Bard is penciled in as the fourth starter behind Jon Lester, Josh Beckett and Clay Buchholz.
Follow Ian on Twitter @soxanddawgs. And be sure to like us on Facebook as well.

Photo credit: AP Photo