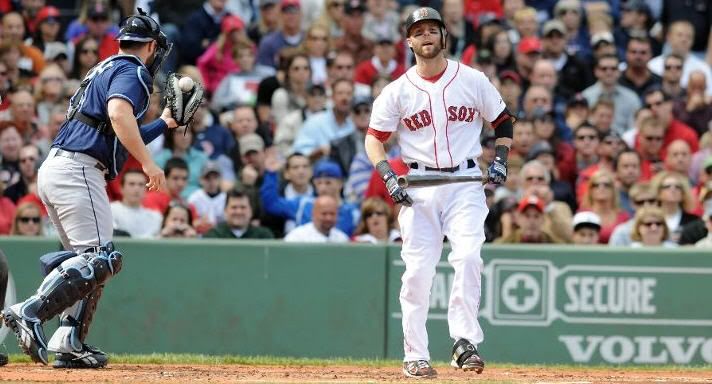 The Boston Red Sox entered the month of September with 1.5 game over the New York Yankees for the lead in the AL East. At that time, they had a nine-game lead over the Tampa Bay Rays.
But a 4-13 record in September with six of those losses against the Rays, including Sunday's 8-5 loss, the Red Sox now find themselves in a race for the AL Wild Card. They currently hold a two-game lead over the Rays there and are four games ahead of the Los Angeles Angels of Anaheim.
The Red Sox find themselves 4.5 games out in the AL East behind the Yankees. Fortunately for the Red Sox, the Yankees and Rays will meet seven more times this year. So with them doing battle, the plan should be clear for the Red Sox. Keep winning and they're in. They can't worry about what those two teams are going to do each other, they can only control what's in front of them.
Well what's in front of them is a day/night doubleheader today, followed by two more games with the Baltimore Orioles, the last place team in the AL East. Then they head to New York for three games with the Yanks. They'll end their season with three games in Baltimore.
Now you know the Orioles would love nothing else than to help end the season for the Red Sox by keeping them out of the playoffs. We know there's tension between this team stemming from the David Ortiz–Kevin Gregg incident.
If you take into account that the Red Sox are 8-3 against the Orioles this season and the fact they play seven more times, you would have to think the Red Sox would go 5-2. Like I said before, it helps the Rays and Yanks play each other the same amount of times, but going 7-0 would be much better at this point for the Red Sox.
Is is going to be easy?
No. Should it be? Yes. But because of the injuries the Red Sox are suffering right now, the task is all that much harder.
Kevin Youkilis is out. Erik Bedard has been out but will return this series. Obviously you're not sure what he'll be able to do. Josh Beckett looked to be fine. It's the end of the season so everyone's got a few bumps, dings and bruises.
But right now, it takes the heart of a champion to persevere what the Red Sox are going through with this slide. And 10 days, we'll know if the Red Sox do indeed have the hearts of champions and find themselves as one of the four teams from the American League who will battle for the 2011 World Series.
We'll be back in a while with this afternoon's lineups, batter/pitcher matchups and links from the day. But for now, enjoy the overnight links below by clicking on the read more button below if you're on the home page.
To open the links up in a new tab or window, use Control+click
Crawford diary: 'Sorry for the year I've had' [Carl Crawford – ESPN Boston]
Cutdown day: Sox' wild-card lead now just 2 [Boston Globe]
Weiland helps fill a twinbill [Boston Globe]
Sitting him vs. Price costly? [Boston Globe]
Hard to keep faith [Boston Herald]
Crawford plays left out for finale [Boston Herald]
No getting a handle on Wake's stuff [Boston Herald]
Tossin' down the drain [Boston Herald]
Sox WC lead cut to two after loss [CSN New England]
MVP candidates leave Sox wanting more [CSN New England]
Pedroia insists: 'We're happy as expletive' [CSN New England]
Notes: Red Sox plan to throw Bedard Tuesday [CSN New England]
Rapid Reaction: Rays 8, Sox 5 [ESPN Boston]
Struggling Boston Red Sox try to leave Tampa Bay Rays behind [ESPN Boston]
Closing time: Red Sox miscues lead to Rays win in series finale [Full Count]
Red Sox trying to put struggles behind them [Full Count]
Video: Terry Francona Admits Red Sox Have Played Inconsistent Baseball, But Thinks Recent Struggles Could Make Team Stronger [NESN.com]
Video: Tim Wakefield Calls Red Sox' Recent Skid 'Frustrating,' Says Team Just Needs to 'Play Better Baseball' [NESN.com]
It's a comedy of errors and passed balls [Providence Journal]
Confident Rays look like the superior team [Providence Journal]
Red Sox journal: Saltalamacchia can't catch a break [Providence Journal]
Despite rough month, Red Sox stay confident [RedSox.com]
For more slices of Red Sox goodness, head over to the Boston Globe, Boston Herald, CSN New England, ESPN Boston, NESN, Providence Journal, RedSox.com and WEEI websites.
And if you must check out the enemy news, head over the to St. Petersburg Times and Tampa Tribune websites.
Follow Ian on Twitter @soxanddawgs. And be sure to like us on Facebook as well.
Photo credits: Getty Images