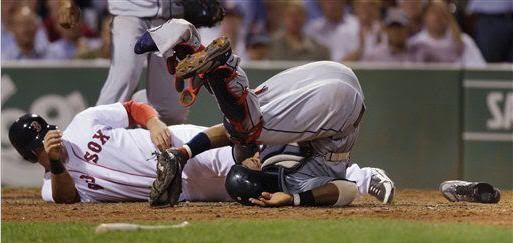 If the Boston Red Sox don't make the playoffs in 2010, one reason will be that they couldn't beat the bottom feeders of the American League like the Cleveland Indians. And that's exactly what happened on Monday night as they couldn't pull off another walk-off win in the 6-5 loss to the Indians at Fenway Park.
What started out as a good outing for John Lackey suddenly went south for him in the 5th and 6th innings. His curveball was nasty early on helping him rack up four strikeouts before the Indians struck for two in the 4th. Lackey's undoing though was inability to locate his other pitches and the Indians took advantage of that.
He had been cruising right along before three straight hits, including two doubles in the 4th, put the Indians out front 2-1.  It could have been 3-1 in the 4th but rookie Ryan Kalish's perfect throw nailed Shelley Duncan at the plate.
The 6th inning was what really did Lackey in.
Unable to locate his pitches, he walked the leadoff hitter Jordan Brown then allowed a single to Duncan and a walk to Jayson Nix to load up the sacks full of Indians. He recovered to strikeout Jason Donald but ended his evening with a bases loaded walk to Trevor Crowe that made it 4-1.
Terry Francona brought Manny Delcarmen in and he did his job by getting Asdrubal Cabrera to foul out. But rather than leave MDC in to face the lefty Shin-Soo Choo, Tito went to the bullpen for Dustin Richardson. The move didn't quite work out as planned for Francona as Choo laced a two-run single to push the Indians lead to 6-1.
From that point, Tim Wakefield, pitching on his 44th birthday, kept the Red Sox in the game while they rallied behind the bat of Adrian Beltre, who hit a solo home run in the 7th and a 3-run homer in the 8th. They would only muster up a Marco Scutaro single in the 9th off the Indians closer Chris Perez.
The one thing that was most frustrating about last night's loss was the decisions by third base coach Tim Bogar on sending runners home.
In the 3rd inning, Scutaro led off with a double and went to third on a J.D. Drew fly out. Kevin Cash, in for an injured Kevin Youkilis who left with a jammed right thumb, hit a ball to medium depth left field. Bogar decided to send Scutaro home but Duncan's throw was on the mark and Scutaro was EASILY out at home plate.
It happened again in the 7th inning.
After Beltre's solo blast, Kalish followed with a double. After Bill Hall grounded out, Daniel Nava, up for Mike Cameron who placed on the DL before the game, hit a single to right field. Bogar once again decided to send the runner and Choo gunned down Kalish at home plate. While the play was closer than the one in the 3rd, it was another runner that shouldn't have been sent.
Indians phenom Carlos Santana was injured on the play as well as his knee went in a direction it shouldn't have. Initial tests on him were good but he's on his way bay to Cleveland for an MRI.
Something has to give with Bogar. It really does. How much longer does Francona keep him around if he's going to continue to cost the Red Sox ball games.
We'll be back later with tonight's lineups, batter/pitcher matchups, any news and links from the day but for now enjoy the overnight links after the jump.
To open the links up in a new tab or window, use Control+click
Time at third no charm for Sox coach Bogar [Alex Speier – WEEI.com]
Bad tidings [Boston Globe]
This situation at critical mass [Boston Globe]
Cameron goes back on the disabled list [Boston Globe]
Kalish's night turns on collision [Boston Globe]
Recap: Indians 6, Red Sox 5 [Boston Herald]
Kevin Youkilis caught in a jam [Boston Herald]
Daniel Nava rides on major highway [Boston Herald]
John Lackey loses control [Boston Herald]
Sox lose Youkilis, game 6-5 [CSN New England]
Youkilis to have MRI on thumb [CSN New England]
Saltalamacchia arrives [ESPN Boston]
New catcher could impact Varitek's future [ESPN Boston]
Reddick makes a statement [ESPN Boston]
Saltalamacchia makes PawSox debut [ESPN Boston]
Lowell suggests resolution is at hand [ESPN Boston]
Francona: Bogar 'knows' it was a mistake [ESPN Boston]
Quick hits: Another big game for Beltre [ESPN Boston]
Initial report on Youkilis is good [Extra Bases]
Closing Time: Indians 6, Red Sox 5 [Full Count]
Youkilis to have MRI on right thumb [Full Count]
Sox Coming Up Short [Hit and Run with Dan Roche]
Jed Lowrie Thankful to be Back in Boston After Long Road to Recovery [NESN.com]
Ryan Kalish Taking Call-Up in Stride While Adjusting to Big Leagues [NESN.com]
Former Red Sox Great Mo Vaughn Having Success Improving Run-Down Housing [NESN.com]
Ryan Kalish Unsettled After Ugly Collision With Carlos Santana [NESN.com]
Red Sox Bats Arrive Late in Loss to Indians as Tight-Game Trend Continues [NESN.com]
Will Mike Lowell Get Another Opportunity to Play for the Red Sox? [NESN.com]
David Ortiz Serves as Milan Lucic's Personal Hitting Coach [NESN.com]
Lackey not living up to his billing [Providence Journal]
Kalish off to strong start [Providence Journal]
Youkilis to have MRI on thumb Tuesday [Providence Journal]
Surgery looms as Cameron lands on disabled list [Providence Journal]
Red Sox Journal: Indians catcher crunched in crash [Providence Journal]
Ellsbury heads back to Pawtucket [RedSox.com]
Youkilis exits with jammed right thumb [RedSox.com]
Beltre's two homers can't rally Red Sox [RedSox.com]
Kalish in middle of action since promotion [RedSox.com]
For more slices of Red Sox goodness, head over to the Boston Globe, Boston Herald, ESPN Boston, NESN, Providence Journal and WEEI websites.
And if you must read the enemy papers, check out the Cleveland Plain Dealer and Akron Beacon Journal websites.
Photo credit: AP Photo