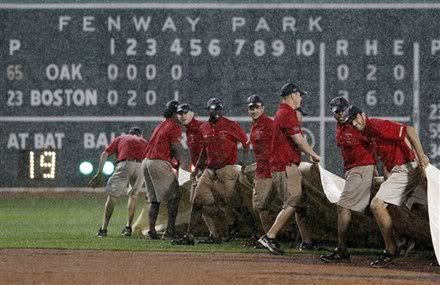 Not even the outer bands of Hurricane Irene could prevent the Boston Red Sox from sweeping the day/night doubleheader from the Oakland A's on Saturday. She tried her best causing a few rain delays but in the end they were able to get both games in.
In game one, it was a solid effort from Jon Lester as well as some support from the offense in a 9-3 win. In the second game, a rain delay cost Erik Bedard a chance at his first win in a Red Sox uniform but Alfredo Aceves was spectacular out of the bullpen in a 4-0 win to wrap up a long day of baseball at the Fens.
Lester hadn't been his dominating self in his past few starts as he issued more walks than he would have liked. Saturday afternoon, he limited that to just two while allowing two runs (one earned) on just three hits with four strikeouts in six innings of worked. He would have pitched the 7th inning but two warmup tosses to the backstop during a driving rain brought the tarp to the field.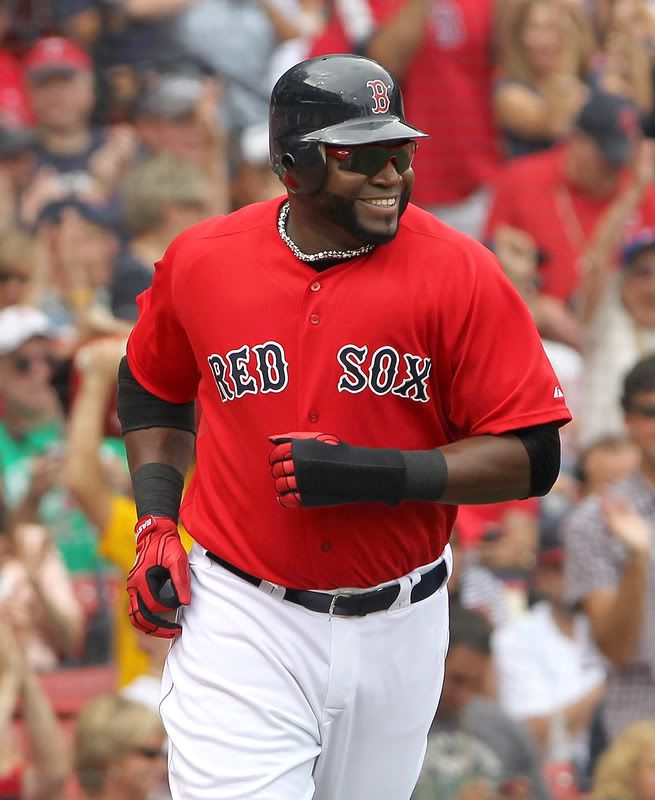 With Lester doing his thing on the mound, the offense was doing it's thing as well. Lester got some help from his batterymate, the Captain, Jason Varitek, who blasted a two run homer and finished with three RBIs in the game. David Ortiz got his stellar afternoon started with two hits and two RBIs.
The only member of the starting nine who didn't have a hit in the first game was Carl Crawford but he did add an sacrifice fly for an RBI. Mike Aviles had three hits as did Adrian Gonzalez and Marco Scutaro.
Bedard battled knee soreness and commnad issues early on in the second game but got through it. With the way he was pitching, the odds were he probably would have picked up the win. But just as he came out to warmup in the 5th inning, the tarp came out with a heavy rain falling upon Fenway.
The command issues that lead to four walks didn't hurt him as he allowed just two hits while striking out five. Aceves backed him up though throwing three innings while allowing just a walk with three strikeouts to pick up his 9th win of 2011.
With a couple of days off, Daniel Bard and Jonathan Papelbon finished off the shutout.
The offense in the second game was led by Big Papi who had three hits, including a two-run johnson in the 2nd inning. Jarrod Saltalamacchia added the other two RBIs in the game.
So while it was a long day at the Fens, it was a productive day. They got two wins and at the very least on the end of the day Sunday will still hold a one-game lead over the New York Yankees. It could be as high as three as well since they're playing a doubleheader today.
With Hurricane Irene moving today's game to yesterday and the off day for the Red Sox on Monday, we won't see them back in action until Tuesday night when the Yankees come to town for a three-game set. So for now enjoy the overnight links from the media.
To open the links up in a new tab or window, use Control+click
Money closer, but no Moneyball: How Papelbon ended up in Boston and not Oakland [Alex Speier – WEEI.com]
No raining on Lester's parade [Boston Globe]
A sizzling Ortiz (5 for 8) stinging in the rain [Boston Globe]
Rotation decisions to come [Boston Globe]
Shining moments [Boston Globe]
What are brass tacks with Epstein, Cashman? [Boston Globe]
Soggy Red Sox sweep [Boston Herald]
Umps say finish first [Boston Herald]
An encore for Theo Epstein: Curses foiled again [Boston Herald]
Sox complete sweep of Athletics, 4-0 [CSN New England]
Lester fights through soggy conditions [CSN New England]
Rain costs Bedard first win with Sox [CSN New England]
Red Sox notes: 'Tek makes history with home run [CSN New England]
Bedard, Aceves dodge raindrops [ESPN Boston]
Still plenty on the line for Sox-Yankees [ESPN Boston]
Even on days he goes deep, it's still all about 'little things' for Jason Varitek [Full Count]
Closing Time: Red Sox defeat A's, elements to sweep Saturday doubleheader [Full Count]
With Irene almost in attendance, the destructive force of David Ortiz continued on Saturday [Full Count]
Video: Jon Lester Says Rain Made It Difficult to Grip Baseball on Saturday, Didn't Expect Weather to Delay Game Like It Did [NESN.com]
Video: Jason Varitek Says He's Learned to Back Off This Season, But Always Ready to Step in and Contribute [NESN.com]
Jon Lester Wins Third Straight, Focused on Another Dominant Stretch Run [NESN.com]
Video: Terry Francona Impressed With Erik Bedard's Ability to Escape Jams Against Oakland [NESN.com]
Sweep is worth the wait [Providence Journal]
Varitek isn't acting his age [Providence Journal]
Middlebrooks of PawSox, Mallett of Pats are best of buddies [Providence Journal]
Iglesias is living his dream [Providence Journal]
Red Sox journal: Ellsbury's power not a total surprise [Providence Journal]
Rain delays bring back memories from 2009 [RedSox.com]
For more slices of Red Sox goodness, head over to the Boston Globe, Boston Herald, CSN New England, ESPN Boston, NESN, Providence Journal, RedSox.com and WEEI websites.
And if you must check out the enemy news, head over to the Oakland Tribune and San Francisco Chronicle websites.

Follow Ian on Twitter @soxanddawgs. And be sure to like us on Facebook as well.
Photo credits: AP Photo, Getty Images