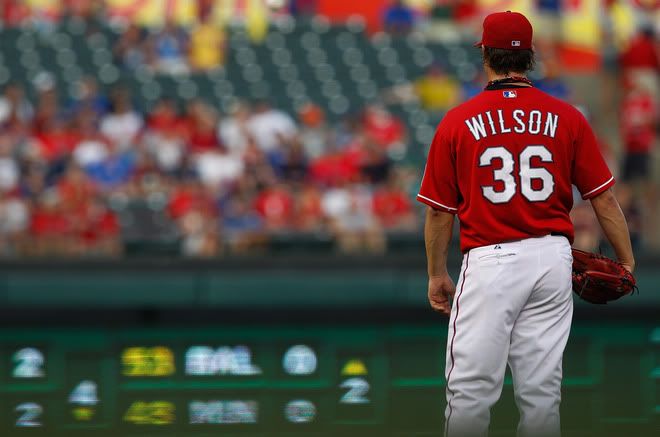 Dating back to the 2010 season, Mike Napoli had homered in his last three appearances against the Boston Red Sox. He had one in his final game against them in 2010 as a member of the Los Angeles Angels and then one each in his two games earlier this season with the Texas Rangers.
Well now let's make it four games in-a-row as his three-run home run against Erik Bedard was the straw that broke the Red Sox's back in the Rangers 4-0 win on Monday night.
With the New York Yankees off last night, the Red Sox only lose a ½ game in the standings and sit one game behind for the lead in the AL East. The Red Sox do lead the Tampa Bay Rays by 7.5 games in the AL Wild Card standings.
C.J. Wilson has pretty much owned the Red Sox during his career as a reliever and a starter. Monday night was no different.
While they did work some counts and got his pitch count up, they really couldn't do anything against him. He allowed just four hits and two walks while striking out four in 6.2 innings. They definitely didn't take advantage of their rare chances against him either.
After two base runners reached in the 1st with two outs, Wilson got Jed Lowrie to ground into a fielder's choice. In the 7th after Lowrie singled and Ryan Lavarnway walked with one out, Wilson ended his night by getting Carl Crawford to ground into a fielder's choice. Koji Uehara made quick work of Jarrod Saltalamacchia by getting him to ground out.
I must say this. I am quite impressed with Lavarnway's plate discipline. In all four plate appearances, he went to a full count all four times. He didn't end up with a hit but did walk two times while striking out.
Honestly, I don't think Bedard pitched all that badly. He was hurt by a bad call from the umpire in the 3rd and one bad pitch to Napoli with two strikes in the count in the 6th inning.
With a runner on first base in the 3rd, Ian Kinsler lined one to right field where Josh Reddick made the catch or so we thought. The umpire ruled he trapped it. And of course, the next batter in Elvis Andrus lined a single to bring in the first run of the game for the Rangers.
The big blow though came on a 1-2 count though. After Bedard had gotten strike two on a fastball inside and low, he called Salty to the mound and told him what he wanted. What he wanted to throw was a high fastball. Well that was a mistake as Napoli blasted it out of the park. With the way he had been throwing before that, it's quite possible this game ends 1-0 and not 4-0.
Against good pitching like the Rangers got on Monday night, it might not have mattered whether or not the Red Sox had Jacoby Ellsbury or David Ortiz in the lineup. The good news though is the Red Sox should get Ellsbury back tonight. At this point any little thing like this can only help.
We'll be back later today with the lineups, batter/pitcher matchups and more for this evening's game. But for now enjoy the overnight links from the media by clicking on the read more button below if you're on the home page.
To open the links up in a new tab or window, use Control+click
Boiler Room: The Red Sox' wild ride at the deadline to sign draftees [Alex Speier – WEEI.com]
Degree of difficulty [Boston Globe]
Miller earns another start [Boston Globe]
Reddick can't catch a break [Boston Globe]
Sox can't handle heat [Boston Herald]
Pitchers take high road in dealing with Pedroia [Boston Herald]
Don't mess with Texas [Boston Herald]
All's now going wrong [Boston Herald]
Sox bats don't make trip to Texas, fall 4-0 [CSN New England]
Nation STATion: Nine innings, nine pitchers [CSN New England]
Notes: Bedard suffers tough-luck loss [CSN New England]
Bedard good, but Wilson's better [ESPN Boston]
Video: Sox turn to Lackey [ESPN Boston]
Texas Rangers' Mike Napoli makes Boston Red Sox pay with homer [ESPN Boston]
Adrian Beltre has an idea what Carl Crawford is going through [Full Count]
Closing Time: Red Sox shutout for the ninth time this season, fall to Rangers [Full Count]
Josh Reddick said he made the catch, and so did the rest of the Red Sox [Full Count]
Video: Ryan Lavarnway Continues to Adjust to Life in Major Leagues With Help From Jason Varitek, Jarrod Saltalamacchia [NESN.com]
Video: Josh Reddick Says He's '100 Percent Sure' He Caught Michael Young's Flyball in Loss to Rangers [NESN.com]
Video: Erik Bedard's Otherwise Impressive Start Ruined by One Pitch Resulting in Mike Napoli's Home Run [NESN.com]
Wilson masterful, Napoli devastating for Texas [Providence Journal]
Pedroia's stalwart defense helps his MVP chances [Providence Journal]
Red Sox Journal: Buchholz's back is on the mend [Providence Journal]
What we learned Monday night: Red Sox fans should remember the name 'C.J. Wilson' [Rob Bradford – WEEI.com]
For more slices of Red Sox goodness, head over to the Boston Globe, Boston Herald, CSN New England, ESPN Boston, NESN, Providence Journal and WEEI websites.
And if you must check out the enemy news, head over to the Dallas Morning News, ESPN Dallas and Ft. Worth Star Telegram websites.
Follow Ian on Twitter @soxanddawgs. And be sure to like us on Facebook as well.
Photo credits: Getty Images, Getty Images