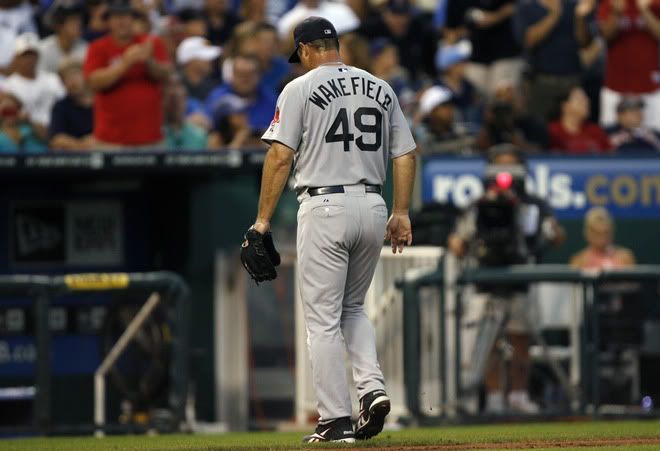 Just when things were looking up for the Boston Red Sox in helping starting pitcher Tim Wakefield get career win No. 200, the 6th inning happened. And when was all said in done after said inning, the Kansas City Royals had scored eight runs to secure a 9-4 win over the Red Sox on Saturday night.
Wakefield had been pretty much on cruise control for the first five innings. He had given up just one run and the offense got him four runs.
Wake got the first out of the inning on a strikeout of Billy Butler. After that though, the knuckler stayed up in the zone for the next three batters (a single and two doubles) and just like that it was 4-3 and Wake was heading to the dugout.
Now Matt Albers had been pretty decent for the Red Sox out of the pen this season. He has struggled lately though and after his performance last night, it looks as though he's come back to earth. He gave up two walks, one intentional, and three hits. He ended up being charged with five runs earned after Franklin Morales gave up a triple to Eric Hosmer, his second hit of the inning, that allowed two of Alber's runners to score.
It's not like Royals starter Felipe Paulino was all that great either. The Red Sox got to him for four runs on eight hits and three walks. It was more of the Red Sox failing to complete capitalize on his mistakes.
They had the bases loaded in the 4th inning and one out.
They had picked up a run in the inning when Carl Crawford's single brought in Dustin Pedroia. After Ryan Lavarnway reached on infield single to load the bases, Darnell McDonald's sacrifice fly brought in another run. Paulino walked Marco Scutaro after that to reload the bases but former Royal Mike Aviles couldn't get the job done as he flew out.
Before the implosion in the bottom half of the 6th inning, Lavarnaway picked up his first MLB RBI with a single, his second of the night, to make it 4-1. Crawford and Pedroia also had two hits in the losing cause.
We've seen this more than once this year when the Red Sox can't score with the bases loaded. It's cost them the game like it did on Saturday night in Kansas City. Obviously total fault doesn't lie solely with them, this one's on Albers and maybe even Terry Francona.
While Albers has struggled lately, he's earned the trust of Tito. Dan Wheeler on the other hand, has pitched great since returning from the disabled list but isn't in Tito's circle of trust. Had he been, the outcome of this game may have turned out differently.
Instead, Wake has to wait another five days to try to pick up the elusive 200th win and the Red Sox now have to win to avoid another four-game split with the basement dwellers of the AL Central.
And one other thing, the loss for the Red Sox was another lost chance to regain first place in the AL East. A.J. Burnett was lit up like a Christmas tree by the Minnesota Twins and even pulled a John Lackey when he was pulled from the game. So the Red Sox remain a ½ back of the New York Yankees for first place in the AL East.
We'll be back in a short while with the lineups, batter/pitcher matchups and more for this afternoon's game. But for now enjoy the overnight links from the media by clicking on the read more button below if you're on the home page.
To open the links up in a new tab or window, use Control+click
Wakefield, Sox let one get away [Boston Globe]
From the maniacal one [Boston Globe]
'No comment' no more [Boston Globe]
Playing it safe with Ellsbury [Boston Globe]
Futures at Fenway a homecoming for Portland's Hassan [Boston Globe]
Crawford too good to stay this bad [Boston Globe]
Debate on HGH issue is bound to get testy [Boston Globe]
Groundhog daze [Boston Herald]
KC's draft diss still 'fuel' to drive Aviles [Boston Herald]
Beanball bruise benches Jacoby [Boston Herald]
Let's put Wheels back on [Boston Herald]
Wakefield watches 'pen blow chance for 200, 9-4 [CSN New England]
Albers' struggles may open door for Wheeler [CSN New England]
Red Sox notes: Wake not frustrated [CSN New England]
Rapid reaction: Royals 9, Red Sox 4 [ESPN Boston]
Sox bullpen's no help to Wakefield [ESPN Boston]
Closing Time: Tim Wakefield comes up short again in bid for win No. 200 [Full Count]
Frustration is not part of Tim Wakefield's equation [Full Count]
From replica to the real thing: Prospect Alex Hassan has memorable day at Fenway [Full Count]
Tim Wakefield's Latest Bid for 200th Win Comes Up Short, As Red Sox Bullpen Collapses in 9-4 Loss [NESN.com]
Jacoby Ellsbury Expected to Sit Again Sunday, David Ortiz May Shed Walking Boot Monday [NESN.com]
Video: Matt Albers Says He Feels Good Physically, Mentally But Needs to Get Ahead of Hitters More Often, Execute Pitches Better [NESN.com]
Video: Jarrod Saltalamacchia Says Red Sox Just Need to 'Show Up and Grind' to Get Through Dog Days of Summer [NESN.com]
Milestone now a millstone for Wakefield, Red Sox [Providence Journal]
Healthy Dan Wheeler has been spot on for Sox [Providence Journal]
Revamped MLB playoff system is close to reality [Providence Journal]
Red Sox Journal: Albers has suddenly come undone [Providence Journal]
For more slices of Red Sox goodness, head over to the Boston Globe, Boston Herald, CSN New England, ESPN Boston, NESN, Providence Journal, RedSox.com and WEEI websites.
And if you must check out the enemy news, head over to the Kansas City Star and the Topeka Capital-Journal websites.
Follow Ian on Twitter @soxanddawgs. And be sure to like us on Facebook as well.
Photo credit: Getty Images