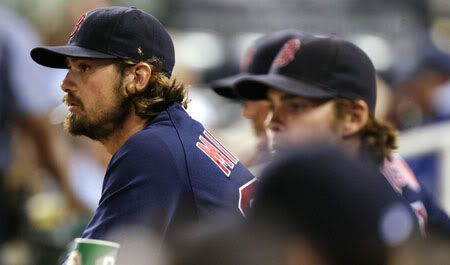 I think it's fair to say that Andrew Miller has been pretty good this year for the Boston Red Sox. If there was anything bad we could say about him, it's that he's been consistently wild on the mound.
He had been banished to the bullpen after his last start on July 31st when the Red Sox acquired Erik Bedard from the Seattle Mariners. And before last night's spot start, he had been all over the map with his control in his two relief outings.
Well in last night's 7-1 win over the Kansas City Royals, Miller was far from being out of control. Sure he had two walks last night but he had much better command and control of his fastball. He used that strong command along with a nice curveball and a few changeups to keep the Royals hitters at bay.
He allowed one run on three hits with the two walks and three strikeouts in 5.1 innings on 83 pitches to raise his record to 5-1. The Red Sox are also 8-1 now in his nine starts this season.
Miller's strong outing was backed up by Alfredo Aceves and of course the Red Sox offense.
Aceves came out of the pen in yet another Miller start and did what he does best. And that's getting runners out. He a little blip in the road in the 9th inning but for the most part, Aces was dominating in his 3.2 innings of work. He allowed just one hit and one walk with three strikeouts to pick up his second save of the season.
It goes without saying right now that Aceves is probably the best free agent signing that Theo Epstein made in the offseason. Remember folks, Adrian Gonzalez doesn't count in that category because he was traded for.
Speaking of Gonzalez, he looked about 10 years younger last night. Mired in a little slump as of late, Gonzalez shaved his trademark goatee to or change his luck up. Well whether or not it was a result of being more aerodynamic or not, Gonzalez went 3-for-4 with two doubles and an RBI. The scary part of this is the fact the last time Gonzo slumped a little, he went on a nice little hitting tear at the plate. So hopefully last night was the start of something special coming up for him.
In a tight 2-1 game at the time, Jarrod Saltalamacchia delivered the big blow with a 3-run homer off of Jeff Francis. Jed Lowrie added three hits to the cause while former Royals infielder Mike Aviles had two hits.
The Red Sox did get a little scare when Jacoby Ellsbury was hit in the numbers with a fastball. He did stay in the game to run but was removed primarily for precautionary reasons. Ellsbury said after the game he was fine.
The last thing the Red Sox need right now is another injury. They're already playing with a shorthanded bench given that David Ortiz and Marco Scutaro are nursing nagging injuries.
With the win, the Red Sox stay a ½ behind the Yankees for first place in the AL East.
We'll be back later today with the lineups, batter/pitcher matchups and more for tonight's game. But for now enjoy the overnight links from the media by clicking on the read more button below if you're on the home page.
To open the links up in a new tab or window, use Control+click
This wild card delivers jackpot [Boston Globe]
Aceves is always up for the job [Boston Globe]
Cleanup crew [Boston Globe]
Andrew Miller impressive in win over Royals [Boston Herald]
Adrian Gonzalez gets it going [Boston Herald]
Jacoby Ellsbury's house of horrors [Boston Herald]
Jason Varitek fondly remembers Little League experience [Boston Herald]
Miller steady, offense breaks out, 7-1 [CSN New England]
Gonzalez comes clean, and breaks slump [CSN New England]
Ellsbury hit with a bad memory in Kansas City [CSN New England]
Facing injuries, Sox buckle down [CSN New England]
Notes: Lavarnway relieved after getting first hit [CSN New England]
Rapid reaction: Red Sox 7, Royals 1 [ESPN Boston]
Sox get everything right vs. Royals [ESPN Boston]
Closing Time: Red Sox bats reappear in coup against Royals [Full Count]
Red Sox' first overall draft pick Matt Barnes 'living a dream' [Full Count]
Ryan Lavarnway waited until everybody was in their seats before getting his hit [Full Count]
Video: Ryan Lavarnway Can Get Back to Focusing on Playing After Getting Debut Done With [NESN.com]
Video: Heidi Watney Takes a Look at Safeco Field's More Unique Features During Red Sox Trip to Seattle [NESN.com]
Jacoby Ellsbury Leaves Game Early After Taking Pitch in Back, Status Uncertain for Saturday [NESN.com]
Video: Alfredo Aceves Continues to Excel in 'Unique Role' With Red Sox Pitching Staff [NESN.com]
Andrew Miller Picks Up Red Sox With Solid Spot Start in Kansas City [NESN.com]
Salty on Aceves: "He's got a method to his madness" [Projo Sox Blog]
Slumping offense shows signs of life [Providence Journal]
Aceves sees Dennis Rodman as sports idol [Providence Journal]
Ellsbury leaves game after being hit [Providence Journal]
Red Sox Journal: Bad habits bedeviling Gonzalez's swing [Providence Journal]
Relieving or starting, Aceves invaluable to Sox [RedSox.com]
The predictably unpredictable Alfredo Aceves [Rob Bradford – WEEI.com]
For more slices of Red Sox goodness, head over to the Boston Globe, Boston Herald, CSN New England, ESPN Boston, NESN, Providence Journal, RedSox.com and WEEI websites.
And if you must check out the enemy news, head over to the Kansas City Star and the Topeka Capital-Journal websites.
Follow Ian on Twitter @soxanddawgs. And be sure to like us on Facebook as well.
Photo credit: Getty Images