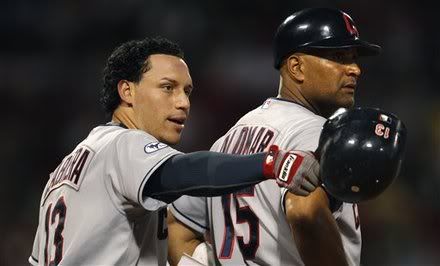 If chicks dig the longball, then they certainly are digging Cleveland Indians shortstop Asdrubal Cabrera right now. Cabrera hit two two-run homers last night to help the Tribe to a 9-6 win over the Boston Red Sox.
The first home runs he hit last night came off of Red Sox starter John Lackey who after winning four straight starts wasn't that great last night. But the biggest surprise of the night came when Cabrera's second home run of the night came off of Daniel Bard. This was the same Bard who came into the game without allowing a run in 26.1 innings.
But a single, one swing of the bat by Cabrera, a replay of previously mentioned swing and a bruised knee later for a fan, Cabrera ended Bard's scoreless streak. What's ironic about it all is the fact that Cabrera was the last one to have an RBI against Bard and that was on May 23rd.
It looked like Lackey was well on his way to a good night on the mound as he set the side down in order in the 1st and 2nd innings. But a Josh Reddick throwing error on an Ezequiel Carrera single changed things. Michael Brantley followed the error with a double and just like that the game was tied at 1-1. And oh by the way, those 1-2-3 innings from Lackey were the first and second of the season. Yes the season.
Sure it wasn't as bad as some of stinkers in the past but giving up five runs in 6.2 innings isn't good. I must say though that his fastball was great for the most part. It was the location of his offspeed stuff that cost him.
As you might expect whenever the Red Sox offense gets in a hole early on, they always seemingly respond to help out their starter on the mound for that particular night. They got the runs back quickly as a Kevin Youkilis triple scored Adrian Gonzalez. Two batters later, Carl Crawford gave them a two-run advantage with a solo home run that went to the exact same part of the ballpark where his fly ball against the Royals died.
After Cabrera's first home of the night in the 6th, Travis Hafner followed that with a solo shot. But Jarrod Saltalmacchia's two-run blast in the bottom half knotted the game at fives leading the way to Bard's scoreless streak ending.
With the news of Clay Buchholz being out for the season getting ready to be delivered today, the Red Sox need Lackey to be more consistent than he showed last night. He'd looked pretty good in his past four starts, so we can only hope that this was just a bump in the road.
It's also quite possible that with the addition of Erik Bedard, who by the way will make his Red Sox debut on Thursday, that Lackey could be pitching his way out of a spot in the playoff rotation should the Red Sox get there. But that remains to be seen right now.
Definitely a tough loss for the Red Sox though as they saw their lead in the AL East shrink to one game since the New York Yankees won last night as well over the Chicago White Sox. And with a three-game set looming against the Yankees this weekend at the Fens, it'd be nice to see the Red Sox start the series with the lead.
We'll be back later today with this evening's lineups, batter/pitcher matchups and links from the day. But for now, enjoy the overnight links from the media by clicking on the read more button below if you're on the home page.
To open the links up in a new tab or window, use Control+click
Sox pitchers get thrown for loss [Boston Globe]
Fighting it, but Lackey 3d man in [Boston Globe]
Buchholz has stress fracture [Boston Globe]
Saltalamacchia gets big break [Boston Globe]
Bedard to get the call Thursday [Boston Globe]
Daniel Bard's scoreless run ends in Sox' loss to Indians [Boston Herald]
Mistakes cost John Lackey [Boston Herald]
Unable to fill in big hole [Boston Herald]
Clay Buchholz under stress [Boston Herald]
Indians take down Sox late, 9-6 [CSNNE.com]
Nation STATion: In honor of Henri Stanley [CSNNE.com]
Bard comes back down to earth in loss to Indians [CSNNE.com]
Notes: Lackey avoids loss in subpar performance [CSNNE.com]
Rapid Reaction: Indians 9, Sox 6 [ESPN Boston]
Bard tagged by Cabrera again [ESPN Boston]
Closing time: Daniel Bard falters as Red Sox fall to Indians [Full Count]
John Lackey so-so with Red Sox set to deliver Clay Buchholz news [Full Count]
Daniel Bard regrets shaking off Salty and watching his streak come to an end [Full Count]
Local stars wearing throwback uniforms gather to raise money for charity [Full Count]
Video: Terry Francona Says Red Sox Pitching Staff Paid for Mistakes Against Indians, Will Give Update on Clay Buchholz on Tuesday [NESN.com]
Video: Marco Scutaro Feeling Better After Leaving Monday's Game Due to Dizziness, Unsure What Triggered It [NESN.com]
Daniel Bard, Matt Albers Both See Scoreless Streaks End in Loss to Indians [NESN.com]
Video: Erik Bedard, John Lackey Could Compete for No. 3 Spot in Red Sox Rotation Down Stretch, Potentially Into Postseason [NESN.com]
Clay Buchholz's Absence Opens Up Dose of Vulnerability, But Red Sox Are Strong Enough to Win Without Him [NESN.com]
Darnell McDonald Relies Heavily on Music Routine to Maintain Balance, Mentally Prepare for Games [NESN.com]
Lackey, Bard get hammered as Sox fall [Providence Journal]
Buchholz appears done for season [Providence Journal]
Red Sox Journal: Bedard gets the ball Thursday [Providence Journal]
The Adventures of Ellsbury 'n' Elf: When a Blogger Calls [Surviving Grady]
For more slices of Red Sox goodness, head over to the Boston Globe, Boston Herald, CSN New England, ESPN Boston, NESN, Providence Journal, RedSox.com and WEEI websites.
And if you must check out the enemy news, head over to the Akron Beacon Journal and Cleveland Plain Dealer websites. You can also check out our Bloguin brother Burning River Baseball.
Follow Ian on Twitter @soxanddawgs. And be sure to like us on Facebook as well.