With the Seattle Mariners in town with their best pitcher in Felix Hernandez and a 12-game losing streak, the thoughts were that John Lackey and the Boston Red Sox wouldn't be able to extend that streak. Especially considering the fact that King Felix hadn't lost at Fenway in five career starts (3-0, 1.49).
But after a 1st inning speed bump, Lackey settled down and the offense and the heat eventually wore down Hernandez and the Mariners in a 7-4 win.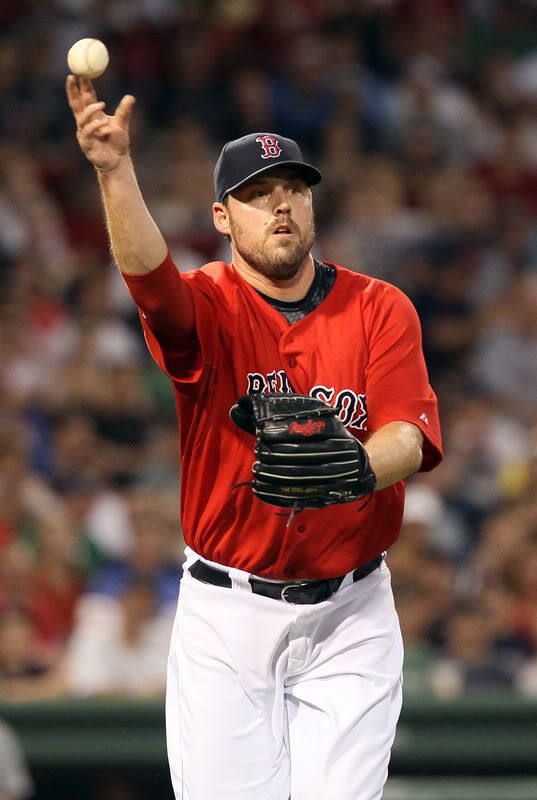 A big part of Lackey's success stemmed from the fact the offense got the run back he had given up in the top of the 1st in the bottom half of the inning. After that Lackey settled himself down and got into a groove.
Part of Lackey's past problems were being able to locate his pitches, especially his fastball. What helped him out last night was the fact that he had command of his offspeed pitches. That command allowed him to locate his fastball and keep the Mariners hitters off balance. When Lackey has the command like he did last night, he shows us why Theo Epstein signed him to such a big free agent contract.
Sure I've not been kind to Lackey but he's been proving me and other detractors wrong lately. Last night's win was his third in as many starts for him. He went seven innings, allowing just the one run on eight hits with four strikeouts. He didn't walk any one.
Franklin Morales struggled out of the bullpen as he allowed three runs on three hits and a walk in 2/3 of an inning. Daniel Bard needed three pitches to bail him out and Jonathan Papelbon threw a perfect inning to pick up his 22nd save in his walk year.
Ever since he got piece of mind on his knee, Dustin Pedroia has been en fuego. He extended his hitting streak to 19 games with a three-hit effort. Jacoby Ellsbury also considered his power surge with another home run, a solo shot in the 3rd that gave the Red Sox the lead for good.
The offense did the big damage against King Felix in the 7th when Adrian Gonzalez knocked in two with a bases loaded single and chased him from the game. Kevin Youkilis greeted Jeff Gray with a 2-run double and David Ortiz followed that up with a single to push the lead to 7-1.
On a hot night at the Fens, the Red Sox got what they needed from Lackey and the offense. Tonight, they'll look to extend the Mariners' frustration by throwing Josh Beckett at them.
We'll be back later with this evening's lineups, batter/pitcher matchups and links from the day. But for now, enjoy the overnight links from the media by clicking on the read more button below if you're on the home page.
To open the links up in a new tab or window, use Control+click
Video: Mike Lowell Visits NESN Set [SOX & Dawgs]
Video: Mike Lowell Visits Orsillo & Remy [SOX & Dawgs]
How Josh Reddick went from slap hitter to slugger [Alex Speier – WEEI.com]
Bubbling over [Boston Globe]
Ellsbury keeping the heat on [Boston Globe]
Buchholz not elevating game [Boston Globe]
Henry in a landmark debate [Boston Globe]
Lackey up to challenge [Boston Herald]
Long toss doesn't go well for ailing Clay Buchholz [Boston Herald]
Jacoby Ellsbury continues in overdrive [Boston Herald]
Look who's no longer Lack-ing [Boston Herald]
Mike Lowell reminisces in return to Fenway [Boston Herald]
Lackey dominant, sinks Mariners, 7-4 [CSNNE.com]
Lowell returns to Boston, reflects on retirement [CSNNE.com]
Lackey shouldering load for Red Sox [CSNNE.com]
Red Sox notes: Pedroia continues to rake [CSNNE.com]
SoxProspects: Past trades — where are they now? [ESPN Boston]
Rapid reaction: Red Sox 7, Mariners 4 [ESPN Boston]
With several players on hot streaks, the Boston Red Sox hit 60-win plateau at record pace [ESPN Boston]
Lowell gets warm welcome in return to Fenway [ESPN Boston]
Closing Time: John Lackey, Red Sox turn it on against Mariners [Full Count]
John Lackey: 'I'm not going to get too far ahead of myself' [Full Count]
Josh Reddick: Red Sox proving 'they believe in me' [Full Count]
Video: John Lackey Continues to Pitch In With Another Strong Start for Red Sox [NESN.com]
Video: Ryan Lavarnway Homers Again, Continues Torrid Pace at Triple-A Pawtucket [NESN.com]
Red Sox Continue Seventh-Inning Success With Key Rally Against Seattle [NESN.com]
John Lackey's Turnaround Continues With Solid Effort in Win Over Seattle [NESN.com]
Lackey continues dominance of Seattle [Providence Journal]
Epstein has luxury of planning his postseason roster [Providence Journal]
Red Sox Journal: Lowell happy to be back at Fenway as a fan [Providence Journal]
For more slices of Red Sox goodness, head over to the Boston Globe, Boston Herald, CSN New England, ESPN Boston, NESN, Providence Journal, RedSox.com and WEEI websites.
And if you must check out the enemy news, head over to The Oregonian, Seattle Post-Intelligencer, Seattle Times and Tacoma Tribune websites. You can also check out our Bloguin brother, Mariner Mayhem.
Photo credits: Getty Images, Getty Images