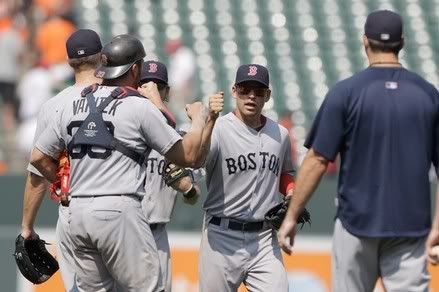 The Boston Red Sox enjoyed a day off on Thursday after spending the last six days on the road after the All-Star break. And with the Seattle Mariners coming to town, the Red Sox will finally see someone else that doesn't play in the AL East after 13 straight games in the division (Toronto Blue Jays (3 games), Baltimore Orioles (7 games), Tampa Bay Rays (3 games)).
During that 13 game run, the Red Sox went 10-3 and now have a two-game lead over the New York Yankees in the AL East. The Tampa Bay Rays are 7.5 games behind in third place. They are also 5.5 games behind the Yankees for the AL Wild Card along with the Los Angeles Angels of Anaheim.
Seattle comes to town as losers of 12 straight games while the Red Sox are 13-3 in the month of July. Something will have to give in this series especially with the Mariners throwing out two of their best pitchers in Felix Hernandez (tonight) and Michael Pineda (Sunday). Of course the Red Sox will have their best pitcher this season going in Josh Beckett on Saturday night (pitching matchups for series).
The next nine days we will be hearing rumors galore with the trade deadline coming up. People will throw out the names of Jose Reyes, Carlos Beltran and Ubaldo Jimenez with possibilities of coming to Beantown. Honestly folks those are pipe dreams.
The Mets have said Reyes isn't going anywhere and Theo Epstein isn't going to mortgage the farm for him. The same goes for Beltran.
If Josh Reddick can continue at the pace he's been hitting all season long, there's no need for the Red Sox to get Beltran. Reddick's already basically unseated J.D. Drew in right field. The need for the Red Sox is a right-handed hitting outfielder. So I'd expect to hear the Red Sox involved with names like Josh Willingham and Ryan Ludwick.
The big concern right now is the pitching staff but we should know more about that today. With Clay Buchholz throwing off the mound for the first time this afternoon, we may actually get a timetable as to when he could return. If he's able to return in the next two weeks, there's probably no need to go out and get a fourth or fifth starter.
Of course that lies in the fact that the Red Sox would be comfortable with either Andrew Miller or Tim Wakefield. Obviously something will change if/when Buchholz returns.
I honestly don't expect the Red Sox to be major players in any of the big names that come up. The reason why is the cost of these players. And by cost, I don't mean the financial aspect. I mean the cost of the prospects to give up.
We'll be back later with this evening's lineups, batter/pitcher matchups and links from the day. But for now, enjoy the overnight links from the media by clicking on the read more button below if you're on the home page.
To open the links up in a new tab or window, use Control+click
Counting the chips: How the industry views Sox prospects for trades [Alex Speier – WEEI.com]
Things to keep in mind [Boston Globe]
Bard is setting standard [Boston Globe]
No snags for catcher so far [Boston Globe]
Epstein looks to future [Boston Globe]
Daniel Bard earns accolades [Boston Herald]
Ryan Lavarnway swings big bat [Boston Herald]
Red Sox won't trade team for world [Boston Herald]
Let's make a deal [Boston Herald]
Clay Buchholz hoping to be Red Sox' best acquisition [Clubhouse Insider]
Nation STATion: You can quote me on that [CSNNE.com]
Ellsbury becoming a leader in his comeback year [CSNNE.com]
Epstein: We tried to sign Ellsbury long-term [CSNNE.com]
PawSox' Lavarnway tearing up Triple-A [CSNNE.com]
Theo: Sox have trade chips for right deal [ESPN Boston]
Epstein wants Ellsbury to stick around [ESPN Boston]
Bowden: Ideal, most likely moves for Sox [ESPN Boston]
Boston Red Sox hitting consultant Tommy Harper says David Ortiz is on the right track this season. [ESPN Boston]
Off-day news: Fenway fans choose favorite new sandwich [Extra Bases]
List: Ranking Theo Epstein's trade deadline moves [Full Count]
Theo Epstein on D&C: No trade option can take the place of Clay Buchholz [Full Count]
Peter Gammons on M&M: Sox 'might get right-handed hitting outfielder' at trade deadline [Full Count]
Red Sox Prospect Ryan Lavarnway Robbed of Game-Tying Home Run in Ninth Inning by Brandon Moss [NESN.com]
The big Friday Nuggetpalooza! [Nuggetpalooza]
A best-case scenario for Ryan Lavarnway [Projo Sox Blog]
Red Sox one of five teams without a walk-off homer in 2011 [Projo Sox Blog]
Iglesias back, ready to resume progress [Projo Sox Blog]
Gonzalez helps teammates take game to next level [Providence Journal]
Red Sox's road to October begins in July [RedSox.com]
As John Henry reminds us, Red Sox are in pretty good shape [Rob Bradford – WEEI.com]
For more slices of Red Sox goodness, head over to the Boston Globe, Boston Herald, CSN New England, ESPN Boston, NESN, Providence Journal, RedSox.com and WEEI websites.