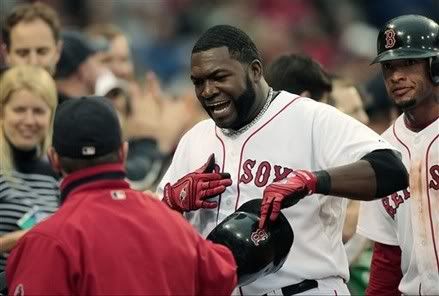 On the eve of the return of Manny Ramirez to Boston, the Boston Red Sox took care of business on the field last night garnering a sweep of the Arizona Diamondbacks. Excluding a two-game sweep of the Minnesota Twins in mid-May, it was the first three or four-game sweep of a team since the Red Sox swept the Los Angeles Angels of Anaheim in the beginning of May.
It was a big win for the Red Sox as both the New York Yankees and Tampa Bay Rays lost last night. This means the Red Sox are now two games out of first place and out of the wild card spot. What's funny about all of this is that the Red Sox have the third best record in all of MLB and yet sit in third place in the AL East.
While John Lackey won his third straight decision, it wasn't really pretty. He labored through his start getting into some deep counts but like he's done all season long, he gave the Red Sox a chance to win. He didn't help himself at all after Stephen Drew lined a ball off of his foot and then he threw it away for an error. Drew eventually came around to score on a Chris Young double.
Even with the rough start by Lackey, he joins Clay Buchholz (9) and Jon Lester (8) as the only trio of starters in baseball to win at least eight games.
Offensively, the Red Sox are rolling right now.
David Ortiz continues to show the power as he added a two-run homer last night and has six-game hitting streak. Dustin Pedroia increased his hitting streak to seven games while Marco Scutaro continues to do an admirable job at the top of the lineup. Scutaro had two hits and three RBIs last night.
And Daniel Nava continues to reward Terry Francona and the Red Sox after his callup to the big club. Nava added three hits to the cause last night with an RBI as his average is at .444 in his brief time with the Red Sox.
It will be interesting to see the type of reaction that Manny gets in his return to Fenway Park. Will the Fenway faithful boo him or will he get cheers? I think it'll be a mixed bag myself. I also expect it'll be a media circus there today and you have to wonder if Manny will speak to the Boston media before the game.
We'll be back later with tonight's lineups, batter/pitcher matchups, any news and links from the day but for now, enjoy the overnight links.
To open the links up in a new tab or window, use Control+click
Sox complete sweep [Boston Globe]
Lackey has won his team over [Boston Globe]
Ramirez stories come out of left field [Boston Globe]
Another hot month? [Boston Globe]
Upton enjoyed an upturn during his visit [Boston Globe]
Reddick still seen as not quite ready [Boston Globe]
This time, 'baseball guy' gets to enjoy the pitch [Boston Globe]
Recap: Red Sox 8, Diamondbacks 5 [Boston Herald]
Dominant theme for John Lackey: He wins [Boston Herald]
Manny Delcarmen makes his pitch count [Boston Herald]
David Ortiz: Give Manny Ramirez due [Boston Herald]
He's always been out in left field [Boston Herald]
Daniel Nava settles into left [Boston Herald]
Bracing for Manny [Clubhouse Insider]
Red Sox complete sweep of D'Backs, 8-5 [CSN New England]
Love him or hate him, Manny's coming back [CSN New England]
Dice-K progressing [ESPN Boston]
Pedroia: Two funny stories on Manny [ESPN Boston]
Nelson declines minor-league assignment [ESPN Boston]
Red Sox win then turn their focus on Celtics [ESPN Boston]
Will you cheer or boo Manny tonight? [Extra Bases]
Closing time: Red Sox 8, Diamondbacks 5 [Full Count]
Nava's spark hasn't faded [Full Count]
Manny in perspective: How a former teammate views the slugger [Lou Merloni – WEEI.com]
Terry Francona, David Ortiz Fondly Recall Manny Ramirez' Heyday in Boston [NESN.com]
John Lackey Still Getting Job Done, Iffy Numbers Aside [NESN.com]
Manny Ramirez's Red Sox Lowlights: Manny Traded to Dodgers [NESN.com]
Manny Ramirez's Red Sox Highlights: Manny Named World Series MVP [NESN.com]
Big Papi offers to settle Jay-Z suit [NY Post]
Sox find killer instinct, sweep Arizona [Providence Journal]
Dice-K making strong progress [Providence Journal]
Red Sox Journal: Nava stays hot with 3 hits [Providence Journal]
Torre also to make his Fenway return [Providence Journal]
Cheers or boos for Manny? Players have their own take [Providence Journal]
Dice-K throws 40-pitch side session [RedSox.com]
Torre also returns to Fenway Park [RedSox.com]
Papi looks forward to seeing Manny again [RedSox.com]
Manny makes his return to Fenway Park [RedSox.com]
Manny being Manny: A closer look [RedSox.com]
Three-team AL East race tight as ever [RedSox.com]
For more slices of Red Sox goodness, head over to the Boston Globe, Boston Herald, ESPN Boston, NESN, Providence Journal and WEEI websites.
And if you must check out the enemy papers, you can head over to the Arizona Republic and Arizona Daily Star websites.