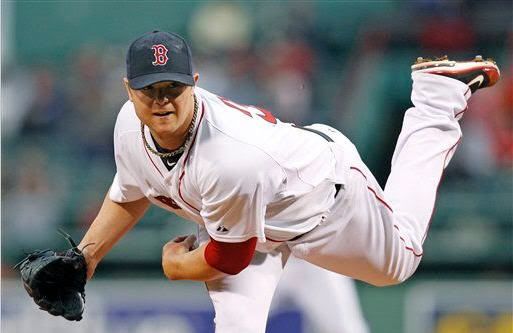 What started out as a pitcher's duel between Dan Haren and Jon Lester ended in a rout as the Boston Red Sox hit three home runs in the 8th on their way to a 7-3 win over the Los Angeles Angels of Anaheim on Tuesday night at Fenway Park.
It's the Red Sox third straight win and sixth win over the Angels in as many chances this season. In fact, the Red Sox are now 15-1 against the Angels since falling to them in the ALDS back in 2009.
Sans one pitch in the second inning, Lester was magnificent. The only mistake he made came on a 0-2 pitch to Mark Trumbo who crushed it over the Green Monster for a solo home run. After that though, Lester was pretty much unhittable.
He had great command and velocity on his fastball which made his changeup and cutter even more effective. He painted the outside corner of the plate like he was Picasso and that helped him to a season-high 11 strikeouts on the night. He ended up striking out five of the last six batters he faced including getting all three outs in his final inning of work (7th).
There were some questions as to why skipper Terry Francona would take out Lester after 93 pitches through seven innings but Daniel Bard put any of those worries to rest as he got three ground ball outs to Dustin Pedroia. Jonathan Papelbon worked the 9th and allowed two runs.
The other question of the night was why Papelbon was in after the home run barrage in the 8th but my feeling is that since he had gotten hot the inning before, there was no sense wasting him. Had he not been used, there's still a chance he's not available tonight.
That before mentioned home run barrage came from the bats of Adrian Gonzalez and David Oritz who went back-to-back. Marco Scutaro would also add a home run later in the inning that was initially reviewed. For Gonzalez, it was his first Fenway Park home run. He finished with two hits on the night and two RBIs.
Ortiz (one RBI) and Scutaro (two RBIs) each had two hits as well as did Jed Lowrie (one RBI). Carl Crawford's average is creeping up towards the Mendoza line (.194) as he had his third straight two-hit performance and picked up his 5th stolen base of the season.
I'm not sure if anyone knows why the Red Sox have dominated the Angels as of late but I for one hope it continues. Since the season started, the Red Sox have not been at .500. They've come close once and tonight Josh Beckett will look to get them back to .500 on the season.
We'll be back later with tonight's lineups, batter/pitcher matchups and links from the day. But for now enjoy the overnight links by clicking on the read more button below if you're on the home page.
To open the links up in a new tab or window, use Control+click
Adrian Gonzalez makes himself at home [Alex Speier – WEEI.com]
Lester and Red Sox come up aces [Boston Globe]
Positive spin from Wheeler [Boston Globe]
Gonzalez turns it all around [Boston Globe]
Sox come up aces again [Boston Herald]
More than win streak [Boston Herald]
Wheeler could use some relief [Boston Herald]
Digging in for a long haul [Boston Herald]
Gonzalez hits 1st Fenway HR [Boston Herald]
Red Sox beat Angels again, 7-3 [CSNNE.com]
Lester continues rare early-season roll [CSNNE.com]
Notes: Gonzalez breaks his homerless drought [CSNNE.com]
Rapid reaction: Red Sox 7, Angels 3 [ESPN Boston]
For Lester, it's finders, keepers [ESPN Boston]
Closing Time: Red Sox 7, Angels 3 [Full Count]
Dustin Pedroia Calls Epic 13-Pitch Battle With Jered Weaver a 'Fun At-Bat' [NESN.com]
Theo Epstein Convinced Red Sox Bullpen Will 'Be Fine' Despite Bobby Jenks' Recent Struggles [NESN.com]
Red Sox Send a Message With Success Against Premier Pitching [NESN.com]
Jon Lester Targeting Greatness With Dominance Early in 2011 Season [NESN.com]
Three in a row! [Nuggetpalooza]
Lester holds trump in battle of aces [Providence Journal]
After pursuing Downs, Sox built bullpen a different way [Providence Journal]
Red Sox Journal: Pedroia's will is just his way [Providence Journal]
Adrian savors first Fenway Park home run [RedSox.com]
Scutaro steps up with two hits for ill Youkilis [RedSox.com]
For more slices of Red Sox goodness, head over to the Boston Globe, Boston Herald, CSNNE, ESPN Boston, NESN, Providence Journal, RedSox.com and WEEI websites.
And if you must check out the enemy news, head over to the LA Times, Orange County Register and LA Daily News websites. Also be sure to check out our Bloguin brother, Monkey with a Halo.
Photo credit: AP Photo