Jon Lester had a relatively easy day on Wednesday afternoon against the Cleveland Indians at Progressive Field. Before the Boston Red Sox starter even stepped foot on the mound, he already had a 7-0 lead. And when you give Lester that much of a cushion, it just makes his job all the more easier.
Lester was brilliant over six shutout innings of work. He worked around two hits in the 1st inning and a double and a walk in his final inning. Lester struck out seven on his way to getting his MLB-leading seventh win of 2011. Once again his cutter was nasty and with such a big lead he was able to attack the strikezone with relative ease.
Obviously the story of the day was the offense.
The Indians starter Mitch Talbot was activated from the disabled list before the game and it might not have been the best move. He was very ineffective and lacked his normal velocity and command. And when your facing a stacked Red Sox lineup, that's not a good thing at all.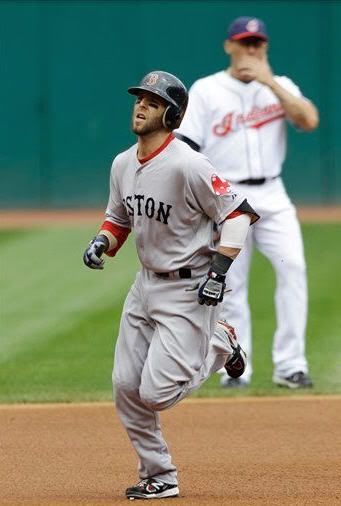 It was essentially an extended batting practice session for the Red Sox in the top half of the 1st inning.
Jacoby Ellsbury led off with a single and scored on a Dustin Pedroia two-run blast. Adrian Gonzalez and David Ortiz followed that with singles. Big Papi would be retired on a Jed Lowrie fielder's choice. Carl Crawford would get his big afternoon going with a single to bring in Gonzo. Jarrod Saltalamacchia followed that with a single and Lowrie would end up scoring on Shin-Soo Choo's error in right field.
Mike Cameron would make the second out of the inning but it was a productive out as he hit a sacrifice fly that easily scored Crawford. Drew Sutton, filling in for Kevin Youkilis who was a late scratch, burned his former club with an RBI single. Ellsbury then picked up his second hit of the inning followed by Pedroia's second hit of the inning, a RBI single that scored Sutton. Gonzo flew out to left to end the first but the damage had been done.
Looking at the box score, only one starting player of the Red Sox didn't have at least two hits and a RBI on the afternoon and that was Lowrie. Every starting member of the Red Sox scored at least one run.
Crawford led the way with a perfect 4-for-4 afternoon with two RBIs. He fell a triple short of the cycle on the afternoon with a single, two doubles and a home run. After the dismal start, Crawford's average is now .229. I know that doesn't sound good but after hitting .155 in April .229 is actually a good thing.
Both of Pedroia's hits and three RBI came in the 1st inning while Ellsbury would end up with three hits and a RBI. Sutton made the temporary loss of Youkilis look good with three hits and RBI. Salty continued his recent hot streak at the plate with another home run, this one of the three-run variety and finished the day with two hits. Gonzo, Big Papi and Cameron also finished the day with two hits with Papi adding a monstrous solo home run in the 6th.
When you look back at this series, the Red Sox easily could have taken all three games from MLB's best team record wise. If not for the Daniel Bard meltdown, they would have.
They got great starting pitching over the three-game set from Lester, Josh Beckett and Clay Buchholz. Sans Bard, the bullpen was great.
The Red Sox (27-22) now find themselves a ½ behind the Yankees (27-21) for first place in the AL East and one game ahead of the Rays (26-23) who are in third place. And as Steve pointed out last night, this is no small feat.
With the day game today at 1:05 p.m. in Detroit, we'll be back in a short while with this afternoon's lineups, batter/pitcher matchups and links from the morning. But for now, enjoy the overnight links by clicking on the read more button below if you're on the home page.
To open the links up in a new tab or window, use Control+click
A smashing good time [Boston Globe]
Situation was advantageous [Boston Globe]
On this afternoon, they connected [Boston Globe]
Carl Crawford leads Red Sox explosion in sweet swingin' win [Boston Herald]
Jon Lester back to vintage form [Boston Herald]
Dustin Pedroia dives in [Boston Herald]
Bats make statement [Boston Herald]
Red Sox roll over Indians, 14-2 [CSNNE.com]
Crawford hopes to snap slump with big day [CSNNE.com]
Notes: Utility man Sutton gives Sox flexibility [CSNNE.com]
Nation STATion: State of Sox (almost) 50 games in [CSNNE.com]
Rapid Reaction: Red Sox 14, Indians 2 [ESPN Boston]
Crawford leads way in Sox' 20-hit day [ESPN Boston]
Pedroia about to get in the swing? [Extra Bases]
Updates on Youkilis and Drew [Extra Bases]
Closing Time: Red Sox demolish the Indians [Full Count]
Large Crowds at Fenway Park Prompt Architect James McLaughlin to Build Fenway Garage in 1913 [NESN.com]
Legends of the Ball Has Unforgettable Red Sox, Patriots Auction Items [NESN.com]
Jim Rice Would Have Liked to Play at Wrigley Field [NESN.com]
Daniel Bard Recalls Difficulties in Developing Breaking Ball Early in His Career [NESN.com]
J.D. Drew Unlikely to Play Against Detroit on Thursday [NESN.com]
Red Sox Bats Continue Impressive Month, Paste Cleveland With 20-Hit Onslaught [NESN.com]
Early Run Support, Establishing Fastball Key to Jon Lester's Six Shutout Innings [NESN.com]
Josh Beckett's Dominant Start Drawing Comparisons to 2007, While Actually Outpacing Those Numbers [NESN.com]
Boston bats batter Cleveland pitching [Providence Journal]
Crawford looking more like himself lately [Providence Journal]
Red Sox Journal: Injured hand sidelines Youkilis, Sutton fills in handily [Providence Journal]
Surging Red Sox just as advertised [RedSox.com]
For more slices of Red Sox goodness, head over to the Boston Globe, Boston Herald, CSNNE, ESPN Boston, NESN, Providence Journal, RedSox.com and WEEI websites.
And if you must check out the enemy news, head over to the Akron Beacon Journal and Cleveland Plain Dealer websites. You can also check out our Bloguin brother Burning River Baseball.