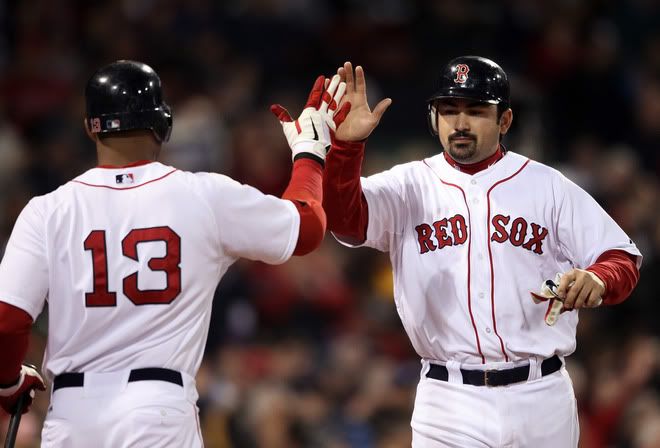 Leave it to the oldest active player in Major League Baseball to steal the show on Sunday night at Fenway Park. Over the weekend, there had been jokes made about Tim Wakefield on how he was the only player on the Boston Red Sox to pitch against the Chicago Cubs back in 1918, which just happened to be the last time the Cubbies played at the Fens.
Well on Sunday night, it was Wake who had the last laugh. He hadn't been on the mound since May 11th in a relief appearance against the Toronto Blue Jays. Everyone figured that the old man might have a little rust out there but that was far from the case.
Wake's knuckleball was one of the best he's had all season. Whether is it was the cold conditions or not, it doesn't matter. It looked like a pair of ballroom dancers doing the tango. It moved through the strike zone with an elegant grace that kept the Cubs hitters off balance.
The expectation was that Wake would give them at least 5-6 innings. Instead he gave them 6 2/3 innings. And if it were not for two doubles in the 7th that brought in the only Cubs run of the game, Wake would have given them seven innings. But either way, Wake did his job yet again and left to a standing ovation from the Fenway faithful who sat through un-May like chilly conditions.
Wake threw 75 pitches and scattered just four hits over the 6 2/3 innings. He didn't walk anyone and struck out three. After getting an extra day off on Saturday night, Daniel Bard was perfect in 1 1/3 innings striking out two. Jonathan Papelbon, who needed some work, finished off the Cubs in the 9th working around an Aramis Ramirez double with two strikeouts to secure the 5-1 win for Wake.
For Wake, it was his first win of the 2011 season. More importantly, it was his 194th career win and his 180th win in a Red Sox uniform. He's now 12 wins away from tying Rogers Clemens and Cy Young's record of 192 wins in a Red Sox uniform.
Offensively, Adrian Gonzalez continues to be a joy to watch at the plate. By the time is all said and done with his Red Sox career, he'll probably be known as one of the greatest hitters to ever wear a Red Sox uniform. His plate discipline is unmatched right now as you can tell he's seeing everything clearly. He added another four hits on Sunday night to raise his average to .342.
David Ortiz and Dustin Pedroia added two hits each while Kevin Youkilis' only hit of the night was good for a two-run triple. Jed Lowrie and Mike Cameron both added RBI's with back-to-back sacrifice flys in the 4th inning. And finally, Jarrod Saltalamacchia continued his recent streak at the plate with another solo home run.
The Red Sox are still a 1/2 game out of first behind the New York Yankees and Tampa Bay Rays. Things won't get any easier the next few days as they head to Cleveland to take on the Windians who have the best record in MLB at 29-15.
We'll be back later with tonight's lineups, batter/pitcher matchups and links from the day. But for now, enjoy the overnight links by clicking on the read more button below if you're on the home page.
To open the links up in a new tab or window, use Control+click
Old reliable [Boston Globe]
Beaning of Byrd affects all [Boston Globe]
Cameron can sympathize with Byrd [Boston Globe]
Red Sox thaw out Tim Wakefield for classic [Boston Herald]
Adrian Gonzalez in full swing [Boston Herald]
Stephen Curry, Daniel Bard have a ball [Boston Herald]
Jarrod Saltalamacchia peppers ball again [Boston Herald]
Tim Wakefield proves worthy [Boston Herald]
Boston Public Library catches lost Red Sox photos [Boston Herald]
Red Sox beat Cubs in finale, 5-1 [CSNNE.com]
Sox fan Stephen Curry parties at Fenway [CSNNE.com]
Aceves sorry for Byrd beaning; Cubs retaliate [CSNNE.com]
Wakefield earns another precious win [CSNNE.com]
Notes: Hits keep coming for Gonzalez [CSNNE.com]
Rapid reaction: Sox 5, Cubs 1 [ESPN Boston]
Video: 'SNB' crew on Sox win over Cubs [ESPN Boston]
Gonzo: 'A good place at the plate right now' [ESPN Boston]
Tim Wakefield dazzles with his knuckler, attitude [ESPN Boston]
Video: Nick Cafardo on Red Sox-Cubs [Extra Bases]
Closing Time: Tim Wakefield turns in memorable performance in Red Sox win over Cubs [Full Count]
Kevin Youkilis gives new meaning to the 'Hundred Years War' [Full Count]
Jarrod Saltalamacchia after home run: 'I'm feeling more comfortable' [Full Count]
Tim Wakefield Draws Rave Reviews After Dominating Cubs and Inching Closer to 200 Wins [NESN.com]
Cubs Fans, Red Sox Fans Both Fall Short in 1918 Trivia Outside Fenway Park [NESN.com]
Vote: Who Is the Best Player From the Red Sox' 2006 Draft Class? [NESN.com]
Gonzalez, Youkilis a ferocious tandem [Projo Sox Blog]
Wakefield shines as Red Sox take series from Cubs [Providence Journal]
Youkilis rebounding nicely from rough April, but still has room for improvement [Providence Journal]
Buchholz seeing the benefits of improved conditioning [Providence Journal]
Minor-league report: Injuries help clear way for Brentz promotion [Providence Journal]
Red Sox Journal: Youkilis takes a certain pride in setting hit-by-pitch record [Providence Journal]
Cubs-Red Sox set filled with hit-by-pitches [RedSox.com]
Morales acquisition has pitching coach's approval [RedSox.com]
Runners help raise funds for Home Base [RedSox.com]
How Adrian Gonzalez has helped David Ortiz reunite with .300 [Rob Bradford – WEEI.com]
For more slices of Red Sox goodness, head over to the Boston Globe, Boston Herald, CSNNE, ESPN Boston, NESN, Providence Journal, RedSox.com and WEEI websites.
And if you must check out the enemy news, head over the Chicago Daily Herald, Chicago Sun-Times, Chicago Tribune, Daily Southtown or ESPN Chicago websites.
Photo credits: Getty Images, Getty Images