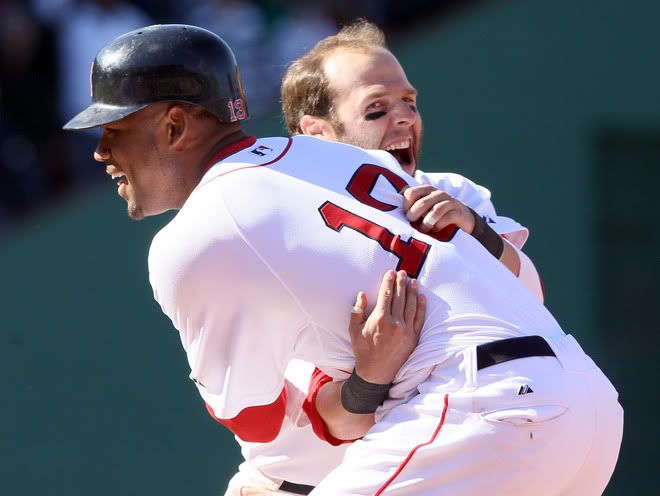 On a day that will be remembered around the world as the day that Osama Bin Laden was killed, the Boston Red Sox also won a baseball game in walk-off fashion against the Seattle Mariners. The two events aren't comparable by any means but for Red Sox fans this could have been the day Carl Crawford broke out of his slump.
As we all know, Crawford has been struggling at the plate this season. It hasn't affected his defense at all but at the plate he's looked so lost that even an GPS couldn't get him back on track.
Crawford already had one hit on the afternoon and he came to the plate after a Jed Lowrie triple that Ichiro Suzuki lost in the sun out in right field. On a 1-1 count against Jamey Wright, Crawford laced a single under the right foot of Wright that brought in Lowrie and setup up a frenzied celebration around first base.
Forgetting Lowrie had scored the winning run, the entire Red Sox team launched their sites on Crawford with Dustin Pedroia leading the charge to congratulate Crawford. He's been the subject of boos from the Fenway faithful throughout his first month in Boston but on this day, Red Sox fans will remember him for the walk-off win.
We also shouldn't forget the contributions of Tim Wakefield on this day, making a spot start for Clay Buchholz, who was scratched with a bout of the flu and will start tonight. Wake has been seldom used out of the Red Sox bullpen this season and has been a true professional throughout. But on a day where the Red Sox needed him, he stepped up to the plate.
The longest Wakefield had gone this season was 3.1 innings against the Tampa Bay Rays on 4/11. So how long he would go in this one would depend on how things were going. Wake was able to go 5.2 innings, allowing just one run on three hits. Wake left the field to a well-deserved standing ovation.
Unfortunately for Wake, he wouldn't factor in the decision as Bobby Jenks came out and sucked it up again, just two days after blowing it on Friday. But in the end, Crawford became the hero and the Red Sox started the month of May 1-0.
While it would have been nice to see Wake get a little closer to the Red Sox record of Rogers Clemens' wins in a Sox uniform, a win by the team is equally as if not greater than anything individually. There's still a lot of baseball to be played and hopefully this gets Crawford and the Red Sox jump started and on to some wins.
We'll be back later with tonight's lineups, batter/pitcher matchups and links from the day. But for now enjoy the overnight links by clicking on the read more button below if you're on the home page.
To open the links up in a new tab or window, use Control+click
As Wakefield nears the end, remembering his beginning [Alex Speier – WEEI.com]
Crawford's walkoff hit qualifies as a bright spot [Boston Globe]
Jenks isn't given a free pass [Boston Globe]
High approval rating [Boston Globe]
Caution signs for Beckett [Boston Globe]
Scratch 'n' Craw for Red Sox [Boston Herald]
Bobby Jenks' diagnosis: mechanical flaw [Boston Herald]
Bunch of bull for Tim Wakefield [Boston Herald]
Crawford wins it for Red Sox, 3-2 [CSNNE.com]
Clutch Crawford hoping for a fresh start [CSNNE.com]
Wakefield surprises with strong start versus M's [CSNNE.com]
Jenks looking for answers after another rough outing [CSNNE.com]
Notes: Beckett to skip scheduled Monday start [CSNNE.com]
NBC: Pedro Martinez could soon announce retirement [CSNNE.com]
Rapid reaction: Red Sox 3, Mariners 2 [ESPN Boston]
Wakefield to the barricades, splendidly [ESPN Boston]
Francona 'not going to run from' Jenks [ESPN Boston]
Carl Crawford's time to rise in Boston Red Sox order has come [ESPN Boston]
Closing Time: Crawford sends fans home happy [Full Count]
Crawford, teammates hope walk-off start of comeback [Full Count]
Jenks suggests he's identified his problem [Full Count]
New Patriots QB Ryan Mallett returns the love from childhood buddy Will Middlebrooks [Full Count]
David Ortiz Helping Carl Crawford Avoid Pressing at the Plate [NESN.com]
Carl Crawford Appreciates His Teammates' Patience During Struggles [NESN.com]
Heidi Watney Shows What NESN Red Sox Pregame Production at Fenway Park Is All About [NESN.com]
Crawford's hard work finally pays off [Providence Journal]
Wake's repertoire as unspectacular as it is effective [Providence Journal]
Red Sox Journal: Jenks sure he's discovered the fix he needs [Providence Journal]
For more slices of Red Sox goodness, head over to the Boston Globe, Boston Herald, CSNNE, ESPN Boston, NESN, Providence Journal, RedSox.com and WEEI websites.
And if you must check out the enemy news, head over to The Oregonian, Seattle Post-Intelligencer, Seattle Times and Tacoma Tribune websites. You can also check out our Bloguin brother, Mariner Mayhem.
Photo credit: Getty Images