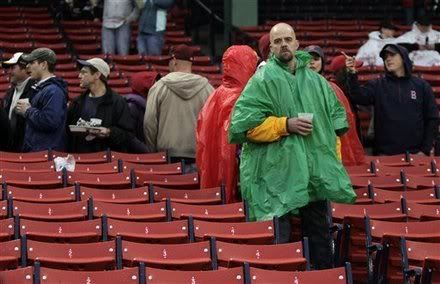 Apparently Mother Nature isn't a fan of the Boston Red Sox. Either that or she wanted Red Sox fans who are also Boston Bruins fans to be able to watch Game 2 of the Eastern Conference Finals last night (Bruins won 6-5).
Hopefully though, she didn't kill the momentum the Red Sox had built up from the "Remy Returns Miracle" on Monday night. That epic comeback gave the Red Sox their fourth straight win and also brought them to a game over .500, a mark that had been elusive until Sunday night in the sweep of the New York Yankees.
If the Red Sox are going to continue winning going forward for the next few weeks, they're going to need to do it without Daisuke Matsuzaka. Dice-K joined his fellow starting pitcher John Lackey on the disabled list with a sprained right elbow.
It makes you wonder if he ever did fully recover from his strained elbow that took him out of a start a few weeks back. Or did maybe, just maybe did he re-strain it when came out of the bullpen against the Angels.
In the next few weeks, besides the big three of Josh Beckett, Jon Lester and Clay Buchholz, the Red Sox are going to be counting on Tim Wakefield (steps in for Lackey) and Alfredo Aceves (in for Dice-K). They are also going to need the bullpen to continue to be on the top of their game.
Michael Bowden is up from Triple-A Pawtucket for the time being and Dan Wheeler should be returning from the disabled list on Friday. Whether it's Bowden or Scott Atchison who goes when that happens, they'll also need Wheeler to return to the form he's once shown.
As long as the offense stays hot and the pitching can perform to the best of their abilities, the Red Sox should be able to weather the storm of being down two starters.
Speaking of storms, the weather forecast for tonight isn't much better than last night.
We'll be back later with tonight's lineups, batter/pitcher matchups and links from the day. But for now, enjoy the overnight links by clicking on the read more button below if you're on the home page.
To open the links up in a new tab or window, use Control+click
Bowden will lend a hand in bullpen [Boston Globe]
Ortiz hits upon something [Boston Globe]
Matsuzaka joining Lackey on disabled list [Boston Globe]
Vinik is having a ball [Boston Globe]
Alfredo Aceves moves into rotation [Boston Herald]
Red Sox disable Dice-K [Boston Herald]
Big Papi reborn [Boston Herald]
Daisuke Matsuzaka headed to disabled list; Michael Bowden called up [Clubhouse Insider]
Matsuzaka (sprained elbow) placed on DL [CSNNE.com]
Notes: Bowden called up to Sox; rotation re-ordered [CSNNE.com]
Jenks begins throwing in first step back [ESPN Boston]
Video: 'BBTN' on Sox banged-up rotation [ESPN Boston]
Forty percent of the Red Sox rotation is on the disabled list. Now what? [Extra Bases]
A closer look at Matsuzaka's red flags, and where the Sox rotation goes from here [Full Count]
Why Michael Bowden is with the Red Sox and Felix Doubront is not [Full Count]
Daisuke Matsuzaka Injury Keeps Red Sox in Scramble Mode [NESN.com]
Michael Bowden Gives Red Sox Options As They Try to Patch Up Starting Rotation [NESN.com]
Peter Gammons Says Red Sox Lineup Will Need to Carry Team With Injuries to Rotation [NESN.com]
Peter Gammons Thinks Kevin Youkilis Could Become Even More Important to Red Sox' Success [NESN.com]
Sox' starting depth put to test [Providence Journal]
Red Sox Journal: Dice-K placed on disabled list; Bowden recalled [Providence Journal]
Bowden excited to be back in Sox's bullpen [RedSox.com]
Wheeler expected to return to roster Friday [RedSox.com]
For more slices of Red Sox goodness, head over to the Boston Globe, Boston Herald, CSNNE, ESPN Boston, NESN, Providence Journal, RedSox.com and WEEI websites.
And if you must check out the enemy news, head over to the Baltimore Sun website. You can also check out our Bloguin brother, the Oriole Post.
Photo credit: AP Photo