Enough of the movies talk here, let's get back into the Red Sox talk here @ SOX & Dawgs.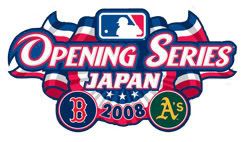 Larry Lucchino was in Tokyo this morning for a press conference about the 2008 Ricoh MLB Opening Series in Japan. With the Red Sox having two players from Japan in Daisuke Matsuzaka and Hideki Okajima so this series will be huge for Red Sox Nation.
"We want to expand Red Sox Nation and further establish it in one of the greatest baseball nations in the world – Japan."
Matsuzaka, who will probably start the second game, may miss the game because his wife is expecting their second child and she is due while the Sox are in Japan.
"As the CEO of the team, I try to stay on top of details but the due date is beyond my job description. I know he wants to play here and we want him to play here."
Even with the 6:07 AM start time here on the right coast, I am looking forward to the games. It will be very interesting to see the reception the Red Sox receive in the Far East.
Red Sox shortstop prospect Jed Lowrie was on hand for the PawSox Hot Stove party recently and talked about the road to Fenway Park and how he knows he's in the Red Sox future plans barring a trade.
"I'm not concerned about who's ahead of me, who's behind me," said the Pawtucket Red Sox shortstop of the present, perhaps the starting shortstop in the future – for Boston or some other MLB franchise.

"I remember last year, the first week that I came to Pawtucket, you want to make a good impression, but it's tough to find a comfort level," he said. "You want to understand how the clubhouse is run."
With Lugo having three more years on his contract, it may be hard for Lowrie to make it to the big leagues in Boston. But things can change quickly in the game of baseball, so you can never say never.
Red Sox, A's looking forward to Japan trip [GMANews.TV]
Lowrie knows he's just one step away from majors [The Sun Chronicle]