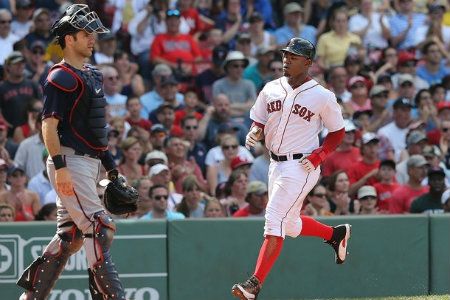 Boston Red Sox manager Bobby Valentine said last week that the goal of his team was to win the rest of the series they played for the rest of the season. They had taken 2-of-3 from both the New York Yankees and Detroit Tigers.
They did fall in the finale of Tigers series and then the Minnesota Twins took the first three games of a four-game set. But thanks to birthday boy Carl Crawford and Adrian Gonzalez the Red Sox were able to stop the bleeding, albeit temporarily (again), in a 6-4 win.
Franklin Morales stepped in for the injured Josh Beckett yesterday afternoon and showed us why he belongs in the rotation (again). He went six innings, allowing one run on three hits and three walks while striking out four. Given that he'd been in the bullpen for a few weeks, nobody expected six innings from Morales.
But he was able to do it and he was a big part of the reason why the Red Sox won yesterday.
The birthday boy Crawford had three hits to lead the Red Sox offense. He knocked in the first run of the day on a groundout in the 3rd after Mike Aviles and Jacoby Ellsbury had singled and doubled respectively. After a Dustin Pedroia single, Gonzalez singled in Ellsbury to push the lead to 2-0.
Gonzo's second hit of the day was a big one as he homered to bring in Crawford to give the Red Sox a 4-1 lead. Crawford was also a part of things in the 7th when he singled to lead off the inning and came in later on a Cody Ross single to make it 5-1 and give the Red Sox what was thought to be an insurmountable lead. Ellsbury added another run on a sac fly in the bottom of the 8th just to make sure in case something bad happened.
And wouldn't you know it did.
Vicente Padilla struggled with his command in the 9th and it almost cost the Red Sox the game. Josh Willingham led off with a solo home run then Padilla walked Justin Morneau. Then Ryan Doumit took advantage of a meatball and crushed it for a two-run homer to cut the lead to 6-4.
Alfredo Aceves picked up his bullpen mate though retiring the final three batters to secure the win and his 23rd save of 2012.
Obviously losing 3-of-4 to the Twins over the weekend was a big blow to the Red Sox's chances of making the postseason. I'd think there's no way the Red Sox win the division as they trail the Yankees by 10 games. It would take a collapse like the Red Sox of 2011 for them to overtake the Yankees.
They are 3.5 games and 2.5 games behind the Baltimore Orioles and Tampa Bay Rays in the division. They are 4.5 games behind the Detroit Tigers and Oakland A's for both of the wild card spots. They can easily overcome that deficit but they need to get back to winning series.
It won't be easy with the Texas Rangers coming to town for three games but if the Red Sox want to show us their contenders and not pretenders, they'll make a statement this week. If not, the season of mediocrity will probably continue until the end of the season.
We'll be back later with today's lineups, batter/pitcher matchups and links from the day. So for now, let's take at look at the overnight links from the media by clicking on the read more button below if you're on the home page.
To open the links up in a new tab or window, use Control+click
Birthday bashing by Crawford [boston globe]
Salvage yard [boston globe]
Homer: A swing of beauty [boston globe]
Franklin Morales helps Red Sox end skid [boston herald]
Strong game icing on cake for improved Carl Crawford [boston herald]
Franklin Morales cleans up [boston herald]
Red-hot Adrian Gonzalez understands the deal [boston herald]
Bobby Valentine never fit here, should go now [boston herald]
Importance of Carl Crawford, Adrian Gonzalez isn't going anywhere [rob bradford – weei.com]
Ortiz may seek alternative treatment [rob bradford – weei.com]
Morales, Red Sox beat Twins in finale, 6-4 [csn new england]
Crawford getting into the swing of things in Boston [csn new england]
Morales: Feeling the best I have all season [csn new england]
Morales tacks on another solid spot-start outing [csn new england]
Ortiz looking at alternative options in hopes of earlier return [csn new england]
Red Sox' Gonzalez: 'I don't want to go anywhere' [csn new england]
Sox acquire Valencia for Pineda [espn boston]
Rapid reaction: Red Sox 6, Twins 4 [espn boston]
Help us slice the Red Sox blame pie [espn boston]
Will Boston Red Sox part with Bobby Valentine before season's end? [espn boston]
Morales provides a repreieve [espn boston]
After Boston Red Sox win, Bobby Valentine is safe for now [espn boston]
Closing Time: Red Sox salvage much-needed win over Twins [full count]
Franklin Morales impresses again, makes case to stay in rotation [full count]
Nuggetpalooza: Stats from the tough Red Sox' weekend against the Twins [full count]
Craig Breslow Says Boston Stage Will 'Bring Out the Best' in Andrew Bailey, Revive All-Star Form [nesn.com]
Red Sox, Twins Are Hoping That Change of Scenery Will Benefit Danny Valencia [nesn.com]
Red Sox Abandon 'Four-Day' Plan for Carl Crawford, Believe 'There's Nothing Restricting Him' [nesn.com]
Adversity Helped Deven Marrero 'Become More of a Man,' First-Round Pick Starting Journey Through Minors (Video) [nesn.com]
Adrian Gonzalez Takes Dodgers' Interest as a Compliment, But Wants to Stay in Boston [nesn.com]
Carl Crawford Has Big Day, Makes Bobby Valentine Wish Every Day Was Left Fielder's Birthday [nesn.com]
Franklin Morales Continues Answering the Bell For the Red Sox, Overcomes Muggy Conditions [nesn.com]
Alfredo Aceves Rewards Bobby Valentine's Faith a Night After Giving Up Game-Winning Home Run [nesn.com]
For more slices of Red Sox goodness, head over to the Boston Globe, Boston Herald, CSN New England, ESPN Boston, NESN, Providence Journal, RedSox.com and WEEI websites.
And if you must check out the enemy news, be sure to head over to the Minneapolis Star-Tribune and St. Paul Pioneer Press websites. You can also check out our Bloguin brother, Twins Target.
Follow Ian on Twitter @soxanddawgs. And be sure to like us on Facebook as well.
photo credit: getty images