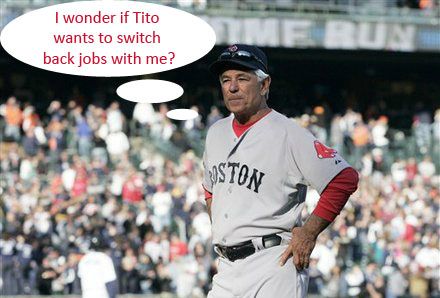 It's hard for some people not to panic over the 2012 Boston Red Sox when you look at the start they had last year going 0-6 before winning their first game. And as much as I hate to rehash it, we can't forget how the season ended either.
We're three games into a 162 game season and people want to jump off the Tobin Bridge. Folks, it's three games.
In the first two games, nothing had really come together. Jon Lester was fine in the first game, the offense and the bullpen not so much. Saturday's game brought us no offensive effort and an absolute stinker from Josh Beckett.
Sunday's game was a totally different story.
The offense was there. The pitching, starting and the bullpen with the exception of Vicente Padilla and Franklin Morales, probably stunk as much as, if not more than Beckett did Saturday.
The difference between Clay Buchholz on Sunday and his fellow Texan was that Buchholz didn't allow five home runs. He definitely wasn't hit as hard as Beckett either despite the fact that he gave up eight hits and seven runs. The problem with Buchholz was that he couldn't finish hitters off on more than one occasion.
Two of the doubles he allowed came on 0-2 pitches. The singles he allowed weren't exactly crushed, they were hit to where his defense wasn't. Honestly I thought the best pitch Buchholz had was his 12-6 curveball and he only threw that 13 times. But when you're other pitches aren't working, you can't just go out and through all curves.
Thank God for Padilla. If it weren't for him, this game could have easily gotten more out of hand. And while the offense was getting them back in the game, he was keeping them there.
He came out of the bullpen yesterday and threw four scoreless innings, allowing just two hits while striking out two.
Alfredo Aceves, the new Red Sox closer, blew his first save opportunity. If you thought he struggled on Opening Day, then I'm not sure what you would think of his performance on Sunday.
Aceves faced three batters, allowing three hits and three runs. The three runs came off the bat of Miguel Cabrera that tied the game in the bottom of the 9th. In case you were wondering, Aceves ERA right now is infinity. Yes, I said infinity.
Felix Doubront bailed out Aceves in the 9th and then was solid again in the 10th to keep the Red Sox in the game. Unfortunately Mark Melancon struggled again as he gave up three runs on three hits, including the game-winning two run homer by Alex Avila.
I haven't even gotten to the offense yet. You can't blame them. They did everything they were asked to do today and more, especially with the pitching only being so-so at times.
Bobby Valentine shook up the lineup and got 12 runs out of it. It's just too bad the pitching staff gave up 13 runs.
Mike Aviles broke out of 0-for the season start and went 3-for-5 with three RBIs. Nick Punto gave Kevin Youkilis the day off at third and added three hits and three RBIs while David Ortiz added three hits and a RBI. Jacoby Ellsbury, Dustin Pedroia and Adrian Gonzalez all had two hits with Ellsbury and Pedroia knocking in a run each. Gonzalez had his and the team's first home run of the season that knocked in two in the 6th inning and gave them a 9-7 lead.
The only member of the starting nine on Sunday not to have a hit was Kelly Shoppach.
Only time will tell what Valentine and GM Ben Cherington will do with this bullpen. You have to think if Daniel Bard struggles in his first start on Tuesday that he could head back to the bullpen and try to plug the hole in the leaking ship that is the bullpen.
If not, they may have to look for answers down on the farm.
Just remember folks, tonight's game against the Toronto Blue Jays is only game four of 162. And if you're panicking right now, just think of what our friends who are fans of the American League team in New York are doing since they have the same record as us.
We'll be back later on today with tonight's lineups, batter/pitcher matchups and links from the day. So for now, let's take at look at the overnight links from the media by clicking on the read more button below if you're on the home page.
To open the links up in a new tab or window, use Control+click
A digital Fenway Park [Boston Globe]
It's not too early to be concerned [Boston Globe]
Padilla pitched in nicely [Boston Globe]
Revamped lineup was a hit [Boston Globe]
Unkind cut [Boston Globe]
The smackdowns are getting worse [Boston Globe]
Sox setting new standards in bizarre failure [Boston Herald]
Red Sox restless for relief to recurring nightmare [Boston Herald]
Clay Buchholz battered in long-awaited return [Boston Herald]
Vicente Padilla long on value [Boston Herald]
After Detroit disaster, Daniel Bard must close [Boston Herald]
The Daniel Bard conundrum: Why it might be time to make the move [Rob Bradford – WEEI.com]
Red Sox blow two late leads, lose, 13-12 [CSN New England]
Buchholz gets knocked around in first start since June 16 [CSN New England]
Padilla's, Morales' strong Sox outings lost in the fray [CSN New England]
Aceves, Melancon again fail Red Sox in end [CSN New England]
Bobby V: 'Trying to figure out what to do' [ESPN Boston]
A-Gon on HBP: Miggy, Prince 'at risk' [ESPN Boston]
More on the combustible bullpen [ESPN Boston]
Closing Time: Red Sox bullpen suffers Motown meltdown in walkoff loss [Full Count]
Jacoby Ellsbury Gets Ketel One Honorable Moment Treatment for Walkoff Hits That Carried Sox, Showed Center Fielder's Skill [NESN.com]
Guide to Learning How to Speak Baseball in Japanese [NESN.com]
Red Sox Bullpen Without Andrew Bailey Gets a 'Thumbs Down' in First Series of Season [NESN.com]
Can Jacoby Ellsbury Have Another 30/30 Season in 2012? [NESN.com]
Bobby Valentine Says Red Sox Have 'A Lot of Heart,' But So Far It's Not the Right Kind [NESN.com]
Winless Sox still searching for relief [Providence Journal]
Even a dozen runs doesn't add up to a win [Providence Journal]
Red Sox Journal: Buchholz does struggling pen no favors [Providence Journal]
Beckett's thumb responds fine after shaky start [RedSox.com]
Hill impressive in Class A rehab appearance [RedSox.com]
Punto leads off as Valentine shuffles lineup [RedSox.com]
Case not closed: Bullpen squanders two leads [RedSox.com]
Padilla fires four shutout innings of relief in loss [RedSox.com]
Prospect righty Barnes fans 9 in Class A game [RedSox.com]
For more slices of Red Sox goodness, head over to the Boston Globe, Boston Herald, CSN New England, ESPN Boston, NESN, Providence Journal, RedSox.com and WEEI websites.
Follow Ian on Twitter @soxanddawgs. And be sure to like us on Facebook as well.
Photo credit: AP Photo