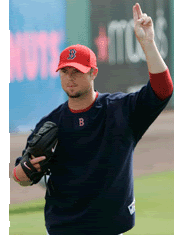 Jon Lester had to leave his start last night in Pawtucket after 3 innings with forearm tightness. He was taken out of the game for precautionary measures. He said after the game that it was merely a cramp in his forearm. He was back in Boston today to get his forearm examined and Nick Cafardo from the Boston Globe is reporting that Lester checked out fine.
The Red Sox have to make a decision on Lester tomorrow because his 30 day rehab assignment is up. With the minor setback, odds are that Lester will be optioned to Triple-A Pawtucket to continue building up his arm strength. I still believe if Tavarez continues to struggle, he will be replaced in the rotation by Lester or Devern Hansack, who was called up to replace Mike Timlin.
Timlin was placed on the DL today with right shoulder tendonitis. This was kind of surprising to me considering it didn't seem like anything was wrong with him last night when he picked up the save.