After falling yesterday in extra innings, the Boston Red Sox look to get back to the business of winning baseball games in the second game of a four-game set with the Toronto Blue Jays at Rogers Centre tonight.
Today's first pitch is scheduled for 7:07 p.m. and will be broadcast on NESN in the Red Sox television market. If you live in the Blue Jays television market, you can catch the game on Rogers SportsNet. And if you can't catch the television broadcast, you can always listen to the game on the 2011 Red Sox Radio Network.
Jon Lester makes his 27th start of 2011 for his skipper Terry Francona. In his previous 26 starts, Lester is 14-6 with a 3.05 ERA. He's made four starts against the Jays this season and is 2-0 with a 2.70 ERA. He's made 17 career starts against them and is 9-4 with a 3.27 ERA. 10 of those starts have come at Rogers Centre where he is 5-3 with a 3.69 ERA.
Luis Perez makes his fourth start (33rd appearance) of the season for the Jays. In his previous 32 appearances (three starts), Perez is 3-2 with a 3.77 ERA. All six of Perez's career appearances against the Red Sox have come out of the bullpen. In those six outings, he has no record with a 7.56 ERA (7 ER/8.1 IP).
Click on the read more button below to see today's lineups, batter/pitcher matchups and links from the day if you're on the home page.
Here are this afternoon's lineups:
And here is how the hitters have fared against today's starting pitchers: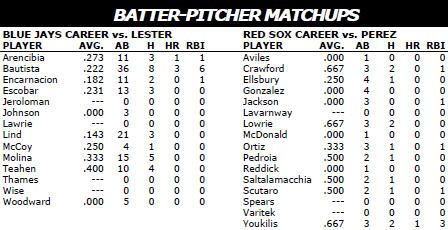 Check back and/or refresh often as more links will be added if/when they become available before game time.
To open the links up in a new tab or window, use Control+click
Red Sox woes are all about the timing [Clubhouse Insider]
Nation STATion: Goal mining [CSN New England]
Sources: Beckett's injury a 'short-term' problem [CSN New England]
Buchholz feels 'good' after long-toss session [CSN New England]
Stark: 'This could be a big, big deal' [ESPN Boston]
Schilling: Not sure if Sox built for October [ESPN Boston]
Terry Francona — Boston Red Sox's Josh Beckett likely won't make next start [ESPN Boston]
Buchholz continues to make progress [ESPN Boston]
Lester tries to get Sox on track against Jays [ESPN Boston]
As Red Sox stumble, injuries mount [Extra Bases]
Busy afternoon for the Red Sox [Extra Bases]
Ask Nick: Slumps and umps [Extra Bases]
No news yet on Beckett [Extra Bases]
Buchholz closer to throwing off the mound [Extra Bases]
Video: The Red Sox should secure Papelbon now, before the Yankees steal him away, says Ken Rosenthal [FOXSports.com]
Jonathan Papelbon's secret with the bases loaded [Full Count]
Red Sox Mailbag: Team Fatigue, Clay Buchholz's Future Role and More Right Field Drama [NESN.com]
Heidi Watney Takes Fans Behind the Scenes at Fenway Park During Rain Delay (Video) [NESN.com]
Daniel Bard's Sense of Humor, Good-Natured Antics Keep Reliever's Stress Levels at Bay [NESN.com]
Red Sox' Current Schedule Offering Daily Reminders of American League's Elite Young Talent [NESN.com]
Red Sox Nuggetpalooza! [Nuggetpalooza]
End-of-season minor-league highlights: Single-A Greenville [Projo Sox Blog]
You can never, ever have too much . . . [Projo Sox Blog]
Beckett won't make next start [Projo Sox Blog]
Okajima's future is up in the air [Providence Journal]
Lester seeking first-inning reversal vs. Toronto [RedSox.com]
Weiland to take Beckett's next turn in rotation [RedSox.com]
Buchholz hopes for mound work next week [RedSox.com]
Red Sox suddenly dangling by an ankle [Tony Massarotti – Boston Globe]
Josh Beckett injury could throw Red Sox season into turmoil [USA Today]
Follow Ian on Twitter @soxanddawgs. And be sure to like us on Facebook as well.
Photo credits: Getty Images, Reuters Pictures