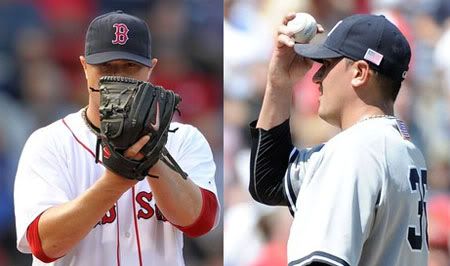 After being rained out on Friday, the Boston Red Sox will try again to thrust themselves into the playoffs as they finish up the regular season on the road for six games. This afternoon, they'll kick it off with the first of three games against the New York Yankees in the Bronx.
Today's first pitch is scheduled for 4:10 p.m. The game is scheduled to be broadcast on FOX to 87% of the country (including Alaska and Hawaii). And if you can't catch the television broadcast, you can always listen to the game on the 2011 Red Sox Radio Network.
Jon Lester looks to push the Red Sox closer to the playoffs in his 30th start of 2011. In his previous 29 starts, Lester is 15-8 with a 3.15 ERA. He's made four starts against the Bronx Bombers and is 2-1 with a 4.30 ERA. He's had good success in his career against the Yankees as he is 8-2 with a 3.53 ERA in 16 starts. He's fared just as well in the Bronx as he is 6-1 with a 2.67 ERA in nine starts.
Freddy Garcia makes 25th start (26th appearance) for the AL East champs this season. In his previous 25 appearances (24 starts), Garcia is 11-8 with a 3.77 ERA. He's made four appearances (three starts) against the Red Sox this season and is 0-2 with a 6.92 ERA. Garcia is 8-4 with a 4.69 ERA in 20 career appearances (19 starts) against the Red Sox. Two of those starts have come at Yankee Stadium where he is 0-2 with a 10.29 ERA (8 ER/7 IP).
Click on the read more button below to see today's lineups, batter/pitcher matchups and links from the overnight and day if you're on the home page.
Here are this afternoon's lineups:
And here is how the hitters have fared against today's starting pitchers: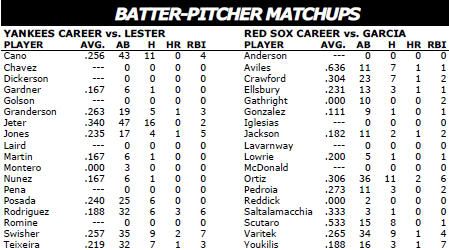 Check back and/or refresh often as more links will be added if/when they become available before game time.
To open the links up in a new tab or window, use Control+click
Carl Crawford: Batting lower in Red Sox' lineup has been 'very frustrating' [Clubhouse Insider]
Buchholz may pitch Monday in Baltimore [CSN New England]
Epstein dismisses Yanks' assertion on Crawford [CSN New England]
BBTN previews Red Sox-Yankees [ESPN Boston]
Lester, Sox look to get back on track vs. Yanks [ESPN Boston]
Tito restores Crawford to 2-hole; AGon 5th [ESPN Boston]
Pregame news from Yankee Stadium [Extra Bases]
Beckett waiting on a baby [Extra Bases]
Terry Francona engages in a rare lineup shuffle [Full Count]
Red Sox Reliever Matt Albers Wins Amica Pitcher of the Week [NESN.com]
Yankees General Manager Brian Cashman Downplays Offseason Interest in Carl Crawford [NESN.com]
Wild Card Contenders Stinking Up the Joint, Making Mockery of Final Playoff Spot [NESN.com]
Red Sox Catcher Jarrod Saltalamacchia to Attend Baseball Dinner [OurSports Central]
Given time to think, Francona shuffles lineup [Projo Sox Blog]
Beckett, Bedard to start for Red Sox in Baltimore [Projo Sox Blog]
Mets' Capuano knew nothing about trade talk [Projo Sox Blog]
In hostile territory, Red Sox can break from funk [RedSox.com]
Sox will get whatever they can from Youk [RedSox.com]
Crawford up to No. 2 as Sox look for spark [RedSox.com]
Follow Ian on Twitter @soxanddawgs. And be sure to like us on Facebook as well.
Photo credits: Getty Images, Getty Images