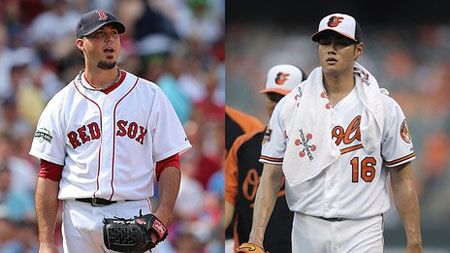 After splitting a four-game set in Cleveland, the Boston Red Sox continue their 10-game road trip in Baltimore. Tonight, they'll kick off the first game of a three-game set with the Baltimore Orioles at Oriole Park at Camden Yards.
First pitch is scheduled for 7:05 p.m. and will be broadcast on NESN in the Red Sox television market. If you live in the Orioles television market, you can catch the game on MASN. And if you don't live in either market you're in luck as the MLB Network will have coverage of the game as well. If you can't catch the television broadcast, you can always listen to it on the Red Sox radio network.
Josh Beckett looks to follow the success of his fellow starters in his 20th start of 2012. In his previous 19 starts, Beckett is 5-9 with a 4.97 ERA. He took the loss in his only start of 2012 against the O's after allowing two runs in eight innings of work back on June 6th. He's made 19 career starts against the Orioles and is 7-6 with a 4.12 ERA. 12 of those starts have come at Camden Yards where he is 5-3 with a 3.61 ERA.
Rookie Wei-Yin Chen makes his 24th start of 2012 for the still relevant Orioles. In his 23 previous starts, Chen is 10-7 with a 3.79 ERA. He's made two starts against the Red Sox this season and is 1-0 with a 3.00 ERA (4 ER/12 IP).
Click on the read more button below to see today's lineups, batter/pitcher matchups and links from the day if you're on the home page.
Here are today's lineups:
And here is how the hitters have fared against today's starting pitchers: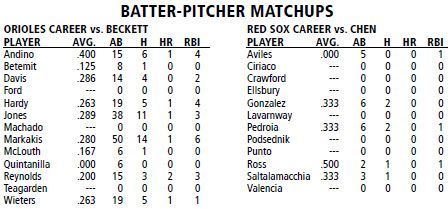 NOTES: The Red Sox have traded catcher Kelly Shoppach to the New York Mets for a player to be named later. Taking his spot on the 25-man and 40-man rosters is reliever Andrew Bailey who was activated from the 60-day disabled list.
To open the links up in a new tab or window, use Control+click
Exclusive: Red Sox stars blast manager Bobby Valentine in heated July meeting with ownership [yahoo! sports]
How Ben Cherington and Peter Frates turned a 9 into a 3 [boston herald]
Gonzalez, Valentine respond to report [rob bradford – weei.com]
Red Sox trade Kelly Shoppach to Mets for player to be named [clubhouse insider]
Bobby V, Gonzalez discuss July 26 meeting detailed in Yahoo! report [clubhouse insider]
Red Sox players scrambling amid reports of team meeting [csn new england]
Ortiz giving sore Achilles another day of rest [csn new england]
Beckett's struggles tied to fastball [espn boston]
Bailey activated, won't be Sox closer for now [espn boston]
Dan Duquette on D&C: Johnny Pesky was 'great ambassador' for Red Sox [full count]
Red Sox hope Andrew Bailey can stabilize bullpen [full count]
Red Sox hope Andrew Bailey can stabilize bullpen [full count]
Terry Francona on M&M: Johnny Pesky was the 'greatest ambassador for the Red Sox you could ever have' [full count]
Red Sox Need Adrian Gonzalez, Dustin Pedroia to Stay Hot Upon Opening Series With Orioles [nesn.com]
Will Andrew Bailey Finish This Season as the Red Sox Closer? [nesn.com]
Andrew Bailey Back on Red Sox Roster, Ready to Pitch in Set-Up Role While Alfredo Aceves Handles Closing Duties [nesn.com]
More reactions to Pesky's passing [projo sox blog]
Red Sox to honor Pesky on uniform [projo sox blog]
Bailey finally in uniform [projo sox blog]
Beckett, Red Sox look to gain ground on rival Orioles [redsox.com]
If Red Sox have a rally in them, this week is crucial [redsox.com]
Posnanski: No one loved baseball more than Pesky [redsox.com]
Sox players, owners met in July about Valentine [redsox.com]
Follow Ian on Twitter @soxanddawgs. And be sure to like us on Facebook as well.
photo credits: getty images, ap photo